Desert Song Rug
Overview & Details
Wool area rug.
Rug handcrafted in India from 100% virgin wool.
Durable area rug features deep, ultra-thick pile that's specially produced from felted yarns spun.
Area rug available in a variety of sizes and five soothing neutral hues.
Rug Comfort Grip (#UL21) recommended (sold separately).
Professionally clean.
Imported.
Allow 2-3 weeks for delivery.
Our Desert Song Rug creates an alluring desert oasis for your floor. A completely irresistible rug, this decorative accent features a deep, ultra-thick pile that's specially produced from felted yarns spun from top-quality 100% virgin wool. Superbly soft and sumptuous, our wool Desert Song Rug is available in a range of soothing, neutral hues you'll love. The versatile sandy tones add a relaxing look of understated chic to any space in your home, from bedrooms to dining spaces to living rooms and more—this sophisticated wool area rug is sure to make cozy-chic impact wherever it goes. And our durable Desert Song Rug holds up well in the high traffic areas of your home.
Designed for a plush experience underfoot, our essential Desert Song Rug looks as good as it feels. Handcrafted in India to produce a texture of extraordinary density, this luxurious wool area rug warms up any space in an instant. You'll love the feel of this incredible area rug between your toes! Our wool Desert Song Rug works well in any home setting, from modern to traditional and everything in between. Pair the rug with a rug grip (sold separately) for optimal performance.
Due to the size and weight of our larger items, special care and handling is required. Therefore, an additional shipping charge of $25.00 will be added to the 8'x10' rug.
Reviews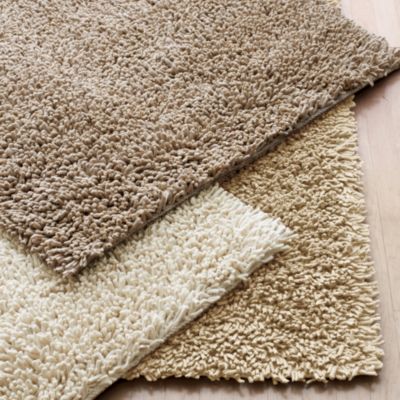 { "variations": { "variants": [ {"id": "UJ86-3X5-ECRU", "attributes": { "size": "3 x 5" , "color": "Ecru" }, "avLevels": {"IN_STOCK": 0.0, "PREORDER": 0.0, "BACKORDER": 0.0, "NOT_AVAILABLE": 1.0}, "avStatus":"NOT_AVAILABLE", "inStock":false, "ATS": 0.0, "inStockDate": "Mon Dec 30 12:00:00 GMT 2030" , "pricing": {"standard": "329.0", "sale": "329.0", "isPromoPrice": false, "quantities": [ {"unit": "", "value": "1.0"} ]} }, {"id": "UJ86-3X5-FAWN", "attributes": { "size": "3 x 5" , "color": "Fawn" }, "avLevels": {"IN_STOCK": 0.0, "PREORDER": 0.0, "BACKORDER": 0.0, "NOT_AVAILABLE": 1.0}, "avStatus":"NOT_AVAILABLE", "inStock":false, "ATS": 0.0, "inStockDate": "Mon Dec 30 12:00:00 GMT 2030" , "pricing": {"standard": "329.0", "sale": "329.0", "isPromoPrice": false, "quantities": [ {"unit": "", "value": "1.0"} ]} }, {"id": "UJ86-3X5-FLEX", "attributes": { "size": "3 x 5" , "color": "Flex" }, "avLevels": {"IN_STOCK": 0.0, "PREORDER": 0.0, "BACKORDER": 0.0, "NOT_AVAILABLE": 1.0}, "avStatus":"NOT_AVAILABLE", "inStock":false, "ATS": 0.0, "inStockDate": "Mon Dec 30 12:00:00 GMT 2030" , "pricing": {"standard": "329.0", "sale": "329.0", "isPromoPrice": false, "quantities": [ {"unit": "", "value": "1.0"} ]} }, {"id": "UJ86-3X5-TAUPE", "attributes": { "size": "3 x 5" , "color": "Taupe" }, "avLevels": {"IN_STOCK": 0.0, "PREORDER": 0.0, "BACKORDER": 0.0, "NOT_AVAILABLE": 1.0}, "avStatus":"NOT_AVAILABLE", "inStock":false, "ATS": 0.0, "inStockDate": "Mon Dec 30 12:00:00 GMT 2030" , "pricing": {"standard": "329.0", "sale": "329.0", "isPromoPrice": false, "quantities": [ {"unit": "", "value": "1.0"} ]} }, {"id": "UJ86-5X7-CREAM", "attributes": { "size": "5x7" , "color": "Cream" }, "avLevels": {"IN_STOCK": 0.0, "PREORDER": 0.0, "BACKORDER": 0.0, "NOT_AVAILABLE": 1.0}, "avStatus":"NOT_AVAILABLE", "inStock":false, "ATS": 0.0, "inStockDate": "Mon Dec 30 12:00:00 GMT 2030" , "pricing": {"standard": "679.0", "sale": "679.0", "isPromoPrice": false, "quantities": [ {"unit": "", "value": "1.0"} ]} }, {"id": "UJ86-5X7-ECRU", "attributes": { "size": "5x7" , "color": "Ecru" }, "avLevels": {"IN_STOCK": 0.0, "PREORDER": 0.0, "BACKORDER": 0.0, "NOT_AVAILABLE": 1.0}, "avStatus":"NOT_AVAILABLE", "inStock":false, "ATS": 0.0, "inStockDate": "Mon Dec 30 12:00:00 GMT 2030" , "pricing": {"standard": "679.0", "sale": "679.0", "isPromoPrice": false, "quantities": [ {"unit": "", "value": "1.0"} ]} }, {"id": "UJ86-5X7-FAWN", "attributes": { "size": "5x7" , "color": "Fawn" }, "avLevels": {"IN_STOCK": 0.0, "PREORDER": 0.0, "BACKORDER": 0.0, "NOT_AVAILABLE": 1.0}, "avStatus":"NOT_AVAILABLE", "inStock":false, "ATS": 0.0, "inStockDate": "Mon Dec 30 12:00:00 GMT 2030" , "pricing": {"standard": "679.0", "sale": "679.0", "isPromoPrice": false, "quantities": [ {"unit": "", "value": "1.0"} ]} }, {"id": "UJ86-5X7-FLEX", "attributes": { "size": "5x7" , "color": "Flex" }, "avLevels": {"IN_STOCK": 0.0, "PREORDER": 0.0, "BACKORDER": 0.0, "NOT_AVAILABLE": 1.0}, "avStatus":"NOT_AVAILABLE", "inStock":false, "ATS": 0.0, "inStockDate": "Mon Dec 30 12:00:00 GMT 2030" , "pricing": {"standard": "679.0", "sale": "679.0", "isPromoPrice": false, "quantities": [ {"unit": "", "value": "1.0"} ]} }, {"id": "UJ86-5X7-TAUPE", "attributes": { "size": "5x7" , "color": "Taupe" }, "avLevels": {"IN_STOCK": 0.0, "PREORDER": 0.0, "BACKORDER": 0.0, "NOT_AVAILABLE": 1.0}, "avStatus":"NOT_AVAILABLE", "inStock":false, "ATS": 0.0, "inStockDate": "Mon Dec 30 12:00:00 GMT 2030" , "pricing": {"standard": "679.0", "sale": "679.0", "isPromoPrice": false, "quantities": [ {"unit": "", "value": "1.0"} ]} }, {"id": "UJ86-8X10-CREAM", "attributes": { "size": "8 x 10" , "color": "Cream" }, "avLevels": {"IN_STOCK": 0.0, "PREORDER": 0.0, "BACKORDER": 0.0, "NOT_AVAILABLE": 1.0}, "avStatus":"NOT_AVAILABLE", "inStock":false, "ATS": 0.0, "inStockDate": "Mon Dec 30 12:00:00 GMT 2030" , "pricing": {"standard": "1299.0", "sale": "1299.0", "isPromoPrice": false, "quantities": [ {"unit": "", "value": "1.0"} ]} }, {"id": "UJ86-8X10-ECRU", "attributes": { "size": "8 x 10" , "color": "Ecru" }, "avLevels": {"IN_STOCK": 0.0, "PREORDER": 0.0, "BACKORDER": 0.0, "NOT_AVAILABLE": 1.0}, "avStatus":"NOT_AVAILABLE", "inStock":false, "ATS": 0.0, "inStockDate": "Mon Dec 30 12:00:00 GMT 2030" , "pricing": {"standard": "1299.0", "sale": "1299.0", "isPromoPrice": false, "quantities": [ {"unit": "", "value": "1.0"} ]} }, {"id": "UJ86-8X10-FAWN", "attributes": { "size": "8 x 10" , "color": "Fawn" }, "avLevels": {"IN_STOCK": 0.0, "PREORDER": 0.0, "BACKORDER": 0.0, "NOT_AVAILABLE": 1.0}, "avStatus":"NOT_AVAILABLE", "inStock":false, "ATS": 0.0, "inStockDate": "Mon Dec 30 12:00:00 GMT 2030" , "pricing": {"standard": "1299.0", "sale": "1299.0", "isPromoPrice": false, "quantities": [ {"unit": "", "value": "1.0"} ]} }, {"id": "UJ86-8X10-FLEX", "attributes": { "size": "8 x 10" , "color": "Flex" }, "avLevels": {"IN_STOCK": 0.0, "PREORDER": 0.0, "BACKORDER": 0.0, "NOT_AVAILABLE": 1.0}, "avStatus":"NOT_AVAILABLE", "inStock":false, "ATS": 0.0, "inStockDate": "Mon Dec 30 12:00:00 GMT 2030" , "pricing": {"standard": "1299.0", "sale": "1299.0", "isPromoPrice": false, "quantities": [ {"unit": "", "value": "1.0"} ]} }, {"id": "UJ86-8X10-TAUPE", "attributes": { "size": "8 x 10" , "color": "Taupe" }, "avLevels": {"IN_STOCK": 0.0, "PREORDER": 0.0, "BACKORDER": 0.0, "NOT_AVAILABLE": 1.0}, "avStatus":"NOT_AVAILABLE", "inStock":false, "ATS": 0.0, "inStockDate": "Mon Dec 30 12:00:00 GMT 2030" , "pricing": {"standard": "1299.0", "sale": "1299.0", "isPromoPrice": false, "quantities": [ {"unit": "", "value": "1.0"} ]} } ] }}