Coyuchi Rustic Herringbone Sham
Overview & Details
Certified 100% organic cotton
GOTS certified
Woven in Portugal
Clean-lined herringbone weave
Available in 3 nature-inspired color combinations: Indigo with Deep Dusty Aqua, Ivory with Mustard and Mid Gray with Pewter
Available in 4 sizes: Boudoir (12" x 16"), Standard (20" x 26"), King (20" x 36") and Euro (26" x 26")
2" flange
Envelope closure
Machine wash
Add matching Rustic Herringbone Duvet Cover (sold separately).

Nature-inspired color plays soft counterpoint to a clean-lined herringbone weave. Woven in Portugal, this smooth, yarn-dyed organic cotton sham is finished with a 2" flange and an envelope closure.
Reviews
Coyuchi Rustic Herringbone Sham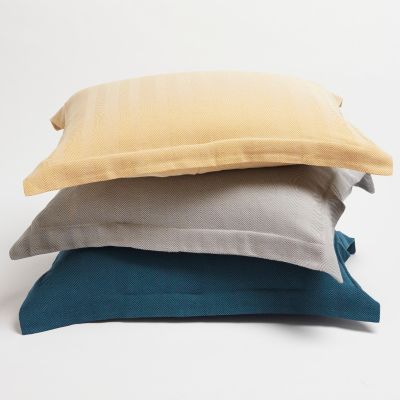 { "variations": { "variants": [ {"id": "YD07_B_INDDUSAQ", "attributes": { "size": "Boudoir" , "color": "Indigo-Deep Aqua" }, "avLevels": {"IN_STOCK": 0.0, "PREORDER": 0.0, "BACKORDER": 0.0, "NOT_AVAILABLE": 1.0}, "avStatus":"NOT_AVAILABLE", "inStock":false, "ATS": 0.0, "inStockDate": "Mon Dec 30 12:00:00 GMT 2030" , "pricing": {"standard": "27.0", "sale": "27.0", "isPromoPrice": false, "quantities": [ {"unit": "", "value": "1.0"} ]} }, {"id": "YD07_B_IVOMUS", "attributes": { "size": "Boudoir" , "color": "Ivory-Mustard" }, "avLevels": {"IN_STOCK": 0.0, "PREORDER": 0.0, "BACKORDER": 0.0, "NOT_AVAILABLE": 1.0}, "avStatus":"NOT_AVAILABLE", "inStock":false, "ATS": 0.0, "inStockDate": "Mon Dec 30 12:00:00 GMT 2030" , "pricing": {"standard": "27.0", "sale": "27.0", "isPromoPrice": false, "quantities": [ {"unit": "", "value": "1.0"} ]} }, {"id": "YD07_B_MGRAYPEW", "attributes": { "size": "Boudoir" , "color": "MidGray-Pewter" }, "avLevels": {"IN_STOCK": 0.0, "PREORDER": 0.0, "BACKORDER": 0.0, "NOT_AVAILABLE": 1.0}, "avStatus":"NOT_AVAILABLE", "inStock":false, "ATS": 0.0, "inStockDate": "Mon Dec 30 12:00:00 GMT 2030" , "pricing": {"standard": "27.0", "sale": "27.0", "isPromoPrice": false, "quantities": [ {"unit": "", "value": "1.0"} ]} }, {"id": "YD07_E_INDDUSAQ", "attributes": { "size": "Euro" , "color": "Indigo-Deep Aqua" }, "avLevels": {"IN_STOCK": 0.0, "PREORDER": 0.0, "BACKORDER": 0.0, "NOT_AVAILABLE": 1.0}, "avStatus":"NOT_AVAILABLE", "inStock":false, "ATS": 0.0, "inStockDate": "Mon Dec 30 12:00:00 GMT 2030" , "pricing": {"standard": "50.0", "sale": "50.0", "isPromoPrice": false, "quantities": [ {"unit": "", "value": "1.0"} ]} }, {"id": "YD07_E_IVOMUS", "attributes": { "size": "Euro" , "color": "Ivory-Mustard" }, "avLevels": {"IN_STOCK": 0.0, "PREORDER": 0.0, "BACKORDER": 0.0, "NOT_AVAILABLE": 1.0}, "avStatus":"NOT_AVAILABLE", "inStock":false, "ATS": 0.0, "inStockDate": "Mon Dec 30 12:00:00 GMT 2030" , "pricing": {"standard": "50.0", "sale": "50.0", "isPromoPrice": false, "quantities": [ {"unit": "", "value": "1.0"} ]} }, {"id": "YD07_E_MGRAYPEW", "attributes": { "size": "Euro" , "color": "MidGray-Pewter" }, "avLevels": {"IN_STOCK": 0.0, "PREORDER": 0.0, "BACKORDER": 0.0, "NOT_AVAILABLE": 1.0}, "avStatus":"NOT_AVAILABLE", "inStock":false, "ATS": 0.0, "inStockDate": "Mon Dec 30 12:00:00 GMT 2030" , "pricing": {"standard": "50.0", "sale": "50.0", "isPromoPrice": false, "quantities": [ {"unit": "", "value": "1.0"} ]} }, {"id": "YD07_K_INDDUSAQ", "attributes": { "size": "King" , "color": "Indigo-Deep Aqua" }, "avLevels": {"IN_STOCK": 0.0, "PREORDER": 0.0, "BACKORDER": 0.0, "NOT_AVAILABLE": 1.0}, "avStatus":"NOT_AVAILABLE", "inStock":false, "ATS": 0.0, "inStockDate": "Mon Dec 30 12:00:00 GMT 2030" , "pricing": {"standard": "50.0", "sale": "50.0", "isPromoPrice": false, "quantities": [ {"unit": "", "value": "1.0"} ]} }, {"id": "YD07_K_IVOMUS", "attributes": { "size": "King" , "color": "Ivory-Mustard" }, "avLevels": {"IN_STOCK": 0.0, "PREORDER": 0.0, "BACKORDER": 0.0, "NOT_AVAILABLE": 1.0}, "avStatus":"NOT_AVAILABLE", "inStock":false, "ATS": 0.0, "inStockDate": "Mon Dec 30 12:00:00 GMT 2030" , "pricing": {"standard": "50.0", "sale": "50.0", "isPromoPrice": false, "quantities": [ {"unit": "", "value": "1.0"} ]} }, {"id": "YD07_K_MGRAYPEW", "attributes": { "size": "King" , "color": "MidGray-Pewter" }, "avLevels": {"IN_STOCK": 0.0, "PREORDER": 0.0, "BACKORDER": 0.0, "NOT_AVAILABLE": 1.0}, "avStatus":"NOT_AVAILABLE", "inStock":false, "ATS": 0.0, "inStockDate": "Mon Dec 30 12:00:00 GMT 2030" , "pricing": {"standard": "50.0", "sale": "50.0", "isPromoPrice": false, "quantities": [ {"unit": "", "value": "1.0"} ]} }, {"id": "YD07_STD_INDDUSAQ", "attributes": { "size": "Standard" , "color": "Indigo-Deep Aqua" }, "avLevels": {"IN_STOCK": 0.0, "PREORDER": 0.0, "BACKORDER": 0.0, "NOT_AVAILABLE": 1.0}, "avStatus":"NOT_AVAILABLE", "inStock":false, "ATS": 0.0, "inStockDate": "Mon Dec 30 12:00:00 GMT 2030" , "pricing": {"standard": "40.0", "sale": "40.0", "isPromoPrice": false, "quantities": [ {"unit": "", "value": "1.0"} ]} }, {"id": "YD07_STD_IVOMUS", "attributes": { "size": "Standard" , "color": "Ivory-Mustard" }, "avLevels": {"IN_STOCK": 0.0, "PREORDER": 0.0, "BACKORDER": 0.0, "NOT_AVAILABLE": 1.0}, "avStatus":"NOT_AVAILABLE", "inStock":false, "ATS": 0.0, "inStockDate": "Mon Dec 30 12:00:00 GMT 2030" , "pricing": {"standard": "40.0", "sale": "40.0", "isPromoPrice": false, "quantities": [ {"unit": "", "value": "1.0"} ]} }, {"id": "YD07_STD_MGRAYPEW", "attributes": { "size": "Standard" , "color": "MidGray-Pewter" }, "avLevels": {"IN_STOCK": 0.0, "PREORDER": 0.0, "BACKORDER": 0.0, "NOT_AVAILABLE": 1.0}, "avStatus":"NOT_AVAILABLE", "inStock":false, "ATS": 0.0, "inStockDate": "Mon Dec 30 12:00:00 GMT 2030" , "pricing": {"standard": "40.0", "sale": "40.0", "isPromoPrice": false, "quantities": [ {"unit": "", "value": "1.0"} ]} } ] }}