Continue Shopping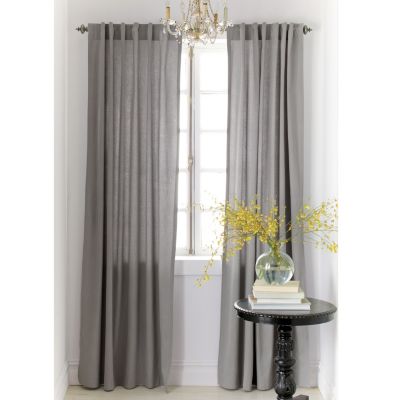 Cotton Twill Window Panels
Print
• Cotton twill window panels / curtains.
• Available in a gorgeous array of fashion-forward colors.
• Back tabs for hanging.
• Window panels available in four different sizes: 84", 96", 108" and 120".
• All panels measure 50" wide.
• Machine wash.
• Made in Portugal.
• Exclusively ours.

Multi-purpose poufs have become indispensable home accents: as a put-your-feet-up ottoman, impromptu extra seating, or a place to lay your favorite novel. Designed to add a pop of unexpected pattern to any environment, our flatweave wool pouf covers showcase eye-catching geometrics in your choice of warm or cool color palettes. Pouf insert sold separately.

Crafted in India and available exclusively at The Company Store – delivering extraordinary comfort to your home for more than 100 years.
{ "variations": { "variants": [ {"id": "GP98_50X108_TANG", "attributes": { "size": "50x108''" , "color": "Tangerine" }, "avLevels": {"IN_STOCK": 1.0, "PREORDER": 0.0, "BACKORDER": 0.0, "NOT_AVAILABLE": 0.0}, "avStatus":"IN_STOCK", "inStock":true, "ATS": 18.0, "inStockDate": "Mon May 19 12:00:00 GMT 2014" , "pricing": {"standard": "69.0", "sale": "69.0", "isPromoPrice": false, "quantities": [ {"unit": "", "value": "1.0"} ]} }, {"id": "GP98_50X120_HONEYGLD", "attributes": { "size": "50x120''" , "color": "Honey Gold" }, "avLevels": {"IN_STOCK": 1.0, "PREORDER": 0.0, "BACKORDER": 0.0, "NOT_AVAILABLE": 0.0}, "avStatus":"IN_STOCK", "inStock":true, "ATS": 32.0, "inStockDate": "Mon May 19 12:00:00 GMT 2014" , "pricing": {"standard": "79.0", "sale": "79.0", "isPromoPrice": false, "quantities": [ {"unit": "", "value": "1.0"} ]} }, {"id": "GP98_50X120_GRAY_MIST", "attributes": { "size": "50x120''" , "color": "Gray Mist" }, "avLevels": {"IN_STOCK": 1.0, "PREORDER": 0.0, "BACKORDER": 0.0, "NOT_AVAILABLE": 0.0}, "avStatus":"IN_STOCK", "inStock":true, "ATS": 25.0, "inStockDate": "Mon May 19 12:00:00 GMT 2014" , "pricing": {"standard": "79.0", "sale": "79.0", "isPromoPrice": false, "quantities": [ {"unit": "", "value": "1.0"} ]} }, {"id": "GP98_50X84_TAN", "attributes": { "size": "50x84''" , "color": "Tan" }, "avLevels": {"IN_STOCK": 1.0, "PREORDER": 0.0, "BACKORDER": 0.0, "NOT_AVAILABLE": 0.0}, "avStatus":"IN_STOCK", "inStock":true, "ATS": 107.0, "inStockDate": "Mon May 19 12:00:00 GMT 2014" , "pricing": {"standard": "49.0", "sale": "49.0", "isPromoPrice": false, "quantities": [ {"unit": "", "value": "1.0"} ]} }, {"id": "GP98_50X84_SPA_BLUE", "attributes": { "size": "50x84''" , "color": "Spa Blue" }, "avLevels": {"IN_STOCK": 1.0, "PREORDER": 0.0, "BACKORDER": 0.0, "NOT_AVAILABLE": 0.0}, "avStatus":"IN_STOCK", "inStock":true, "ATS": 47.0, "inStockDate": "Mon May 19 12:00:00 GMT 2014" , "pricing": {"standard": "49.0", "sale": "49.0", "isPromoPrice": false, "quantities": [ {"unit": "", "value": "1.0"} ]} }, {"id": "GP98_50X84_GRAY_MIST", "attributes": { "size": "50x84''" , "color": "Gray Mist" }, "avLevels": {"IN_STOCK": 1.0, "PREORDER": 0.0, "BACKORDER": 0.0, "NOT_AVAILABLE": 0.0}, "avStatus":"IN_STOCK", "inStock":true, "ATS": 96.0, "inStockDate": "Mon May 19 12:00:00 GMT 2014" , "pricing": {"standard": "49.0", "sale": "49.0", "isPromoPrice": false, "quantities": [ {"unit": "", "value": "1.0"} ]} }, {"id": "GP98_50X120_TAN", "attributes": { "size": "50x120''" , "color": "Tan" }, "avLevels": {"IN_STOCK": 1.0, "PREORDER": 0.0, "BACKORDER": 0.0, "NOT_AVAILABLE": 0.0}, "avStatus":"IN_STOCK", "inStock":true, "ATS": 23.0, "inStockDate": "Mon May 19 12:00:00 GMT 2014" , "pricing": {"standard": "79.0", "sale": "79.0", "isPromoPrice": false, "quantities": [ {"unit": "", "value": "1.0"} ]} }, {"id": "GP98_50X96_HONEYGLD", "attributes": { "size": "50x96''" , "color": "Honey Gold" }, "avLevels": {"IN_STOCK": 1.0, "PREORDER": 0.0, "BACKORDER": 0.0, "NOT_AVAILABLE": 0.0}, "avStatus":"IN_STOCK", "inStock":true, "ATS": 41.0, "inStockDate": "Mon May 19 12:00:00 GMT 2014" , "pricing": {"standard": "59.0", "sale": "59.0", "isPromoPrice": false, "quantities": [ {"unit": "", "value": "1.0"} ]} }, {"id": "GP98_50X96_TANG", "attributes": { "size": "50x96''" , "color": "Tangerine" }, "avLevels": {"IN_STOCK": 1.0, "PREORDER": 0.0, "BACKORDER": 0.0, "NOT_AVAILABLE": 0.0}, "avStatus":"IN_STOCK", "inStock":true, "ATS": 46.0, "inStockDate": "Mon May 19 12:00:00 GMT 2014" , "pricing": {"standard": "59.0", "sale": "59.0", "isPromoPrice": false, "quantities": [ {"unit": "", "value": "1.0"} ]} }, {"id": "GP98_50X108_SPA_BLUE", "attributes": { "size": "50x108''" , "color": "Spa Blue" }, "avLevels": {"IN_STOCK": 1.0, "PREORDER": 0.0, "BACKORDER": 0.0, "NOT_AVAILABLE": 0.0}, "avStatus":"IN_STOCK", "inStock":true, "ATS": 14.0, "inStockDate": "Mon May 19 12:00:00 GMT 2014" , "pricing": {"standard": "69.0", "sale": "69.0", "isPromoPrice": false, "quantities": [ {"unit": "", "value": "1.0"} ]} }, {"id": "GP98_50X108_GRAY_MIST", "attributes": { "size": "50x108''" , "color": "Gray Mist" }, "avLevels": {"IN_STOCK": 1.0, "PREORDER": 0.0, "BACKORDER": 0.0, "NOT_AVAILABLE": 0.0}, "avStatus":"IN_STOCK", "inStock":true, "ATS": 15.0, "inStockDate": "Mon May 19 12:00:00 GMT 2014" , "pricing": {"standard": "69.0", "sale": "69.0", "isPromoPrice": false, "quantities": [ {"unit": "", "value": "1.0"} ]} }, {"id": "GP98_50X84_TANG", "attributes": { "size": "50x84''" , "color": "Tangerine" }, "avLevels": {"IN_STOCK": 1.0, "PREORDER": 0.0, "BACKORDER": 0.0, "NOT_AVAILABLE": 0.0}, "avStatus":"IN_STOCK", "inStock":true, "ATS": 128.0, "inStockDate": "Mon May 19 12:00:00 GMT 2014" , "pricing": {"standard": "49.0", "sale": "49.0", "isPromoPrice": false, "quantities": [ {"unit": "", "value": "1.0"} ]} }, {"id": "GP98_50X96_SPA_BLUE", "attributes": { "size": "50x96''" , "color": "Spa Blue" }, "avLevels": {"IN_STOCK": 1.0, "PREORDER": 0.0, "BACKORDER": 0.0, "NOT_AVAILABLE": 0.0}, "avStatus":"IN_STOCK", "inStock":true, "ATS": 29.0, "inStockDate": "Mon May 19 12:00:00 GMT 2014" , "pricing": {"standard": "59.0", "sale": "59.0", "isPromoPrice": false, "quantities": [ {"unit": "", "value": "1.0"} ]} }, {"id": "GP98_50X120_SPA_BLUE", "attributes": { "size": "50x120''" , "color": "Spa Blue" }, "avLevels": {"IN_STOCK": 1.0, "PREORDER": 0.0, "BACKORDER": 0.0, "NOT_AVAILABLE": 0.0}, "avStatus":"IN_STOCK", "inStock":true, "ATS": 29.0, "inStockDate": "Mon May 19 12:00:00 GMT 2014" , "pricing": {"standard": "79.0", "sale": "79.0", "isPromoPrice": false, "quantities": [ {"unit": "", "value": "1.0"} ]} }, {"id": "GP98_50X108_TAN", "attributes": { "size": "50x108''" , "color": "Tan" }, "avLevels": {"IN_STOCK": 1.0, "PREORDER": 0.0, "BACKORDER": 0.0, "NOT_AVAILABLE": 0.0}, "avStatus":"IN_STOCK", "inStock":true, "ATS": 14.0, "inStockDate": "Mon May 19 12:00:00 GMT 2014" , "pricing": {"standard": "69.0", "sale": "69.0", "isPromoPrice": false, "quantities": [ {"unit": "", "value": "1.0"} ]} }, {"id": "GP98_50X120_TANG", "attributes": { "size": "50x120''" , "color": "Tangerine" }, "avLevels": {"IN_STOCK": 1.0, "PREORDER": 0.0, "BACKORDER": 0.0, "NOT_AVAILABLE": 0.0}, "avStatus":"IN_STOCK", "inStock":true, "ATS": 24.0, "inStockDate": "Mon May 19 12:00:00 GMT 2014" , "pricing": {"standard": "79.0", "sale": "79.0", "isPromoPrice": false, "quantities": [ {"unit": "", "value": "1.0"} ]} }, {"id": "GP98_50X96_TAN", "attributes": { "size": "50x96''" , "color": "Tan" }, "avLevels": {"IN_STOCK": 1.0, "PREORDER": 0.0, "BACKORDER": 0.0, "NOT_AVAILABLE": 0.0}, "avStatus":"IN_STOCK", "inStock":true, "ATS": 22.0, "inStockDate": "Mon May 19 12:00:00 GMT 2014" , "pricing": {"standard": "59.0", "sale": "59.0", "isPromoPrice": false, "quantities": [ {"unit": "", "value": "1.0"} ]} }, {"id": "GP98_50X84_HONEYGLD", "attributes": { "size": "50x84''" , "color": "Honey Gold" }, "avLevels": {"IN_STOCK": 1.0, "PREORDER": 0.0, "BACKORDER": 0.0, "NOT_AVAILABLE": 0.0}, "avStatus":"IN_STOCK", "inStock":true, "ATS": 159.0, "inStockDate": "Mon May 19 12:00:00 GMT 2014" , "pricing": {"standard": "49.0", "sale": "49.0", "isPromoPrice": false, "quantities": [ {"unit": "", "value": "1.0"} ]} }, {"id": "GP98_50X96_GRAY_MIST", "attributes": { "size": "50x96''" , "color": "Gray Mist" }, "avLevels": {"IN_STOCK": 1.0, "PREORDER": 0.0, "BACKORDER": 0.0, "NOT_AVAILABLE": 0.0}, "avStatus":"IN_STOCK", "inStock":true, "ATS": 14.0, "inStockDate": "Mon May 19 12:00:00 GMT 2014" , "pricing": {"standard": "59.0", "sale": "59.0", "isPromoPrice": false, "quantities": [ {"unit": "", "value": "1.0"} ]} }, {"id": "GP98_50X108_HONEYGLD", "attributes": { "size": "50x108''" , "color": "Honey Gold" }, "avLevels": {"IN_STOCK": 1.0, "PREORDER": 0.0, "BACKORDER": 0.0, "NOT_AVAILABLE": 0.0}, "avStatus":"IN_STOCK", "inStock":true, "ATS": 19.0, "inStockDate": "Mon May 19 12:00:00 GMT 2014" , "pricing": {"standard": "69.0", "sale": "69.0", "isPromoPrice": false, "quantities": [ {"unit": "", "value": "1.0"} ]} } ] }}