Cotton Twill Pillow Covers
$25.00-$35.00
CLEARANCE: $7.99-$16.99
Overview & Details
Fine twill weave cotton pillow covers.
Hidden zip closure.
Available in a wide range of colors, shapes and sizes.
Pillow covers coordinate with our pillow inserts (sold separately).
Machine wash.
Imported.
Exclusively ours.

Decorative accents make all the difference in transforming the ambiance of a room. Add a splash of fresh, vibrant color to sofas, chairs, beds and more with our versatile cotton pillow covers. Fashioned in a fine twill weave with a hidden zip closure, these crisp cotton pillow covers are offered in a wide spectrum of up-to-the minute hues from light to bright. Choose a classic white or opt for a rich plum—both beautiful options will enhance your home's decor in an instant.

All of our pillow covers coordinate with our pillow inserts, sold separately. Choose from three different fills, soft, medium and hard, to find your preferred pillow experience—the color, size, firmness are all up to you. The wide range of options for the pillow's interior and exterior ensure you'll find exactly what you're looking for. With our cotton twill pillow options, you can create a customized pillow exactly to your specifications.

From a neck roll to large reading wedge, pillow accents play an integral role in your life on a daily basis. Make sure you make the most of it with our exceptional selection of cotton twill pillow covers and coordinated high-quality fills. Available exclusively at The Company Store, you'll only find these cotton twill pillow covers here. They're the perfect choice to optimize your home's interior space.
Reviews
Cotton Twill Pillow Covers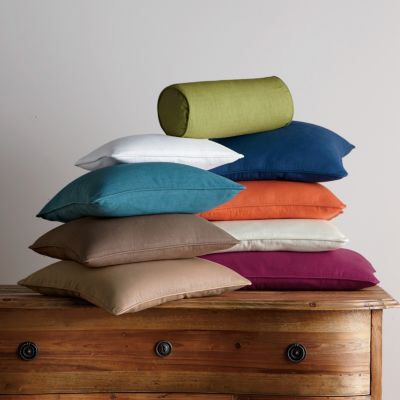 $25.00-$35.00
CLEARANCE: $7.99-$16.99
Monogram items are non-returnable due to their customization. Please allow an additional 5-7 business days for orders containing monogrammed items and an additional 7-12 business days during holiday & high volume times. Please check out our
Monogram Guide
for more info.
{"ID":"OC61-A13","isMonogrammable":true,"isCustomizationRequired":false,"monoItemNo":"MG06","customizationCode":"!12","styleOptions":"_1 Initial_2 Initials_3 Initials_Name or Word|02 Block_03 Diamond_04 Classic_05 Signet_08 Sketch_13 Collegiate_14 Traditional_15 Kids_*02 Block_03 Diamond_04 Classic_05 Signet_08 Sketch_13 Collegiate_15 Kids_*02 Block_03 Diamond_04 Classic_05 Signet_06 Modern_08 Sketch_13 Collegiate_15 Kids_*02 Block_04 Classic_07 Juliet_08 Sketch_13 Collegiate_14 Traditional_15 Kids_*|_1_1_1_1_1_1_11_0_0|","monoPrice":6.0,"configuration":"null", "optionType":""}
{ "variations": { "variants": [ {"id": "OC61_BDL_CAR", "attributes": { "size": "Large Boudoir, 16X24''" , "color": "Carrot" }, "avLevels": {"IN_STOCK": 0.0, "PREORDER": 0.0, "BACKORDER": 0.0, "NOT_AVAILABLE": 1.0}, "avStatus":"NOT_AVAILABLE", "inStock":false, "ATS": 0.0, "inStockDate": "Wed Jul 24 12:00:00 GMT 2013" , "pricing": {"standard": "25.0", "sale": "16.99", "isPromoPrice": false, "quantities": [ {"unit": "", "value": "1.0"} ]} }, {"id": "OC61_BDL_CHE", "attributes": { "size": "Large Boudoir, 16X24''" , "color": "Chestnut" }, "avLevels": {"IN_STOCK": 0.0, "PREORDER": 0.0, "BACKORDER": 0.0, "NOT_AVAILABLE": 1.0}, "avStatus":"NOT_AVAILABLE", "inStock":false, "ATS": 0.0, "inStockDate": "Wed Jul 24 12:00:00 GMT 2013" , "pricing": {"standard": "25.0", "sale": "16.99", "isPromoPrice": false, "quantities": [ {"unit": "", "value": "1.0"} ]} }, {"id": "OC61_BDL_CNA", "attributes": { "size": "Large Boudoir, 16X24''" , "color": "Classic Navy" }, "avLevels": {"IN_STOCK": 1.0, "PREORDER": 0.0, "BACKORDER": 0.0, "NOT_AVAILABLE": 0.0}, "avStatus":"IN_STOCK", "inStock":true, "ATS": 1.0, "inStockDate": "Wed Jul 24 12:00:00 GMT 2013" , "pricing": {"standard": "25.0", "sale": "16.99", "isPromoPrice": false, "quantities": [ {"unit": "", "value": "1.0"} ]} }, {"id": "OC61_BDL_CRE", "attributes": { "size": "Large Boudoir, 16X24''" , "color": "Creme" }, "avLevels": {"IN_STOCK": 0.0, "PREORDER": 0.0, "BACKORDER": 0.0, "NOT_AVAILABLE": 1.0}, "avStatus":"NOT_AVAILABLE", "inStock":false, "ATS": 0.0, "inStockDate": "Wed Jul 24 12:00:00 GMT 2013" , "pricing": {"standard": "25.0", "sale": "16.99", "isPromoPrice": false, "quantities": [ {"unit": "", "value": "1.0"} ]} }, {"id": "OC61_BDL_POM", "attributes": { "size": "Large Boudoir, 16X24''" , "color": "Pomegranate" }, "avLevels": {"IN_STOCK": 0.0, "PREORDER": 0.0, "BACKORDER": 0.0, "NOT_AVAILABLE": 1.0}, "avStatus":"NOT_AVAILABLE", "inStock":false, "ATS": 0.0, "inStockDate": "Wed Jul 24 12:00:00 GMT 2013" , "pricing": {"standard": "25.0", "sale": "16.99", "isPromoPrice": false, "quantities": [ {"unit": "", "value": "1.0"} ]} }, {"id": "OC61_BDL_SAN", "attributes": { "size": "Large Boudoir, 16X24''" , "color": "Sand" }, "avLevels": {"IN_STOCK": 0.0, "PREORDER": 0.0, "BACKORDER": 0.0, "NOT_AVAILABLE": 1.0}, "avStatus":"NOT_AVAILABLE", "inStock":false, "ATS": 0.0, "inStockDate": "Wed Jul 24 12:00:00 GMT 2013" , "pricing": {"standard": "25.0", "sale": "16.99", "isPromoPrice": false, "quantities": [ {"unit": "", "value": "1.0"} ]} }, {"id": "OC61_BDL_WHI", "attributes": { "size": "Large Boudoir, 16X24''" , "color": "White" }, "avLevels": {"IN_STOCK": 0.0, "PREORDER": 0.0, "BACKORDER": 0.0, "NOT_AVAILABLE": 1.0}, "avStatus":"NOT_AVAILABLE", "inStock":false, "ATS": 0.0, "inStockDate": "Wed Jul 24 12:00:00 GMT 2013" , "pricing": {"standard": "25.0", "sale": "16.99", "isPromoPrice": false, "quantities": [ {"unit": "", "value": "1.0"} ]} }, {"id": "OC61_BDL_WIL", "attributes": { "size": "Large Boudoir, 16X24''" , "color": "Willow" }, "avLevels": {"IN_STOCK": 0.0, "PREORDER": 0.0, "BACKORDER": 0.0, "NOT_AVAILABLE": 1.0}, "avStatus":"NOT_AVAILABLE", "inStock":false, "ATS": 0.0, "inStockDate": "Wed Jul 24 12:00:00 GMT 2013" , "pricing": {"standard": "25.0", "sale": "16.99", "isPromoPrice": false, "quantities": [ {"unit": "", "value": "1.0"} ]} }, {"id": "OC61_E26_OCE", "attributes": { "size": "EURO" , "color": "Ocean" }, "avLevels": {"IN_STOCK": 1.0, "PREORDER": 0.0, "BACKORDER": 0.0, "NOT_AVAILABLE": 0.0}, "avStatus":"IN_STOCK", "inStock":true, "ATS": 1.0, "inStockDate": "Sat Jun 08 12:00:00 GMT 2013" , "pricing": {"standard": "30.0", "sale": "8.99", "isPromoPrice": false, "quantities": [ {"unit": "", "value": "1.0"} ]} }, {"id": "OC61_E26_WHI", "attributes": { "size": "EURO" , "color": "White" }, "avLevels": {"IN_STOCK": 1.0, "PREORDER": 0.0, "BACKORDER": 0.0, "NOT_AVAILABLE": 0.0}, "avStatus":"IN_STOCK", "inStock":true, "ATS": 1.0, "inStockDate": "Tue Jul 09 12:00:00 GMT 2013" , "pricing": {"standard": "30.0", "sale": "8.99", "isPromoPrice": false, "quantities": [ {"unit": "", "value": "1.0"} ]} }, {"id": "OC61_RWL_POM", "attributes": { "size": "READING WDG LRG" , "color": "Pomegranate" }, "avLevels": {"IN_STOCK": 0.0, "PREORDER": 0.0, "BACKORDER": 0.0, "NOT_AVAILABLE": 1.0}, "avStatus":"NOT_AVAILABLE", "inStock":false, "ATS": 0.0, "inStockDate": "Tue Jul 09 12:00:00 GMT 2013" , "pricing": {"standard": "35.0", "sale": "23.99", "isPromoPrice": false, "quantities": [ {"unit": "", "value": "1.0"} ]} }, {"id": "OC61_RWL_WHI", "attributes": { "size": "READING WDG LRG" , "color": "White" }, "avLevels": {"IN_STOCK": 0.0, "PREORDER": 0.0, "BACKORDER": 0.0, "NOT_AVAILABLE": 1.0}, "avStatus":"NOT_AVAILABLE", "inStock":false, "ATS": 0.0, "inStockDate": "Sun Jun 30 12:00:00 GMT 2013" , "pricing": {"standard": "35.0", "sale": "23.99", "isPromoPrice": false, "quantities": [ {"unit": "", "value": "1.0"} ]} }, {"id": "OC61_RWM_POM", "attributes": { "size": "READING WDG MED" , "color": "Pomegranate" }, "avLevels": {"IN_STOCK": 0.0, "PREORDER": 0.0, "BACKORDER": 0.0, "NOT_AVAILABLE": 1.0}, "avStatus":"NOT_AVAILABLE", "inStock":false, "ATS": 0.0, "inStockDate": "Mon Jul 08 12:00:00 GMT 2013" , "pricing": {"standard": "30.0", "sale": "20.99", "isPromoPrice": false, "quantities": [ {"unit": "", "value": "1.0"} ]} }, {"id": "OC61_RWM_SAN", "attributes": { "size": "READING WDG MED" , "color": "Sand" }, "avLevels": {"IN_STOCK": 0.0, "PREORDER": 0.0, "BACKORDER": 0.0, "NOT_AVAILABLE": 1.0}, "avStatus":"NOT_AVAILABLE", "inStock":false, "ATS": 0.0, "inStockDate": "Tue Jul 09 12:00:00 GMT 2013" , "pricing": {"standard": "30.0", "sale": "20.99", "isPromoPrice": false, "quantities": [ {"unit": "", "value": "1.0"} ]} }, {"id": "OC61_RWM_WIL", "attributes": { "size": "READING WDG MED" , "color": "Willow" }, "avLevels": {"IN_STOCK": 0.0, "PREORDER": 0.0, "BACKORDER": 0.0, "NOT_AVAILABLE": 1.0}, "avStatus":"NOT_AVAILABLE", "inStock":false, "ATS": 0.0, "inStockDate": "Mon Jul 08 12:00:00 GMT 2013" , "pricing": {"standard": "30.0", "sale": "20.99", "isPromoPrice": false, "quantities": [ {"unit": "", "value": "1.0"} ]} }, {"id": "OC61_S18_SAN", "attributes": { "size": "S18" , "color": "Sand" }, "avLevels": {"IN_STOCK": 1.0, "PREORDER": 0.0, "BACKORDER": 0.0, "NOT_AVAILABLE": 0.0}, "avStatus":"IN_STOCK", "inStock":true, "ATS": 4.0, "inStockDate": "Tue Jul 09 12:00:00 GMT 2013" , "pricing": {"standard": "25.0", "sale": "7.99", "isPromoPrice": false, "quantities": [ {"unit": "", "value": "1.0"} ]} }, {"id": "OC61_S18_WHI", "attributes": { "size": "S18" , "color": "White" }, "avLevels": {"IN_STOCK": 0.0, "PREORDER": 0.0, "BACKORDER": 0.0, "NOT_AVAILABLE": 1.0}, "avStatus":"NOT_AVAILABLE", "inStock":false, "ATS": 0.0, "inStockDate": "Tue Jul 23 12:00:00 GMT 2013" , "pricing": {"standard": "25.0", "sale": "16.99", "isPromoPrice": false, "quantities": [ {"unit": "", "value": "1.0"} ]} }, {"id": "OC61_S18_WIL", "attributes": { "size": "S18" , "color": "Willow" }, "avLevels": {"IN_STOCK": 1.0, "PREORDER": 0.0, "BACKORDER": 0.0, "NOT_AVAILABLE": 0.0}, "avStatus":"IN_STOCK", "inStock":true, "ATS": 1.0, "inStockDate": "Sat Jun 08 12:00:00 GMT 2013" , "pricing": {"standard": "25.0", "sale": "7.99", "isPromoPrice": false, "quantities": [ {"unit": "", "value": "1.0"} ]} }, {"id": "OC61_S20_CAR", "attributes": { "size": "S20" , "color": "Carrot" }, "avLevels": {"IN_STOCK": 0.0, "PREORDER": 0.0, "BACKORDER": 0.0, "NOT_AVAILABLE": 1.0}, "avStatus":"NOT_AVAILABLE", "inStock":false, "ATS": 0.0, "inStockDate": "Sat Jun 08 12:00:00 GMT 2013" , "pricing": {"standard": "28.0", "sale": "10.99", "isPromoPrice": false, "quantities": [ {"unit": "", "value": "1.0"} ]} }, {"id": "OC61_S20_CNA", "attributes": { "size": "S20" , "color": "Classic Navy" }, "avLevels": {"IN_STOCK": 1.0, "PREORDER": 0.0, "BACKORDER": 0.0, "NOT_AVAILABLE": 0.0}, "avStatus":"IN_STOCK", "inStock":true, "ATS": 1.0, "inStockDate": "Fri Jun 07 12:00:00 GMT 2013" , "pricing": {"standard": "28.0", "sale": "7.99", "isPromoPrice": false, "quantities": [ {"unit": "", "value": "1.0"} ]} }, {"id": "OC61_S20_POM", "attributes": { "size": "S20" , "color": "Pomegranate" }, "avLevels": {"IN_STOCK": 1.0, "PREORDER": 0.0, "BACKORDER": 0.0, "NOT_AVAILABLE": 0.0}, "avStatus":"IN_STOCK", "inStock":true, "ATS": 1.0, "inStockDate": "Wed Jul 24 12:00:00 GMT 2013" , "pricing": {"standard": "28.0", "sale": "7.99", "isPromoPrice": false, "quantities": [ {"unit": "", "value": "1.0"} ]} }, {"id": "OC61_S30_CNA", "attributes": { "size": "S30" , "color": "Classic Navy" }, "avLevels": {"IN_STOCK": 1.0, "PREORDER": 0.0, "BACKORDER": 0.0, "NOT_AVAILABLE": 0.0}, "avStatus":"IN_STOCK", "inStock":true, "ATS": 2.0, "inStockDate": "Wed Jul 24 12:00:00 GMT 2013" , "pricing": {"standard": "32.0", "sale": "9.99", "isPromoPrice": false, "quantities": [ {"unit": "", "value": "1.0"} ]} }, {"id": "OC61_S30_OCE", "attributes": { "size": "S30" , "color": "Ocean" }, "avLevels": {"IN_STOCK": 0.0, "PREORDER": 0.0, "BACKORDER": 0.0, "NOT_AVAILABLE": 1.0}, "avStatus":"NOT_AVAILABLE", "inStock":false, "ATS": 0.0, "inStockDate": "Wed Jul 24 12:00:00 GMT 2013" , "pricing": {"standard": "32.0", "sale": "21.99", "isPromoPrice": false, "quantities": [ {"unit": "", "value": "1.0"} ]} }, {"id": "OC61_S30_WIL", "attributes": { "size": "S30" , "color": "Willow" }, "avLevels": {"IN_STOCK": 1.0, "PREORDER": 0.0, "BACKORDER": 0.0, "NOT_AVAILABLE": 0.0}, "avStatus":"IN_STOCK", "inStock":true, "ATS": 2.0, "inStockDate": "Wed Jul 24 12:00:00 GMT 2013" , "pricing": {"standard": "32.0", "sale": "9.99", "isPromoPrice": false, "quantities": [ {"unit": "", "value": "1.0"} ]} }, {"id": "OC61_BDL_PLU", "attributes": { "size": "Large Boudoir, 16X24''" , "color": "Plum" }, "avLevels": {"IN_STOCK": 0.0, "PREORDER": 0.0, "BACKORDER": 0.0, "NOT_AVAILABLE": 1.0}, "avStatus":"NOT_AVAILABLE", "inStock":false, "ATS": 0.0, "inStockDate": "Tue Dec 31 12:00:00 GMT 2030" , "pricing": {"standard": "25.0", "sale": "16.99", "isPromoPrice": false, "quantities": [ {"unit": "", "value": "1.0"} ]} }, {"id": "OC61_BDL_DWA", "attributes": { "size": "Large Boudoir, 16X24''" , "color": "Bluewater" }, "avLevels": {"IN_STOCK": 0.0, "PREORDER": 0.0, "BACKORDER": 0.0, "NOT_AVAILABLE": 1.0}, "avStatus":"NOT_AVAILABLE", "inStock":false, "ATS": 0.0, "inStockDate": "Tue Dec 31 12:00:00 GMT 2030" , "pricing": {"standard": "25.0", "sale": "16.99", "isPromoPrice": false, "quantities": [ {"unit": "", "value": "1.0"} ]} }, {"id": "OC61_BDL_INK", "attributes": { "size": "Large Boudoir, 16X24''" , "color": "Ink" }, "avLevels": {"IN_STOCK": 0.0, "PREORDER": 0.0, "BACKORDER": 0.0, "NOT_AVAILABLE": 1.0}, "avStatus":"NOT_AVAILABLE", "inStock":false, "ATS": 0.0, "inStockDate": "Tue Dec 31 12:00:00 GMT 2030" , "pricing": {"standard": "25.0", "sale": "16.99", "isPromoPrice": false, "quantities": [ {"unit": "", "value": "1.0"} ]} }, {"id": "OC61_BDR_WIL", "attributes": { "size": "Bed Rest, 19x17''" , "color": "Willow" }, "avLevels": {"IN_STOCK": 0.0, "PREORDER": 0.0, "BACKORDER": 0.0, "NOT_AVAILABLE": 1.0}, "avStatus":"NOT_AVAILABLE", "inStock":false, "ATS": 0.0, "inStockDate": "Fri Jun 07 12:00:00 GMT 2013" , "pricing": {"standard": "30.0", "sale": "20.99", "isPromoPrice": false, "quantities": [ {"unit": "", "value": "1.0"} ]} }, {"id": "OC61_RWL_CAR", "attributes": { "size": "READING WDG LRG" , "color": "Carrot" }, "avLevels": {"IN_STOCK": 0.0, "PREORDER": 0.0, "BACKORDER": 0.0, "NOT_AVAILABLE": 1.0}, "avStatus":"NOT_AVAILABLE", "inStock":false, "ATS": 0.0, "inStockDate": "Tue Jul 09 12:00:00 GMT 2013" , "pricing": {"standard": "35.0", "sale": "23.99", "isPromoPrice": false, "quantities": [ {"unit": "", "value": "1.0"} ]} }, {"id": "OC61_RWM_CAR", "attributes": { "size": "READING WDG MED" , "color": "Carrot" }, "avLevels": {"IN_STOCK": 0.0, "PREORDER": 0.0, "BACKORDER": 0.0, "NOT_AVAILABLE": 1.0}, "avStatus":"NOT_AVAILABLE", "inStock":false, "ATS": 0.0, "inStockDate": "Tue Jul 09 12:00:00 GMT 2013" , "pricing": {"standard": "30.0", "sale": "20.99", "isPromoPrice": false, "quantities": [ {"unit": "", "value": "1.0"} ]} }, {"id": "OC61_RWM_OCE", "attributes": { "size": "READING WDG MED" , "color": "Ocean" }, "avLevels": {"IN_STOCK": 0.0, "PREORDER": 0.0, "BACKORDER": 0.0, "NOT_AVAILABLE": 1.0}, "avStatus":"NOT_AVAILABLE", "inStock":false, "ATS": 0.0, "inStockDate": "Mon Jul 08 12:00:00 GMT 2013" , "pricing": {"standard": "30.0", "sale": "20.99", "isPromoPrice": false, "quantities": [ {"unit": "", "value": "1.0"} ]} } ] }}