Continue Shopping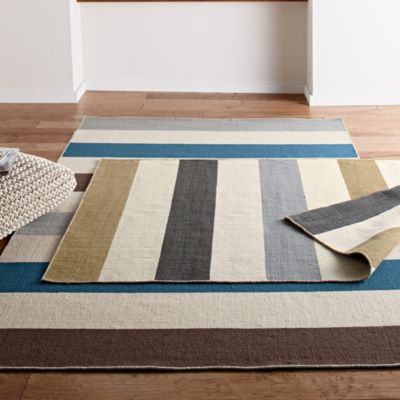 Company Wool Stripe Flatweave Rug
Print
Stripe wool flatweave rug.
Available in exclusive solid colors and stripes.
A good choice for high-traffic areas.
Also available in exclusive solid colorways (sold separately).
Rug grip recommended.
Spot clean.
Made in India.
Exclusively ours.

Patterned with broad horizontal stripes, this durable flatweave wool rug is an excellent option for high-traffic areas. Crafted of pure wool and offered in two colorways, our striped wool area rug lends color (and comfort) to any room in your home. Made in India, exclusively for The Company Store.
{ "variations": { "variants": [ {"id": "UL61_2X3_CFFEESTR", "attributes": { "size": "2 x 3" , "color": "Coffee Stripe" }, "avLevels": {"IN_STOCK": 1.0, "PREORDER": 0.0, "BACKORDER": 0.0, "NOT_AVAILABLE": 0.0}, "avStatus":"IN_STOCK", "inStock":true, "ATS": 27.0, "inStockDate": "Tue Apr 08 12:00:00 GMT 2014" , "pricing": {"standard": "69.0", "sale": "47.99", "isPromoPrice": false, "quantities": [ {"unit": "", "value": "1.0"} ]} }, {"id": "UL61_2X3_DPWTRSTR", "attributes": { "size": "2 x 3" , "color": "Deep Water Stripe" }, "avLevels": {"IN_STOCK": 1.0, "PREORDER": 0.0, "BACKORDER": 0.0, "NOT_AVAILABLE": 0.0}, "avStatus":"IN_STOCK", "inStock":true, "ATS": 14.0, "inStockDate": "Tue Apr 08 12:00:00 GMT 2014" , "pricing": {"standard": "69.0", "sale": "47.99", "isPromoPrice": false, "quantities": [ {"unit": "", "value": "1.0"} ]} }, {"id": "UL61_4X6_CFFEESTR", "attributes": { "size": "4x6" , "color": "Coffee Stripe" }, "avLevels": {"IN_STOCK": 1.0, "PREORDER": 0.0, "BACKORDER": 0.0, "NOT_AVAILABLE": 0.0}, "avStatus":"IN_STOCK", "inStock":true, "ATS": 25.0, "inStockDate": "Tue Apr 08 12:00:00 GMT 2014" , "pricing": {"standard": "189.0", "sale": "131.99", "isPromoPrice": false, "quantities": [ {"unit": "", "value": "1.0"} ]} }, {"id": "UL61_4X6_DPWTRSTR", "attributes": { "size": "4x6" , "color": "Deep Water Stripe" }, "avLevels": {"IN_STOCK": 1.0, "PREORDER": 0.0, "BACKORDER": 0.0, "NOT_AVAILABLE": 0.0}, "avStatus":"IN_STOCK", "inStock":true, "ATS": 12.0, "inStockDate": "Tue Apr 08 12:00:00 GMT 2014" , "pricing": {"standard": "189.0", "sale": "131.99", "isPromoPrice": false, "quantities": [ {"unit": "", "value": "1.0"} ]} }, {"id": "UL61_5X8_CFFEESTR", "attributes": { "size": "5x8" , "color": "Coffee Stripe" }, "avLevels": {"IN_STOCK": 1.0, "PREORDER": 0.0, "BACKORDER": 0.0, "NOT_AVAILABLE": 0.0}, "avStatus":"IN_STOCK", "inStock":true, "ATS": 15.0, "inStockDate": "Tue Apr 08 12:00:00 GMT 2014" , "pricing": {"standard": "289.0", "sale": "199.99", "isPromoPrice": false, "quantities": [ {"unit": "", "value": "1.0"} ]} }, {"id": "UL61_5X8_DPWTRSTR", "attributes": { "size": "5x8" , "color": "Deep Water Stripe" }, "avLevels": {"IN_STOCK": 1.0, "PREORDER": 0.0, "BACKORDER": 0.0, "NOT_AVAILABLE": 0.0}, "avStatus":"IN_STOCK", "inStock":true, "ATS": 2.0, "inStockDate": "Tue Apr 08 12:00:00 GMT 2014" , "pricing": {"standard": "289.0", "sale": "199.99", "isPromoPrice": false, "quantities": [ {"unit": "", "value": "1.0"} ]} }, {"id": "UL61_8X10_CFFEESTR", "attributes": { "size": "8X10" , "color": "Coffee Stripe" }, "avLevels": {"IN_STOCK": 1.0, "PREORDER": 0.0, "BACKORDER": 0.0, "NOT_AVAILABLE": 0.0}, "avStatus":"IN_STOCK", "inStock":true, "ATS": 6.0, "inStockDate": "Tue Apr 08 12:00:00 GMT 2014" , "pricing": {"standard": "499.0", "sale": "348.99", "isPromoPrice": false, "quantities": [ {"unit": "", "value": "1.0"} ]} }, {"id": "UL61_8X10_DPWTRSTR", "attributes": { "size": "8X10" , "color": "Deep Water Stripe" }, "avLevels": {"IN_STOCK": 0.0, "PREORDER": 0.0, "BACKORDER": 0.0, "NOT_AVAILABLE": 1.0}, "avStatus":"NOT_AVAILABLE", "inStock":false, "ATS": 0.0, "inStockDate": "Tue Apr 08 12:00:00 GMT 2014" , "pricing": {"standard": "499.0", "sale": "348.99", "isPromoPrice": false, "quantities": [ {"unit": "", "value": "1.0"} ]} }, {"id": "UL61_RUN_CFFEESTR", "attributes": { "size": "Runner" , "color": "Coffee Stripe" }, "avLevels": {"IN_STOCK": 1.0, "PREORDER": 0.0, "BACKORDER": 0.0, "NOT_AVAILABLE": 0.0}, "avStatus":"IN_STOCK", "inStock":true, "ATS": 29.0, "inStockDate": "Tue Apr 08 12:00:00 GMT 2014" , "pricing": {"standard": "169.0", "sale": "117.99", "isPromoPrice": false, "quantities": [ {"unit": "", "value": "1.0"} ]} }, {"id": "UL61_RUN_DPWTRSTR", "attributes": { "size": "Runner" , "color": "Deep Water Stripe" }, "avLevels": {"IN_STOCK": 1.0, "PREORDER": 0.0, "BACKORDER": 0.0, "NOT_AVAILABLE": 0.0}, "avStatus":"IN_STOCK", "inStock":true, "ATS": 5.0, "inStockDate": "Tue Apr 08 12:00:00 GMT 2014" , "pricing": {"standard": "169.0", "sale": "117.99", "isPromoPrice": false, "quantities": [ {"unit": "", "value": "1.0"} ]} } ] }}