Continue Shopping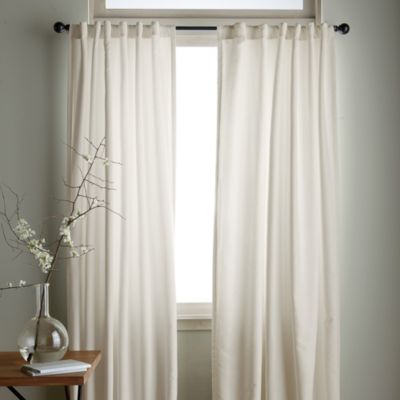 {"imageName":"http://s7d2.scene7.com/is/image/TheCompanyStore/panel_gp75_c12_white?$dw280$"}

{"imageName":"http://s7d2.scene7.com/is/image/TheCompanyStore/panel_gp75_A12?$dw280$"}

{"imageName":"http://s7d2.scene7.com/is/image/TheCompanyStore/panels-gp75-r11?$dw280$"}

{"imageName":"http://s7d2.scene7.com/is/image/TheCompanyStore/panels-gp75-sw-r11?$dw280$"}
Company Suede™ Window Panel
Print
Faux suede window panels.
Window panels feature back tab construction.
Fully lined 52" wide window panels.
Easy-care faux suede can be machine washed for convenience.
Choose the faux suede window panels in several lengths and an array of beautiful colors.
Faux suede window panels coordinate with our Company Suede™ pillow covers.
Machine wash.
Imported.
Exclusively ours.

Room with a view. Simply sophisticated and timelessly chic, our faux suede window panels have the supple texture you love without the hassle of special care instructions. Our easy-care faux suede window panels can go right into the washing machine for effortless convenience.

Available in a wide variety of fresh and inviting tones, our versatile window panels allow you to add a modern touch with a single shade or reinvent a room with a mix of contrasting colors. The choice is yours—either way, our Company faux suede window panels warm up any space in an instant. Designed with back tab construction, the window panels pair with our decorative window hardware so you can complete the window display in style. The fully lined 52-inch wide window panels are available in several different lengths to match every window frame in your home.

Exclusively ours, you'll only find our faux suede window panels at The Company Store. The window panels coordinate with our Company Suede pillow covers—combine both decorative elements for a well-matched room offering a whole new level of cozy softness. The right details, like our Company faux suede home accents, can make all the difference.
{ "variations": { "variants": [ {"id": "GP75_108_CHI", "attributes": { "size": "52x108''" , "color": "Chinchilla" }, "avLevels": {"IN_STOCK": 0.0, "PREORDER": 0.0, "BACKORDER": 0.0, "NOT_AVAILABLE": 1.0}, "avStatus":"NOT_AVAILABLE", "inStock":false, "ATS": 0.0, "inStockDate": "Tue Dec 31 12:00:00 GMT 2030" , "pricing": {"standard": "79.0", "sale": "38.99", "isPromoPrice": false, "quantities": [ {"unit": "", "value": "1.0"} ]} }, {"id": "GP75_108_FGR", "attributes": { "size": "52x108''" , "color": "Frost Gray" }, "avLevels": {"IN_STOCK": 0.0, "PREORDER": 0.0, "BACKORDER": 0.0, "NOT_AVAILABLE": 1.0}, "avStatus":"NOT_AVAILABLE", "inStock":false, "ATS": 0.0, "inStockDate": "Tue Dec 31 12:00:00 GMT 2030" , "pricing": {"standard": "79.0", "sale": "38.99", "isPromoPrice": false, "quantities": [ {"unit": "", "value": "1.0"} ]} }, {"id": "GP75_108_RUS", "attributes": { "size": "52x108''" , "color": "Russet" }, "avLevels": {"IN_STOCK": 0.0, "PREORDER": 0.0, "BACKORDER": 0.0, "NOT_AVAILABLE": 1.0}, "avStatus":"NOT_AVAILABLE", "inStock":false, "ATS": 0.0, "inStockDate": "Tue Dec 31 12:00:00 GMT 2030" , "pricing": {"standard": "79.0", "sale": "38.99", "isPromoPrice": false, "quantities": [ {"unit": "", "value": "1.0"} ]} }, {"id": "GP75_108_SLA", "attributes": { "size": "52x108''" , "color": "Slate" }, "avLevels": {"IN_STOCK": 0.0, "PREORDER": 0.0, "BACKORDER": 0.0, "NOT_AVAILABLE": 1.0}, "avStatus":"NOT_AVAILABLE", "inStock":false, "ATS": 0.0, "inStockDate": "Tue Dec 31 12:00:00 GMT 2030" , "pricing": {"standard": "79.0", "sale": "38.99", "isPromoPrice": false, "quantities": [ {"unit": "", "value": "1.0"} ]} }, {"id": "GP75_63_IVO", "attributes": { "size": "52x63''" , "color": "Ivory" }, "avLevels": {"IN_STOCK": 0.0, "PREORDER": 0.0, "BACKORDER": 0.0, "NOT_AVAILABLE": 1.0}, "avStatus":"NOT_AVAILABLE", "inStock":false, "ATS": 0.0, "inStockDate": "Wed Aug 01 12:00:00 GMT 2012" , "pricing": {"standard": "49.0", "sale": "23.99", "isPromoPrice": false, "quantities": [ {"unit": "", "value": "1.0"} ]} }, {"id": "GP75_63_SLA", "attributes": { "size": "52x63''" , "color": "Slate" }, "avLevels": {"IN_STOCK": 0.0, "PREORDER": 0.0, "BACKORDER": 0.0, "NOT_AVAILABLE": 1.0}, "avStatus":"NOT_AVAILABLE", "inStock":false, "ATS": 0.0, "inStockDate": "Tue Dec 31 12:00:00 GMT 2030" , "pricing": {"standard": "49.0", "sale": "23.99", "isPromoPrice": false, "quantities": [ {"unit": "", "value": "1.0"} ]} }, {"id": "GP75_63_WAL", "attributes": { "size": "52x63''" , "color": "Walnut" }, "avLevels": {"IN_STOCK": 0.0, "PREORDER": 0.0, "BACKORDER": 0.0, "NOT_AVAILABLE": 1.0}, "avStatus":"NOT_AVAILABLE", "inStock":false, "ATS": 0.0, "inStockDate": "Tue Dec 31 12:00:00 GMT 2030" , "pricing": {"standard": "49.0", "sale": "23.99", "isPromoPrice": false, "quantities": [ {"unit": "", "value": "1.0"} ]} }, {"id": "GP75_84_CHI", "attributes": { "size": "52x84''" , "color": "Chinchilla" }, "avLevels": {"IN_STOCK": 0.0, "PREORDER": 0.0, "BACKORDER": 0.0, "NOT_AVAILABLE": 1.0}, "avStatus":"NOT_AVAILABLE", "inStock":false, "ATS": 0.0, "inStockDate": "Tue Dec 31 12:00:00 GMT 2030" , "pricing": {"standard": "59.0", "sale": "28.99", "isPromoPrice": false, "quantities": [ {"unit": "", "value": "1.0"} ]} }, {"id": "GP75_84_CHO", "attributes": { "size": "52x84''" , "color": "Chocolate" }, "avLevels": {"IN_STOCK": 0.0, "PREORDER": 0.0, "BACKORDER": 0.0, "NOT_AVAILABLE": 1.0}, "avStatus":"NOT_AVAILABLE", "inStock":false, "ATS": 0.0, "inStockDate": "Tue Dec 31 12:00:00 GMT 2030" , "pricing": {"standard": "59.0", "sale": "28.99", "isPromoPrice": false, "quantities": [ {"unit": "", "value": "1.0"} ]} }, {"id": "GP75_84_FGR", "attributes": { "size": "52x84''" , "color": "Frost Gray" }, "avLevels": {"IN_STOCK": 0.0, "PREORDER": 0.0, "BACKORDER": 0.0, "NOT_AVAILABLE": 1.0}, "avStatus":"NOT_AVAILABLE", "inStock":false, "ATS": 0.0, "inStockDate": "Tue Dec 31 12:00:00 GMT 2030" , "pricing": {"standard": "59.0", "sale": "28.99", "isPromoPrice": false, "quantities": [ {"unit": "", "value": "1.0"} ]} }, {"id": "GP75_84_IVO", "attributes": { "size": "52x84''" , "color": "Ivory" }, "avLevels": {"IN_STOCK": 0.0, "PREORDER": 0.0, "BACKORDER": 0.0, "NOT_AVAILABLE": 1.0}, "avStatus":"NOT_AVAILABLE", "inStock":false, "ATS": 0.0, "inStockDate": "Mon Jul 30 12:00:00 GMT 2012" , "pricing": {"standard": "59.0", "sale": "28.99", "isPromoPrice": false, "quantities": [ {"unit": "", "value": "1.0"} ]} }, {"id": "GP75_84_RUS", "attributes": { "size": "52x84''" , "color": "Russet" }, "avLevels": {"IN_STOCK": 0.0, "PREORDER": 0.0, "BACKORDER": 0.0, "NOT_AVAILABLE": 1.0}, "avStatus":"NOT_AVAILABLE", "inStock":false, "ATS": 0.0, "inStockDate": "Tue Dec 31 12:00:00 GMT 2030" , "pricing": {"standard": "59.0", "sale": "28.99", "isPromoPrice": false, "quantities": [ {"unit": "", "value": "1.0"} ]} }, {"id": "GP75_84_SLA", "attributes": { "size": "52x84''" , "color": "Slate" }, "avLevels": {"IN_STOCK": 0.0, "PREORDER": 0.0, "BACKORDER": 0.0, "NOT_AVAILABLE": 1.0}, "avStatus":"NOT_AVAILABLE", "inStock":false, "ATS": 0.0, "inStockDate": "Tue Dec 31 12:00:00 GMT 2030" , "pricing": {"standard": "59.0", "sale": "28.99", "isPromoPrice": false, "quantities": [ {"unit": "", "value": "1.0"} ]} }, {"id": "GP75_84_WAL", "attributes": { "size": "52x84''" , "color": "Walnut" }, "avLevels": {"IN_STOCK": 0.0, "PREORDER": 0.0, "BACKORDER": 0.0, "NOT_AVAILABLE": 1.0}, "avStatus":"NOT_AVAILABLE", "inStock":false, "ATS": 0.0, "inStockDate": "Tue Dec 31 12:00:00 GMT 2030" , "pricing": {"standard": "59.0", "sale": "28.99", "isPromoPrice": false, "quantities": [ {"unit": "", "value": "1.0"} ]} }, {"id": "GP75_96_CHI", "attributes": { "size": "52x96''" , "color": "Chinchilla" }, "avLevels": {"IN_STOCK": 0.0, "PREORDER": 0.0, "BACKORDER": 0.0, "NOT_AVAILABLE": 1.0}, "avStatus":"NOT_AVAILABLE", "inStock":false, "ATS": 0.0, "inStockDate": "Tue Dec 31 12:00:00 GMT 2030" , "pricing": {"standard": "69.0", "sale": "33.99", "isPromoPrice": false, "quantities": [ {"unit": "", "value": "1.0"} ]} }, {"id": "GP75_96_CHO", "attributes": { "size": "52x96''" , "color": "Chocolate" }, "avLevels": {"IN_STOCK": 0.0, "PREORDER": 0.0, "BACKORDER": 0.0, "NOT_AVAILABLE": 1.0}, "avStatus":"NOT_AVAILABLE", "inStock":false, "ATS": 0.0, "inStockDate": "Tue Dec 31 12:00:00 GMT 2030" , "pricing": {"standard": "69.0", "sale": "33.99", "isPromoPrice": false, "quantities": [ {"unit": "", "value": "1.0"} ]} }, {"id": "GP75_96_FGR", "attributes": { "size": "52x96''" , "color": "Frost Gray" }, "avLevels": {"IN_STOCK": 0.0, "PREORDER": 0.0, "BACKORDER": 0.0, "NOT_AVAILABLE": 1.0}, "avStatus":"NOT_AVAILABLE", "inStock":false, "ATS": 0.0, "inStockDate": "Tue Dec 31 12:00:00 GMT 2030" , "pricing": {"standard": "69.0", "sale": "33.99", "isPromoPrice": false, "quantities": [ {"unit": "", "value": "1.0"} ]} }, {"id": "GP75_96_IVO", "attributes": { "size": "52x96''" , "color": "Ivory" }, "avLevels": {"IN_STOCK": 0.0, "PREORDER": 0.0, "BACKORDER": 0.0, "NOT_AVAILABLE": 1.0}, "avStatus":"NOT_AVAILABLE", "inStock":false, "ATS": 0.0, "inStockDate": "Tue Dec 31 12:00:00 GMT 2030" , "pricing": {"standard": "69.0", "sale": "33.99", "isPromoPrice": false, "quantities": [ {"unit": "", "value": "1.0"} ]} }, {"id": "GP75_96_RUS", "attributes": { "size": "52x96''" , "color": "Russet" }, "avLevels": {"IN_STOCK": 1.0, "PREORDER": 0.0, "BACKORDER": 0.0, "NOT_AVAILABLE": 0.0}, "avStatus":"IN_STOCK", "inStock":true, "ATS": 1.0, "inStockDate": "Tue Dec 31 12:00:00 GMT 2030" , "pricing": {"standard": "69.0", "sale": "33.99", "isPromoPrice": false, "quantities": [ {"unit": "", "value": "1.0"} ]} }, {"id": "GP75_96_SLA", "attributes": { "size": "52x96''" , "color": "Slate" }, "avLevels": {"IN_STOCK": 0.0, "PREORDER": 0.0, "BACKORDER": 0.0, "NOT_AVAILABLE": 1.0}, "avStatus":"NOT_AVAILABLE", "inStock":false, "ATS": 0.0, "inStockDate": "Tue Dec 31 12:00:00 GMT 2030" , "pricing": {"standard": "69.0", "sale": "33.99", "isPromoPrice": false, "quantities": [ {"unit": "", "value": "1.0"} ]} }, {"id": "GP75_96_WAL", "attributes": { "size": "52x96''" , "color": "Walnut" }, "avLevels": {"IN_STOCK": 0.0, "PREORDER": 0.0, "BACKORDER": 0.0, "NOT_AVAILABLE": 1.0}, "avStatus":"NOT_AVAILABLE", "inStock":false, "ATS": 0.0, "inStockDate": "Tue Dec 31 12:00:00 GMT 2030" , "pricing": {"standard": "69.0", "sale": "33.99", "isPromoPrice": false, "quantities": [ {"unit": "", "value": "1.0"} ]} } ] }}