Continue Shopping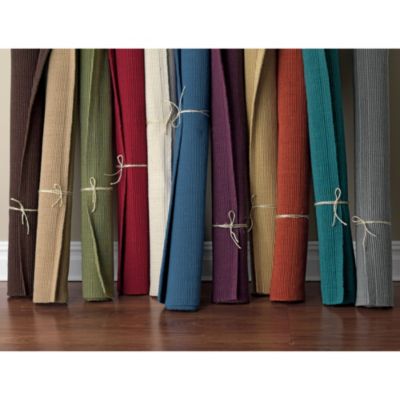 {"imageName":"http://s7d2.scene7.com/is/image/TheCompanyStore/rugs-ub68-a11?$dw280$"}

{"imageName":"http://s7d2.scene7.com/is/image/TheCompanyStore/table-xq76-a11?$dw280$"}

{"imageName":"http://s7d2.scene7.com/is/image/TheCompanyStore/sheets-e4z5-h11-v2?$dw280$"}

{"imageName":"http://s7d2.scene7.com/is/image/TheCompanyStore/quilt-cz33-teal-r11?$dw280$"}
Company Hemmed Jute Rug
Print
Jute rug.
Rug made from natural jute fiber, one of the world's most desirable floor coverings.
Available in several sizes to fit any space.
Rug grip recommended.
Spot clean as necessary.
Amazing jute! A versatile classic you can use almost anywhere, our exclusive jute rug is strong, durable and soft to the touch. A wide range of soft and simple tones strike a prepossessing pose, taking this natural jute rug to new levels of quality and style. Hemmed for a clean edge with no additional border, this jute rug has a light and airy look that adds effortless style to any space.
Due to the size and weight of our larger items, special care and handling is required. Therefore, an additional shipping charge of
$14.00 will be added to the 6x9' rug
$25.00 will be added to the 8x10' rug
$25.00 will be added to the 9x12' rug
{ "variations": { "variants": [ {"id": "UB68_01_2X3_BCO", "attributes": { "size": "2x3'" , "color": "Blue Coral" }, "avLevels": {"IN_STOCK": 0.0, "PREORDER": 0.0, "BACKORDER": 0.0, "NOT_AVAILABLE": 1.0}, "avStatus":"NOT_AVAILABLE", "inStock":false, "ATS": 0.0, "inStockDate": "Tue Dec 31 12:00:00 GMT 2030" , "pricing": {"standard": "29.0", "sale": "29.0", "isPromoPrice": false, "quantities": [ {"unit": "", "value": "1.0"} ]} }, {"id": "UB68_01_2X3_IVO", "attributes": { "size": "2x3'" , "color": "Ivory" }, "avLevels": {"IN_STOCK": 0.0, "PREORDER": 0.0, "BACKORDER": 0.0, "NOT_AVAILABLE": 1.0}, "avStatus":"NOT_AVAILABLE", "inStock":false, "ATS": 0.0, "inStockDate": "Tue Dec 31 12:00:00 GMT 2030" , "pricing": {"standard": "29.0", "sale": "29.0", "isPromoPrice": false, "quantities": [ {"unit": "", "value": "1.0"} ]} }, {"id": "UB68_01_2X3_RUS", "attributes": { "size": "2x3'" , "color": "Rust" }, "avLevels": {"IN_STOCK": 0.0, "PREORDER": 0.0, "BACKORDER": 0.0, "NOT_AVAILABLE": 1.0}, "avStatus":"NOT_AVAILABLE", "inStock":false, "ATS": 0.0, "inStockDate": "Tue Dec 31 12:00:00 GMT 2030" , "pricing": {"standard": "29.0", "sale": "29.0", "isPromoPrice": false, "quantities": [ {"unit": "", "value": "1.0"} ]} }, {"id": "UB68_01_4X6_BCO", "attributes": { "size": "4x6'" , "color": "Blue Coral" }, "avLevels": {"IN_STOCK": 0.0, "PREORDER": 0.0, "BACKORDER": 0.0, "NOT_AVAILABLE": 1.0}, "avStatus":"NOT_AVAILABLE", "inStock":false, "ATS": 0.0, "inStockDate": "Tue Jan 10 12:00:00 GMT 2012" , "pricing": {"standard": "89.0", "sale": "89.0", "isPromoPrice": false, "quantities": [ {"unit": "", "value": "1.0"} ]} }, {"id": "UB68_01_4X6_RUS", "attributes": { "size": "4x6'" , "color": "Rust" }, "avLevels": {"IN_STOCK": 0.0, "PREORDER": 0.0, "BACKORDER": 0.0, "NOT_AVAILABLE": 1.0}, "avStatus":"NOT_AVAILABLE", "inStock":false, "ATS": 0.0, "inStockDate": "Tue Dec 31 12:00:00 GMT 2030" , "pricing": {"standard": "89.0", "sale": "89.0", "isPromoPrice": false, "quantities": [ {"unit": "", "value": "1.0"} ]} }, {"id": "UB68_01_6X9_BCO", "attributes": { "size": "6x9'" , "color": "Blue Coral" }, "avLevels": {"IN_STOCK": 0.0, "PREORDER": 0.0, "BACKORDER": 0.0, "NOT_AVAILABLE": 1.0}, "avStatus":"NOT_AVAILABLE", "inStock":false, "ATS": 0.0, "inStockDate": "Tue Jan 10 12:00:00 GMT 2012" , "pricing": {"standard": "159.0", "sale": "159.0", "isPromoPrice": false, "quantities": [ {"unit": "", "value": "1.0"} ]} }, {"id": "UB68_01_6X9_IVO", "attributes": { "size": "6x9'" , "color": "Ivory" }, "avLevels": {"IN_STOCK": 0.0, "PREORDER": 0.0, "BACKORDER": 0.0, "NOT_AVAILABLE": 1.0}, "avStatus":"NOT_AVAILABLE", "inStock":false, "ATS": 0.0, "inStockDate": "Tue Jan 10 12:00:00 GMT 2012" , "pricing": {"standard": "159.0", "sale": "159.0", "isPromoPrice": false, "quantities": [ {"unit": "", "value": "1.0"} ]} }, {"id": "UB68_01_6X9_RUS", "attributes": { "size": "6x9'" , "color": "Rust" }, "avLevels": {"IN_STOCK": 0.0, "PREORDER": 0.0, "BACKORDER": 0.0, "NOT_AVAILABLE": 1.0}, "avStatus":"NOT_AVAILABLE", "inStock":false, "ATS": 0.0, "inStockDate": "Tue Dec 31 12:00:00 GMT 2030" , "pricing": {"standard": "159.0", "sale": "159.0", "isPromoPrice": false, "quantities": [ {"unit": "", "value": "1.0"} ]} }, {"id": "UB68_01_L_BCO", "attributes": { "size": "8x10'" , "color": "Blue Coral" }, "avLevels": {"IN_STOCK": 0.0, "PREORDER": 0.0, "BACKORDER": 0.0, "NOT_AVAILABLE": 1.0}, "avStatus":"NOT_AVAILABLE", "inStock":false, "ATS": 0.0, "inStockDate": "Thu Jan 05 12:00:00 GMT 2012" , "pricing": {"standard": "229.0", "sale": "229.0", "isPromoPrice": false, "quantities": [ {"unit": "", "value": "1.0"} ]} }, {"id": "UB68_01_L_IVO", "attributes": { "size": "8x10'" , "color": "Ivory" }, "avLevels": {"IN_STOCK": 0.0, "PREORDER": 0.0, "BACKORDER": 0.0, "NOT_AVAILABLE": 1.0}, "avStatus":"NOT_AVAILABLE", "inStock":false, "ATS": 0.0, "inStockDate": "Thu Jan 05 12:00:00 GMT 2012" , "pricing": {"standard": "229.0", "sale": "229.0", "isPromoPrice": false, "quantities": [ {"unit": "", "value": "1.0"} ]} }, {"id": "UB68_01_L_RUS", "attributes": { "size": "8x10'" , "color": "Rust" }, "avLevels": {"IN_STOCK": 0.0, "PREORDER": 0.0, "BACKORDER": 0.0, "NOT_AVAILABLE": 1.0}, "avStatus":"NOT_AVAILABLE", "inStock":false, "ATS": 0.0, "inStockDate": "Tue Dec 31 12:00:00 GMT 2030" , "pricing": {"standard": "229.0", "sale": "229.0", "isPromoPrice": false, "quantities": [ {"unit": "", "value": "1.0"} ]} }, {"id": "UB68_01_RUN_BCO", "attributes": { "size": "Runner, 2½x9'" , "color": "Blue Coral" }, "avLevels": {"IN_STOCK": 0.0, "PREORDER": 0.0, "BACKORDER": 0.0, "NOT_AVAILABLE": 1.0}, "avStatus":"NOT_AVAILABLE", "inStock":false, "ATS": 0.0, "inStockDate": "Tue Dec 31 12:00:00 GMT 2030" , "pricing": {"standard": "89.0", "sale": "89.0", "isPromoPrice": false, "quantities": [ {"unit": "", "value": "1.0"} ]} }, {"id": "UB68_01_RUN_RUS", "attributes": { "size": "Runner, 2½x9'" , "color": "Rust" }, "avLevels": {"IN_STOCK": 0.0, "PREORDER": 0.0, "BACKORDER": 0.0, "NOT_AVAILABLE": 1.0}, "avStatus":"NOT_AVAILABLE", "inStock":false, "ATS": 0.0, "inStockDate": "Fri Dec 03 12:00:00 GMT 2010" , "pricing": {"standard": "89.0", "sale": "89.0", "isPromoPrice": false, "quantities": [ {"unit": "", "value": "1.0"} ]} }, {"id": "UB68_01_XL_BCO", "attributes": { "size": "9x12'" , "color": "Blue Coral" }, "avLevels": {"IN_STOCK": 0.0, "PREORDER": 0.0, "BACKORDER": 0.0, "NOT_AVAILABLE": 1.0}, "avStatus":"NOT_AVAILABLE", "inStock":false, "ATS": 0.0, "inStockDate": "Tue Dec 31 12:00:00 GMT 2030" , "pricing": {"standard": "329.0", "sale": "329.0", "isPromoPrice": false, "quantities": [ {"unit": "", "value": "1.0"} ]} }, {"id": "UB68_01_XL_IVO", "attributes": { "size": "9x12'" , "color": "Ivory" }, "avLevels": {"IN_STOCK": 0.0, "PREORDER": 0.0, "BACKORDER": 0.0, "NOT_AVAILABLE": 1.0}, "avStatus":"NOT_AVAILABLE", "inStock":false, "ATS": 0.0, "inStockDate": "Tue Dec 31 12:00:00 GMT 2030" , "pricing": {"standard": "329.0", "sale": "329.0", "isPromoPrice": false, "quantities": [ {"unit": "", "value": "1.0"} ]} }, {"id": "UB68_01_XL_RUS", "attributes": { "size": "9x12'" , "color": "Rust" }, "avLevels": {"IN_STOCK": 0.0, "PREORDER": 0.0, "BACKORDER": 0.0, "NOT_AVAILABLE": 1.0}, "avStatus":"NOT_AVAILABLE", "inStock":false, "ATS": 0.0, "inStockDate": "Tue Dec 31 12:00:00 GMT 2030" , "pricing": {"standard": "329.0", "sale": "329.0", "isPromoPrice": false, "quantities": [ {"unit": "", "value": "1.0"} ]} } ] }}