Company Cotton™ Kids' Bath Towels
Overview & Details
Kids' Turkish towels.
Washcloth, set of 2.
100% combed cotton.
Machine wash.
Imported.
Plush and absorbent, our signature Turkish bath towels for kids are made from 100% combed cotton. Available in a wide range of colors from light to bright, these warm and cozy kids' Turkish bath towels can also be monogrammed for a personalized look. Your child will love a customized towel in his or her favorite color. The reversible cotton loop kids' towel comes in all the same colors as our solid towels.
Reviews
Company Cotton™ Kids' Bath Towels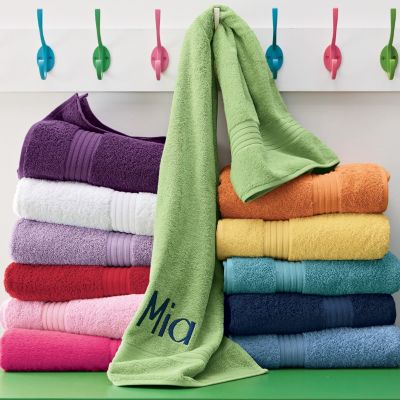 Monogram items are non-returnable due to their customization. Please allow an additional 5-7 business days for orders containing monogrammed items and an additional 7-12 business days during holiday & high volume times. Please check out our
Monogram Guide
for more info.
{"ID":"38093A-A14","isMonogrammable":true,"isCustomizationRequired":false,"monoItemNo":"MG06","customizationCode":"!12","styleOptions":"_1 Initial_2 Initials_3 Initials_Name or Word|02 Block_03 Diamond_04 Classic_05 Signet_08 Sketch_13 Collegiate_14 Traditional_15 Kids_*02 Block_03 Diamond_04 Classic_05 Signet_08 Sketch_13 Collegiate_15 Kids_*02 Block_03 Diamond_04 Classic_05 Signet_06 Modern_08 Sketch_13 Collegiate_15 Kids_*02 Block_04 Classic_07 Juliet_08 Sketch_13 Collegiate_14 Traditional_15 Kids_*|_1_1_1_1_1_1_11_0_0|","monoPrice":6.0,"configuration":"null", "optionType":""}
{ "variations": { "variants": [ {"id": "38093A-WASH-LAGOON", "attributes": { "size": "Washcloth, 12x12''" , "color": "Lagoon" }, "avLevels": {"IN_STOCK": 1.0, "PREORDER": 0.0, "BACKORDER": 0.0, "NOT_AVAILABLE": 0.0}, "avStatus":"IN_STOCK", "inStock":true, "ATS": 1260.0, "inStockDate": "Thu Dec 31 12:00:00 GMT 2015" , "pricing": {"standard": "14.0", "sale": "14.0", "isPromoPrice": false, "quantities": [ {"unit": "", "value": "1.0"} ]} }, {"id": "38093A-BATH-LAGOON", "attributes": { "size": "Bath Towel, 30x54''" , "color": "Lagoon" }, "avLevels": {"IN_STOCK": 1.0, "PREORDER": 0.0, "BACKORDER": 0.0, "NOT_AVAILABLE": 0.0}, "avStatus":"IN_STOCK", "inStock":true, "ATS": 1199.0, "inStockDate": "Thu Dec 31 12:00:00 GMT 2015" , "pricing": {"standard": "20.0", "sale": "20.0", "isPromoPrice": false, "quantities": [ {"unit": "", "value": "1.0"} ]} }, {"id": "38093A-HAND-LAGOON", "attributes": { "size": "Hand Towel, 16x30''" , "color": "Lagoon" }, "avLevels": {"IN_STOCK": 1.0, "PREORDER": 0.0, "BACKORDER": 0.0, "NOT_AVAILABLE": 0.0}, "avStatus":"IN_STOCK", "inStock":true, "ATS": 1056.0, "inStockDate": "Thu Dec 31 12:00:00 GMT 2015" , "pricing": {"standard": "14.0", "sale": "14.0", "isPromoPrice": false, "quantities": [ {"unit": "", "value": "1.0"} ]} }, {"id": "38093A-MAT-LAGOON", "attributes": { "size": "Bath Mat - 20 x 36''" , "color": "Lagoon" }, "avLevels": {"IN_STOCK": 1.0, "PREORDER": 0.0, "BACKORDER": 0.0, "NOT_AVAILABLE": 0.0}, "avStatus":"IN_STOCK", "inStock":true, "ATS": 9.0, "inStockDate": "Thu Dec 31 12:00:00 GMT 2015" , "pricing": {"standard": "22.0", "sale": "22.0", "isPromoPrice": false, "quantities": [ {"unit": "", "value": "1.0"} ]} }, {"id": "38093A-BATH-BUBBLEGUM", "attributes": { "size": "Bath Towel, 30x54''" , "color": "Bubblegum" }, "avLevels": {"IN_STOCK": 0.0, "PREORDER": 0.0, "BACKORDER": 1.0, "NOT_AVAILABLE": 0.0}, "avStatus":"BACKORDER", "inStock":false, "ATS": 81.0, "inStockDate": "Fri Jan 15 12:00:00 GMT 2016" , "pricing": {"standard": "20.0", "sale": "20.0", "isPromoPrice": false, "quantities": [ {"unit": "", "value": "1.0"} ]} }, {"id": "38093A-BATH-DEEP-NAVY", "attributes": { "size": "Bath Towel, 30x54''" , "color": "Deep Navy" }, "avLevels": {"IN_STOCK": 0.0, "PREORDER": 0.0, "BACKORDER": 0.0, "NOT_AVAILABLE": 1.0}, "avStatus":"NOT_AVAILABLE", "inStock":false, "ATS": 0.0, "inStockDate": "Tue Oct 27 12:00:00 GMT 2015" , "pricing": {"standard": "20.0", "sale": "20.0", "isPromoPrice": false, "quantities": [ {"unit": "", "value": "1.0"} ]} }, {"id": "38093A-BATH-OCEAN", "attributes": { "size": "Bath Towel, 30x54''" , "color": "Ocean" }, "avLevels": {"IN_STOCK": 0.0, "PREORDER": 0.0, "BACKORDER": 0.0, "NOT_AVAILABLE": 1.0}, "avStatus":"NOT_AVAILABLE", "inStock":false, "ATS": 0.0, "inStockDate": "Sun Oct 18 12:00:00 GMT 2015" , "pricing": {"standard": "20.0", "sale": "20.0", "isPromoPrice": false, "quantities": [ {"unit": "", "value": "1.0"} ]} }, {"id": "38093A-BATH-WHITE", "attributes": { "size": "Bath Towel, 30x54''" , "color": "White" }, "avLevels": {"IN_STOCK": 1.0, "PREORDER": 0.0, "BACKORDER": 0.0, "NOT_AVAILABLE": 0.0}, "avStatus":"IN_STOCK", "inStock":true, "ATS": 56.0, "inStockDate": "Thu Dec 31 12:00:00 GMT 2015" , "pricing": {"standard": "20.0", "sale": "20.0", "isPromoPrice": false, "quantities": [ {"unit": "", "value": "1.0"} ]} }, {"id": "38093A-HAND-WLDFLWR", "attributes": { "size": "Hand Towel, 16x30''" , "color": "Wild Flower" }, "avLevels": {"IN_STOCK": 0.0, "PREORDER": 0.0, "BACKORDER": 0.0, "NOT_AVAILABLE": 1.0}, "avStatus":"NOT_AVAILABLE", "inStock":false, "ATS": 0.0, "inStockDate": "Thu Dec 31 12:00:00 GMT 2015" , "pricing": {"standard": "14.0", "sale": "14.0", "isPromoPrice": false, "quantities": [ {"unit": "", "value": "1.0"} ]} }, {"id": "38093A-MAT-OCEAN", "attributes": { "size": "Bath Mat - 20 x 36''" , "color": "Ocean" }, "avLevels": {"IN_STOCK": 1.0, "PREORDER": 0.0, "BACKORDER": 0.0, "NOT_AVAILABLE": 0.0}, "avStatus":"IN_STOCK", "inStock":true, "ATS": 66.0, "inStockDate": "Thu Dec 31 12:00:00 GMT 2015" , "pricing": {"standard": "22.0", "sale": "22.0", "isPromoPrice": false, "quantities": [ {"unit": "", "value": "1.0"} ]} }, {"id": "38093A-MAT-WHITE", "attributes": { "size": "Bath Mat - 20 x 36''" , "color": "White" }, "avLevels": {"IN_STOCK": 1.0, "PREORDER": 0.0, "BACKORDER": 0.0, "NOT_AVAILABLE": 0.0}, "avStatus":"IN_STOCK", "inStock":true, "ATS": 27.0, "inStockDate": "Thu Dec 31 12:00:00 GMT 2015" , "pricing": {"standard": "22.0", "sale": "22.0", "isPromoPrice": false, "quantities": [ {"unit": "", "value": "1.0"} ]} }, {"id": "38093A-WASH-BUBBLEGUM", "attributes": { "size": "Washcloth, 12x12''" , "color": "Bubblegum" }, "avLevels": {"IN_STOCK": 1.0, "PREORDER": 0.0, "BACKORDER": 0.0, "NOT_AVAILABLE": 0.0}, "avStatus":"IN_STOCK", "inStock":true, "ATS": 5.0, "inStockDate": "Fri Jan 15 12:00:00 GMT 2016" , "pricing": {"standard": "14.0", "sale": "14.0", "isPromoPrice": false, "quantities": [ {"unit": "", "value": "1.0"} ]} }, {"id": "38093A-WASH-CLEAR-BLUE", "attributes": { "size": "Washcloth, 12x12''" , "color": "Clear Blue" }, "avLevels": {"IN_STOCK": 1.0, "PREORDER": 0.0, "BACKORDER": 0.0, "NOT_AVAILABLE": 0.0}, "avStatus":"IN_STOCK", "inStock":true, "ATS": 431.0, "inStockDate": "Thu Dec 31 12:00:00 GMT 2015" , "pricing": {"standard": "14.0", "sale": "14.0", "isPromoPrice": false, "quantities": [ {"unit": "", "value": "1.0"} ]} }, {"id": "38093A-WASH-PALM", "attributes": { "size": "Washcloth, 12x12''" , "color": "Palm" }, "avLevels": {"IN_STOCK": 1.0, "PREORDER": 0.0, "BACKORDER": 0.0, "NOT_AVAILABLE": 0.0}, "avStatus":"IN_STOCK", "inStock":true, "ATS": 56.0, "inStockDate": "Fri Jan 15 12:00:00 GMT 2016" , "pricing": {"standard": "14.0", "sale": "14.0", "isPromoPrice": false, "quantities": [ {"unit": "", "value": "1.0"} ]} }, {"id": "38093A-WASH-SAFFRON", "attributes": { "size": "Washcloth, 12x12''" , "color": "Saffron" }, "avLevels": {"IN_STOCK": 1.0, "PREORDER": 0.0, "BACKORDER": 0.0, "NOT_AVAILABLE": 0.0}, "avStatus":"IN_STOCK", "inStock":true, "ATS": 9.0, "inStockDate": "Thu Dec 31 12:00:00 GMT 2015" , "pricing": {"standard": "14.0", "sale": "14.0", "isPromoPrice": false, "quantities": [ {"unit": "", "value": "1.0"} ]} }, {"id": "38093A-BATH-GRAPE", "attributes": { "size": "Bath Towel, 30x54''" , "color": "Grape" }, "avLevels": {"IN_STOCK": 0.0, "PREORDER": 0.0, "BACKORDER": 0.0, "NOT_AVAILABLE": 1.0}, "avStatus":"NOT_AVAILABLE", "inStock":false, "ATS": 0.0, "inStockDate": "Tue Dec 22 12:00:00 GMT 2015" , "pricing": {"standard": "20.0", "sale": "20.0", "isPromoPrice": false, "quantities": [ {"unit": "", "value": "1.0"} ]} }, {"id": "38093A-BATH-LPSTCK", "attributes": { "size": "Bath Towel, 30x54''" , "color": "Lipstick" }, "avLevels": {"IN_STOCK": 0.0, "PREORDER": 0.0, "BACKORDER": 0.0, "NOT_AVAILABLE": 1.0}, "avStatus":"NOT_AVAILABLE", "inStock":false, "ATS": 0.0, "inStockDate": "Thu Nov 26 12:00:00 GMT 2015" , "pricing": {"standard": "20.0", "sale": "20.0", "isPromoPrice": false, "quantities": [ {"unit": "", "value": "1.0"} ]} }, {"id": "38093A-BATH-CLEAR-BLUE", "attributes": { "size": "Bath Towel, 30x54''" , "color": "Clear Blue" }, "avLevels": {"IN_STOCK": 0.0, "PREORDER": 0.0, "BACKORDER": 0.0, "NOT_AVAILABLE": 1.0}, "avStatus":"NOT_AVAILABLE", "inStock":false, "ATS": 0.0, "inStockDate": "Wed Nov 18 12:00:00 GMT 2015" , "pricing": {"standard": "20.0", "sale": "20.0", "isPromoPrice": false, "quantities": [ {"unit": "", "value": "1.0"} ]} }, {"id": "38093A-BATH-PALM", "attributes": { "size": "Bath Towel, 30x54''" , "color": "Palm" }, "avLevels": {"IN_STOCK": 0.0, "PREORDER": 0.0, "BACKORDER": 1.0, "NOT_AVAILABLE": 0.0}, "avStatus":"BACKORDER", "inStock":false, "ATS": 89.0, "inStockDate": "Fri Jan 15 12:00:00 GMT 2016" , "pricing": {"standard": "20.0", "sale": "20.0", "isPromoPrice": false, "quantities": [ {"unit": "", "value": "1.0"} ]} }, {"id": "38093A-BATH-SAFFRON", "attributes": { "size": "Bath Towel, 30x54''" , "color": "Saffron" }, "avLevels": {"IN_STOCK": 1.0, "PREORDER": 0.0, "BACKORDER": 0.0, "NOT_AVAILABLE": 0.0}, "avStatus":"IN_STOCK", "inStock":true, "ATS": 654.0, "inStockDate": "Thu Dec 31 12:00:00 GMT 2015" , "pricing": {"standard": "20.0", "sale": "20.0", "isPromoPrice": false, "quantities": [ {"unit": "", "value": "1.0"} ]} }, {"id": "38093A-HAND-GRAPE", "attributes": { "size": "Hand Towel, 16x30''" , "color": "Grape" }, "avLevels": {"IN_STOCK": 1.0, "PREORDER": 0.0, "BACKORDER": 0.0, "NOT_AVAILABLE": 0.0}, "avStatus":"IN_STOCK", "inStock":true, "ATS": 6.0, "inStockDate": "Thu Dec 31 12:00:00 GMT 2015" , "pricing": {"standard": "14.0", "sale": "14.0", "isPromoPrice": false, "quantities": [ {"unit": "", "value": "1.0"} ]} }, {"id": "38093A-HAND-LPSTCK", "attributes": { "size": "Hand Towel, 16x30''" , "color": "Lipstick" }, "avLevels": {"IN_STOCK": 1.0, "PREORDER": 0.0, "BACKORDER": 0.0, "NOT_AVAILABLE": 0.0}, "avStatus":"IN_STOCK", "inStock":true, "ATS": 7.0, "inStockDate": "Thu Dec 31 12:00:00 GMT 2015" , "pricing": {"standard": "14.0", "sale": "14.0", "isPromoPrice": false, "quantities": [ {"unit": "", "value": "1.0"} ]} }, {"id": "38093A-HAND-SUN-YLW", "attributes": { "size": "Hand Towel, 16x30''" , "color": "Sunshine Yellow" }, "avLevels": {"IN_STOCK": 0.0, "PREORDER": 0.0, "BACKORDER": 0.0, "NOT_AVAILABLE": 1.0}, "avStatus":"NOT_AVAILABLE", "inStock":false, "ATS": 0.0, "inStockDate": "Mon Nov 30 12:00:00 GMT 2015" , "pricing": {"standard": "14.0", "sale": "14.0", "isPromoPrice": false, "quantities": [ {"unit": "", "value": "1.0"} ]} }, {"id": "38093A-HAND-BUBBLEGUM", "attributes": { "size": "Hand Towel, 16x30''" , "color": "Bubblegum" }, "avLevels": {"IN_STOCK": 1.0, "PREORDER": 0.0, "BACKORDER": 0.0, "NOT_AVAILABLE": 0.0}, "avStatus":"IN_STOCK", "inStock":true, "ATS": 13.0, "inStockDate": "Fri Jan 01 12:00:00 GMT 2016" , "pricing": {"standard": "14.0", "sale": "14.0", "isPromoPrice": false, "quantities": [ {"unit": "", "value": "1.0"} ]} }, {"id": "38093A-HAND-CLEAR-BLUE", "attributes": { "size": "Hand Towel, 16x30''" , "color": "Clear Blue" }, "avLevels": {"IN_STOCK": 1.0, "PREORDER": 0.0, "BACKORDER": 0.0, "NOT_AVAILABLE": 0.0}, "avStatus":"IN_STOCK", "inStock":true, "ATS": 21.0, "inStockDate": "Thu Dec 31 12:00:00 GMT 2015" , "pricing": {"standard": "14.0", "sale": "14.0", "isPromoPrice": false, "quantities": [ {"unit": "", "value": "1.0"} ]} }, {"id": "38093A-HAND-DEEP-NAVY", "attributes": { "size": "Hand Towel, 16x30''" , "color": "Deep Navy" }, "avLevels": {"IN_STOCK": 1.0, "PREORDER": 0.0, "BACKORDER": 0.0, "NOT_AVAILABLE": 0.0}, "avStatus":"IN_STOCK", "inStock":true, "ATS": 41.0, "inStockDate": "Thu Dec 31 12:00:00 GMT 2015" , "pricing": {"standard": "14.0", "sale": "14.0", "isPromoPrice": false, "quantities": [ {"unit": "", "value": "1.0"} ]} }, {"id": "38093A-HAND-HIBISCUS", "attributes": { "size": "Hand Towel, 16x30''" , "color": "Hibiscus" }, "avLevels": {"IN_STOCK": 1.0, "PREORDER": 0.0, "BACKORDER": 0.0, "NOT_AVAILABLE": 0.0}, "avStatus":"IN_STOCK", "inStock":true, "ATS": 23.0, "inStockDate": "Thu Dec 31 12:00:00 GMT 2015" , "pricing": {"standard": "14.0", "sale": "14.0", "isPromoPrice": false, "quantities": [ {"unit": "", "value": "1.0"} ]} }, {"id": "38093A-HAND-OCEAN", "attributes": { "size": "Hand Towel, 16x30''" , "color": "Ocean" }, "avLevels": {"IN_STOCK": 0.0, "PREORDER": 0.0, "BACKORDER": 0.0, "NOT_AVAILABLE": 1.0}, "avStatus":"NOT_AVAILABLE", "inStock":false, "ATS": 0.0, "inStockDate": "Mon Dec 21 12:00:00 GMT 2015" , "pricing": {"standard": "14.0", "sale": "14.0", "isPromoPrice": false, "quantities": [ {"unit": "", "value": "1.0"} ]} }, {"id": "38093A-HAND-PALM", "attributes": { "size": "Hand Towel, 16x30''" , "color": "Palm" }, "avLevels": {"IN_STOCK": 1.0, "PREORDER": 0.0, "BACKORDER": 0.0, "NOT_AVAILABLE": 0.0}, "avStatus":"IN_STOCK", "inStock":true, "ATS": 27.0, "inStockDate": "Fri Jan 15 12:00:00 GMT 2016" , "pricing": {"standard": "14.0", "sale": "14.0", "isPromoPrice": false, "quantities": [ {"unit": "", "value": "1.0"} ]} }, {"id": "38093A-HAND-SAFFRON", "attributes": { "size": "Hand Towel, 16x30''" , "color": "Saffron" }, "avLevels": {"IN_STOCK": 1.0, "PREORDER": 0.0, "BACKORDER": 0.0, "NOT_AVAILABLE": 0.0}, "avStatus":"IN_STOCK", "inStock":true, "ATS": 449.0, "inStockDate": "Thu Dec 31 12:00:00 GMT 2015" , "pricing": {"standard": "14.0", "sale": "14.0", "isPromoPrice": false, "quantities": [ {"unit": "", "value": "1.0"} ]} }, {"id": "38093A-MAT-BUBBLEGUM", "attributes": { "size": "Bath Mat - 20 x 36''" , "color": "Bubblegum" }, "avLevels": {"IN_STOCK": 1.0, "PREORDER": 0.0, "BACKORDER": 0.0, "NOT_AVAILABLE": 0.0}, "avStatus":"IN_STOCK", "inStock":true, "ATS": 29.0, "inStockDate": "Fri Jan 01 12:00:00 GMT 2016" , "pricing": {"standard": "22.0", "sale": "22.0", "isPromoPrice": false, "quantities": [ {"unit": "", "value": "1.0"} ]} }, {"id": "38093A-MAT-CLEAR-BLUE", "attributes": { "size": "Bath Mat - 20 x 36''" , "color": "Clear Blue" }, "avLevels": {"IN_STOCK": 1.0, "PREORDER": 0.0, "BACKORDER": 0.0, "NOT_AVAILABLE": 0.0}, "avStatus":"IN_STOCK", "inStock":true, "ATS": 48.0, "inStockDate": "Thu Dec 31 12:00:00 GMT 2015" , "pricing": {"standard": "22.0", "sale": "22.0", "isPromoPrice": false, "quantities": [ {"unit": "", "value": "1.0"} ]} }, {"id": "38093A-MAT-DEEP-NAVY", "attributes": { "size": "Bath Mat - 20 x 36''" , "color": "Deep Navy" }, "avLevels": {"IN_STOCK": 1.0, "PREORDER": 0.0, "BACKORDER": 0.0, "NOT_AVAILABLE": 0.0}, "avStatus":"IN_STOCK", "inStock":true, "ATS": 30.0, "inStockDate": "Thu Dec 31 12:00:00 GMT 2015" , "pricing": {"standard": "22.0", "sale": "22.0", "isPromoPrice": false, "quantities": [ {"unit": "", "value": "1.0"} ]} }, {"id": "38093A-MAT-GRAPE", "attributes": { "size": "Bath Mat - 20 x 36''" , "color": "Grape" }, "avLevels": {"IN_STOCK": 1.0, "PREORDER": 0.0, "BACKORDER": 0.0, "NOT_AVAILABLE": 0.0}, "avStatus":"IN_STOCK", "inStock":true, "ATS": 22.0, "inStockDate": "Thu Dec 31 12:00:00 GMT 2015" , "pricing": {"standard": "22.0", "sale": "22.0", "isPromoPrice": false, "quantities": [ {"unit": "", "value": "1.0"} ]} }, {"id": "38093A-MAT-HIBISCUS", "attributes": { "size": "Bath Mat - 20 x 36''" , "color": "Hibiscus" }, "avLevels": {"IN_STOCK": 1.0, "PREORDER": 0.0, "BACKORDER": 0.0, "NOT_AVAILABLE": 0.0}, "avStatus":"IN_STOCK", "inStock":true, "ATS": 8.0, "inStockDate": "Thu Dec 31 12:00:00 GMT 2015" , "pricing": {"standard": "22.0", "sale": "22.0", "isPromoPrice": false, "quantities": [ {"unit": "", "value": "1.0"} ]} }, {"id": "38093A-MAT-LPSTCK", "attributes": { "size": "Bath Mat - 20 x 36''" , "color": "Lipstick" }, "avLevels": {"IN_STOCK": 1.0, "PREORDER": 0.0, "BACKORDER": 0.0, "NOT_AVAILABLE": 0.0}, "avStatus":"IN_STOCK", "inStock":true, "ATS": 19.0, "inStockDate": "Thu Dec 31 12:00:00 GMT 2015" , "pricing": {"standard": "22.0", "sale": "22.0", "isPromoPrice": false, "quantities": [ {"unit": "", "value": "1.0"} ]} }, {"id": "38093A-MAT-PALM", "attributes": { "size": "Bath Mat - 20 x 36''" , "color": "Palm" }, "avLevels": {"IN_STOCK": 1.0, "PREORDER": 0.0, "BACKORDER": 0.0, "NOT_AVAILABLE": 0.0}, "avStatus":"IN_STOCK", "inStock":true, "ATS": 44.0, "inStockDate": "Fri Jan 01 12:00:00 GMT 2016" , "pricing": {"standard": "22.0", "sale": "22.0", "isPromoPrice": false, "quantities": [ {"unit": "", "value": "1.0"} ]} }, {"id": "38093A-MAT-SAFFRON", "attributes": { "size": "Bath Mat - 20 x 36''" , "color": "Saffron" }, "avLevels": {"IN_STOCK": 1.0, "PREORDER": 0.0, "BACKORDER": 0.0, "NOT_AVAILABLE": 0.0}, "avStatus":"IN_STOCK", "inStock":true, "ATS": 31.0, "inStockDate": "Thu Dec 31 12:00:00 GMT 2015" , "pricing": {"standard": "22.0", "sale": "22.0", "isPromoPrice": false, "quantities": [ {"unit": "", "value": "1.0"} ]} }, {"id": "38093A-MAT-WLDFLWR", "attributes": { "size": "Bath Mat - 20 x 36''" , "color": "Wild Flower" }, "avLevels": {"IN_STOCK": 1.0, "PREORDER": 0.0, "BACKORDER": 0.0, "NOT_AVAILABLE": 0.0}, "avStatus":"IN_STOCK", "inStock":true, "ATS": 8.0, "inStockDate": "Thu Dec 31 12:00:00 GMT 2015" , "pricing": {"standard": "22.0", "sale": "22.0", "isPromoPrice": false, "quantities": [ {"unit": "", "value": "1.0"} ]} }, {"id": "38093A-WASH-GRAPE", "attributes": { "size": "Washcloth, 12x12''" , "color": "Grape" }, "avLevels": {"IN_STOCK": 0.0, "PREORDER": 0.0, "BACKORDER": 0.0, "NOT_AVAILABLE": 1.0}, "avStatus":"NOT_AVAILABLE", "inStock":false, "ATS": 0.0, "inStockDate": "Mon Dec 14 12:00:00 GMT 2015" , "pricing": {"standard": "14.0", "sale": "14.0", "isPromoPrice": false, "quantities": [ {"unit": "", "value": "1.0"} ]} }, {"id": "38093A-WASH-HIBISCUS", "attributes": { "size": "Washcloth, 12x12''" , "color": "Hibiscus" }, "avLevels": {"IN_STOCK": 1.0, "PREORDER": 0.0, "BACKORDER": 0.0, "NOT_AVAILABLE": 0.0}, "avStatus":"IN_STOCK", "inStock":true, "ATS": 6.0, "inStockDate": "Thu Dec 31 12:00:00 GMT 2015" , "pricing": {"standard": "14.0", "sale": "14.0", "isPromoPrice": false, "quantities": [ {"unit": "", "value": "1.0"} ]} }, {"id": "38093A-WASH-OCEAN", "attributes": { "size": "Washcloth, 12x12''" , "color": "Ocean" }, "avLevels": {"IN_STOCK": 1.0, "PREORDER": 0.0, "BACKORDER": 0.0, "NOT_AVAILABLE": 0.0}, "avStatus":"IN_STOCK", "inStock":true, "ATS": 39.0, "inStockDate": "Thu Dec 31 12:00:00 GMT 2015" , "pricing": {"standard": "14.0", "sale": "14.0", "isPromoPrice": false, "quantities": [ {"unit": "", "value": "1.0"} ]} }, {"id": "38093A-WASH-WHITE", "attributes": { "size": "Washcloth, 12x12''" , "color": "White" }, "avLevels": {"IN_STOCK": 1.0, "PREORDER": 0.0, "BACKORDER": 0.0, "NOT_AVAILABLE": 0.0}, "avStatus":"IN_STOCK", "inStock":true, "ATS": 48.0, "inStockDate": "Thu Dec 31 12:00:00 GMT 2015" , "pricing": {"standard": "14.0", "sale": "14.0", "isPromoPrice": false, "quantities": [ {"unit": "", "value": "1.0"} ]} }, {"id": "38093A-HAND-WHITE", "attributes": { "size": "Hand Towel, 16x30''" , "color": "White" }, "avLevels": {"IN_STOCK": 1.0, "PREORDER": 0.0, "BACKORDER": 0.0, "NOT_AVAILABLE": 0.0}, "avStatus":"IN_STOCK", "inStock":true, "ATS": 3791.0, "inStockDate": "Thu Dec 31 12:00:00 GMT 2015" , "pricing": {"standard": "14.0", "sale": "14.0", "isPromoPrice": false, "quantities": [ {"unit": "", "value": "1.0"} ]} }, {"id": "38093A-MAT-SLATE", "attributes": { "size": "Bath Mat - 20 x 36''" , "color": "Slate Gray" }, "avLevels": {"IN_STOCK": 0.0, "PREORDER": 0.0, "BACKORDER": 0.0, "NOT_AVAILABLE": 1.0}, "avStatus":"NOT_AVAILABLE", "inStock":false, "ATS": 0.0, "inStockDate": "Thu Dec 31 12:00:00 GMT 2015" , "pricing": {"standard": "22.0", "sale": "22.0", "isPromoPrice": false, "quantities": [ {"unit": "", "value": "1.0"} ]} }, {"id": "38093A-WASH-LPSTCK", "attributes": { "size": "Washcloth, 12x12''" , "color": "Lipstick" }, "avLevels": {"IN_STOCK": 1.0, "PREORDER": 0.0, "BACKORDER": 0.0, "NOT_AVAILABLE": 0.0}, "avStatus":"IN_STOCK", "inStock":true, "ATS": 1.0, "inStockDate": "Thu Dec 31 12:00:00 GMT 2015" , "pricing": {"standard": "14.0", "sale": "14.0", "isPromoPrice": false, "quantities": [ {"unit": "", "value": "1.0"} ]} }, {"id": "38093A-WASH-DEEP-NAVY", "attributes": { "size": "Washcloth, 12x12''" , "color": "Deep Navy" }, "avLevels": {"IN_STOCK": 1.0, "PREORDER": 0.0, "BACKORDER": 0.0, "NOT_AVAILABLE": 0.0}, "avStatus":"IN_STOCK", "inStock":true, "ATS": 2.0, "inStockDate": "Thu Dec 31 12:00:00 GMT 2015" , "pricing": {"standard": "14.0", "sale": "14.0", "isPromoPrice": false, "quantities": [ {"unit": "", "value": "1.0"} ]} } ] }}