Company Cotton® Pillow Covers
Overview & Details
Cotton pillow covers.
Pillow cover zips off for easy machine washing.
Available in several fashion colors.
Machine wash/dry.
Imported.

Put a protective shield around your favorite pillows with our easy-to-use pillow covers. Sure to make your head happy with 100% cotton comfort, these pillowcases are available in an array of fashion-savvy colors to complement the rest of your bedding. Simply slip one of our irresistible pillow covers over your pillow and watch as nights of pure comfort turn into years of quality sleep.
Reviews
Company Cotton® Pillow Covers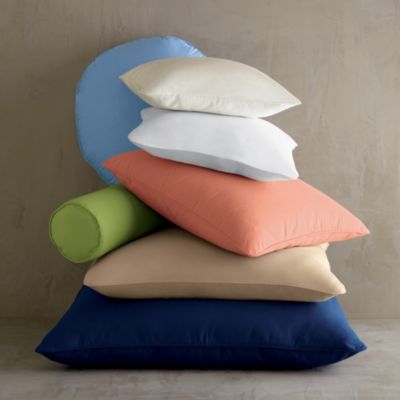 Monogram items are non-returnable due to their customization. Please allow an additional 5-7 business days for orders containing monogrammed items and an additional 7-12 business days during holiday & high volume times. Please check out our
Monogram Guide
for more info.
{"ID":"OC57-A11","isMonogrammable":true,"isCustomizationRequired":false,"monoItemNo":"MG06","customizationCode":"!12","styleOptions":"_1 Initial_2 Initials_3 Initials_Name or Word|02 Block_03 Diamond_04 Classic_05 Signet_08 Sketch_13 Collegiate_14 Traditional_15 Kids_*02 Block_03 Diamond_04 Classic_05 Signet_08 Sketch_13 Collegiate_15 Kids_*02 Block_03 Diamond_04 Classic_05 Signet_06 Modern_08 Sketch_13 Collegiate_15 Kids_*02 Block_04 Classic_07 Juliet_08 Sketch_13 Collegiate_14 Traditional_15 Kids_*|_1_1_1_1_1_1_11_0_0|","monoPrice":6.0,"configuration":"null", "optionType":""}
{ "variations": { "variants": [ ] }}