TCS® Classic Down Blanket
$189.00-$299.00
SALE: $169.00-$269.00
Overview & Details
Premium European down blanket.
Handcrafted in our LaCrosse, WI factory of fine imported materials.
300-thread count combed cotton sateen cover is down proof and silky to the touch.
Most down-proof sateen comforters are dry clean only, but we worked closely with one of the finest fabric mills available to develop a cotton sateen that's both down-proof and machine washable.
Hypoallergenic 500-550 fill power European down provides luxurious loft and warmth.
A rigorous 6-step quality process ensures our down is hypoallergenic-exceeding government regulations for cleanliness.
Stitched with double-diamond patterning to prevent down from shifting.
Available in 6 beautiful colors – Silver Gray, Driftwood, Sterling Blue, Antique Gold, White and Ivory.
Cotton sateen fabric is Oeko-Tex certified to be free of all harmful substances and chemicals.
Also available in our exclusive TCS® PrimaLoft Deluxe fill.
Lifetime guarantee.
Machine wash.
Exclusively ours.
Falling somewhere between a blanket and a comforter, our TCS® Classic European Down Blanket is the best of both worlds, providing a layer of cozy, light-weight warmth that's perfect year-round. Generously sized and covered in our new silky-soft, down-proof 300-thread count combed cotton sateen shell, it's filled with hypoallergenic, 500–550 fill power European down. Expertly stitched in a double-diamond pattern ensures the fill stays in place.
Reviews
Lifetime Guarantee
Lifetime Guarantee

All products manufactured in our La Crosse, WI factory are covered by our Lifetime Guarantee. These products may be returned at any time (certain exclusions apply). We will gladly offer you an exchange, refund or merchandise credit (excluding delivery and service charges).
Look for this symbol
throughout the catalog and website which indicates the product carries a Lifetime Guarantee.
TCS® Classic Down Blanket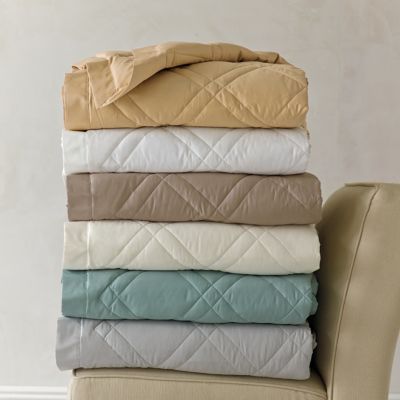 $189.00-$299.00
SALE: $169.00-$269.00
{ "variations": { "variants": [ {"id": "KN98_F_AGO", "attributes": { "size": "Full, 80 x 96'' - 17 oz. fill" , "color": "Antique Gold" }, "avLevels": {"IN_STOCK": 0.0, "PREORDER": 0.0, "BACKORDER": 1.0, "NOT_AVAILABLE": 0.0}, "avStatus":"BACKORDER", "inStock":false, "ATS": 10000.0, "inStockDate": "Tue Jun 30 12:00:00 GMT 2015" , "pricing": {"standard": "219.0", "sale": "194.0", "isPromoPrice": false, "quantities": [ {"unit": "", "value": "1.0"} ]} }, {"id": "KN98_F_DRI", "attributes": { "size": "Full, 80 x 96'' - 17 oz. fill" , "color": "Driftwood" }, "avLevels": {"IN_STOCK": 1.0, "PREORDER": 0.0, "BACKORDER": 0.0, "NOT_AVAILABLE": 0.0}, "avStatus":"IN_STOCK", "inStock":true, "ATS": 10022.0, "inStockDate": "Thu Mar 19 12:00:00 GMT 2015" , "pricing": {"standard": "219.0", "sale": "194.0", "isPromoPrice": false, "quantities": [ {"unit": "", "value": "1.0"} ]} }, {"id": "KN98_F_IVO", "attributes": { "size": "Full, 80 x 96'' - 17 oz. fill" , "color": "Ivory" }, "avLevels": {"IN_STOCK": 1.0, "PREORDER": 0.0, "BACKORDER": 0.0, "NOT_AVAILABLE": 0.0}, "avStatus":"IN_STOCK", "inStock":true, "ATS": 10021.0, "inStockDate": "Fri Mar 20 12:00:00 GMT 2015" , "pricing": {"standard": "219.0", "sale": "194.0", "isPromoPrice": false, "quantities": [ {"unit": "", "value": "1.0"} ]} }, {"id": "KN98_F_SBL", "attributes": { "size": "Full, 80 x 96'' - 17 oz. fill" , "color": "Sterling Blue" }, "avLevels": {"IN_STOCK": 1.0, "PREORDER": 0.0, "BACKORDER": 0.0, "NOT_AVAILABLE": 0.0}, "avStatus":"IN_STOCK", "inStock":true, "ATS": 10018.0, "inStockDate": "Tue Jun 02 12:00:00 GMT 2015" , "pricing": {"standard": "219.0", "sale": "194.0", "isPromoPrice": false, "quantities": [ {"unit": "", "value": "1.0"} ]} }, {"id": "KN98_F_SIG", "attributes": { "size": "Full, 80 x 96'' - 17 oz. fill" , "color": "Silver Gray" }, "avLevels": {"IN_STOCK": 1.0, "PREORDER": 0.0, "BACKORDER": 0.0, "NOT_AVAILABLE": 0.0}, "avStatus":"IN_STOCK", "inStock":true, "ATS": 10018.0, "inStockDate": "Fri Mar 20 12:00:00 GMT 2015" , "pricing": {"standard": "219.0", "sale": "194.0", "isPromoPrice": false, "quantities": [ {"unit": "", "value": "1.0"} ]} }, {"id": "KN98_F_WHI", "attributes": { "size": "Full, 80 x 96'' - 17 oz. fill" , "color": "White" }, "avLevels": {"IN_STOCK": 1.0, "PREORDER": 0.0, "BACKORDER": 0.0, "NOT_AVAILABLE": 0.0}, "avStatus":"IN_STOCK", "inStock":true, "ATS": 10032.0, "inStockDate": "Thu Apr 30 12:00:00 GMT 2015" , "pricing": {"standard": "219.0", "sale": "194.0", "isPromoPrice": false, "quantities": [ {"unit": "", "value": "1.0"} ]} }, {"id": "KN98_K_AGO", "attributes": { "size": "King, 108 x 96'' - 24 oz." , "color": "Antique Gold" }, "avLevels": {"IN_STOCK": 1.0, "PREORDER": 0.0, "BACKORDER": 0.0, "NOT_AVAILABLE": 0.0}, "avStatus":"IN_STOCK", "inStock":true, "ATS": 10015.0, "inStockDate": "Thu Mar 19 12:00:00 GMT 2015" , "pricing": {"standard": "299.0", "sale": "269.0", "isPromoPrice": false, "quantities": [ {"unit": "", "value": "1.0"} ]} }, {"id": "KN98_K_DRI", "attributes": { "size": "King, 108 x 96'' - 24 oz." , "color": "Driftwood" }, "avLevels": {"IN_STOCK": 1.0, "PREORDER": 0.0, "BACKORDER": 0.0, "NOT_AVAILABLE": 0.0}, "avStatus":"IN_STOCK", "inStock":true, "ATS": 10058.0, "inStockDate": "Thu Mar 19 12:00:00 GMT 2015" , "pricing": {"standard": "299.0", "sale": "269.0", "isPromoPrice": false, "quantities": [ {"unit": "", "value": "1.0"} ]} }, {"id": "KN98_K_IVO", "attributes": { "size": "King, 108 x 96'' - 24 oz." , "color": "Ivory" }, "avLevels": {"IN_STOCK": 1.0, "PREORDER": 0.0, "BACKORDER": 0.0, "NOT_AVAILABLE": 0.0}, "avStatus":"IN_STOCK", "inStock":true, "ATS": 10040.0, "inStockDate": "Thu Mar 19 12:00:00 GMT 2015" , "pricing": {"standard": "299.0", "sale": "269.0", "isPromoPrice": false, "quantities": [ {"unit": "", "value": "1.0"} ]} }, {"id": "KN98_K_SBL", "attributes": { "size": "King, 108 x 96'' - 24 oz." , "color": "Sterling Blue" }, "avLevels": {"IN_STOCK": 1.0, "PREORDER": 0.0, "BACKORDER": 0.0, "NOT_AVAILABLE": 0.0}, "avStatus":"IN_STOCK", "inStock":true, "ATS": 10021.0, "inStockDate": "Thu Mar 19 12:00:00 GMT 2015" , "pricing": {"standard": "299.0", "sale": "269.0", "isPromoPrice": false, "quantities": [ {"unit": "", "value": "1.0"} ]} }, {"id": "KN98_K_SIG", "attributes": { "size": "King, 108 x 96'' - 24 oz." , "color": "Silver Gray" }, "avLevels": {"IN_STOCK": 1.0, "PREORDER": 0.0, "BACKORDER": 0.0, "NOT_AVAILABLE": 0.0}, "avStatus":"IN_STOCK", "inStock":true, "ATS": 10012.0, "inStockDate": "Thu Mar 19 12:00:00 GMT 2015" , "pricing": {"standard": "299.0", "sale": "269.0", "isPromoPrice": false, "quantities": [ {"unit": "", "value": "1.0"} ]} }, {"id": "KN98_K_WHI", "attributes": { "size": "King, 108 x 96'' - 24 oz." , "color": "White" }, "avLevels": {"IN_STOCK": 1.0, "PREORDER": 0.0, "BACKORDER": 0.0, "NOT_AVAILABLE": 0.0}, "avStatus":"IN_STOCK", "inStock":true, "ATS": 10054.0, "inStockDate": "Thu Mar 19 12:00:00 GMT 2015" , "pricing": {"standard": "299.0", "sale": "269.0", "isPromoPrice": false, "quantities": [ {"unit": "", "value": "1.0"} ]} }, {"id": "KN98_Q_AGO", "attributes": { "size": "Queen, 90 x 96'' - 20 oz. fill" , "color": "Antique Gold" }, "avLevels": {"IN_STOCK": 1.0, "PREORDER": 0.0, "BACKORDER": 0.0, "NOT_AVAILABLE": 0.0}, "avStatus":"IN_STOCK", "inStock":true, "ATS": 10025.0, "inStockDate": "Fri Mar 20 12:00:00 GMT 2015" , "pricing": {"standard": "259.0", "sale": "229.0", "isPromoPrice": false, "quantities": [ {"unit": "", "value": "1.0"} ]} }, {"id": "KN98_Q_DRI", "attributes": { "size": "Queen, 90 x 96'' - 20 oz. fill" , "color": "Driftwood" }, "avLevels": {"IN_STOCK": 1.0, "PREORDER": 0.0, "BACKORDER": 0.0, "NOT_AVAILABLE": 0.0}, "avStatus":"IN_STOCK", "inStock":true, "ATS": 10035.0, "inStockDate": "Thu Mar 19 12:00:00 GMT 2015" , "pricing": {"standard": "259.0", "sale": "229.0", "isPromoPrice": false, "quantities": [ {"unit": "", "value": "1.0"} ]} }, {"id": "KN98_Q_IVO", "attributes": { "size": "Queen, 90 x 96'' - 20 oz. fill" , "color": "Ivory" }, "avLevels": {"IN_STOCK": 1.0, "PREORDER": 0.0, "BACKORDER": 0.0, "NOT_AVAILABLE": 0.0}, "avStatus":"IN_STOCK", "inStock":true, "ATS": 10035.0, "inStockDate": "Sun May 31 12:00:00 GMT 2015" , "pricing": {"standard": "259.0", "sale": "229.0", "isPromoPrice": false, "quantities": [ {"unit": "", "value": "1.0"} ]} }, {"id": "KN98_Q_SBL", "attributes": { "size": "Queen, 90 x 96'' - 20 oz. fill" , "color": "Sterling Blue" }, "avLevels": {"IN_STOCK": 1.0, "PREORDER": 0.0, "BACKORDER": 0.0, "NOT_AVAILABLE": 0.0}, "avStatus":"IN_STOCK", "inStock":true, "ATS": 10012.0, "inStockDate": "Thu Apr 30 12:00:00 GMT 2015" , "pricing": {"standard": "259.0", "sale": "229.0", "isPromoPrice": false, "quantities": [ {"unit": "", "value": "1.0"} ]} }, {"id": "KN98_Q_SIG", "attributes": { "size": "Queen, 90 x 96'' - 20 oz. fill" , "color": "Silver Gray" }, "avLevels": {"IN_STOCK": 1.0, "PREORDER": 0.0, "BACKORDER": 0.0, "NOT_AVAILABLE": 0.0}, "avStatus":"IN_STOCK", "inStock":true, "ATS": 10009.0, "inStockDate": "Thu Apr 30 12:00:00 GMT 2015" , "pricing": {"standard": "259.0", "sale": "229.0", "isPromoPrice": false, "quantities": [ {"unit": "", "value": "1.0"} ]} }, {"id": "KN98_Q_WHI", "attributes": { "size": "Queen, 90 x 96'' - 20 oz. fill" , "color": "White" }, "avLevels": {"IN_STOCK": 1.0, "PREORDER": 0.0, "BACKORDER": 0.0, "NOT_AVAILABLE": 0.0}, "avStatus":"IN_STOCK", "inStock":true, "ATS": 10052.0, "inStockDate": "Thu Mar 19 12:00:00 GMT 2015" , "pricing": {"standard": "259.0", "sale": "229.0", "isPromoPrice": false, "quantities": [ {"unit": "", "value": "1.0"} ]} }, {"id": "KN98_T_AGO", "attributes": { "size": "Twin, 66 x 96'' - 14 oz. fill" , "color": "Antique Gold" }, "avLevels": {"IN_STOCK": 1.0, "PREORDER": 0.0, "BACKORDER": 0.0, "NOT_AVAILABLE": 0.0}, "avStatus":"IN_STOCK", "inStock":true, "ATS": 10021.0, "inStockDate": "Fri Mar 20 12:00:00 GMT 2015" , "pricing": {"standard": "189.0", "sale": "169.0", "isPromoPrice": false, "quantities": [ {"unit": "", "value": "1.0"} ]} }, {"id": "KN98_T_DRI", "attributes": { "size": "Twin, 66 x 96'' - 14 oz. fill" , "color": "Driftwood" }, "avLevels": {"IN_STOCK": 1.0, "PREORDER": 0.0, "BACKORDER": 0.0, "NOT_AVAILABLE": 0.0}, "avStatus":"IN_STOCK", "inStock":true, "ATS": 10012.0, "inStockDate": "Tue Jun 30 12:00:00 GMT 2015" , "pricing": {"standard": "189.0", "sale": "169.0", "isPromoPrice": false, "quantities": [ {"unit": "", "value": "1.0"} ]} }, {"id": "KN98_T_IVO", "attributes": { "size": "Twin, 66 x 96'' - 14 oz. fill" , "color": "Ivory" }, "avLevels": {"IN_STOCK": 1.0, "PREORDER": 0.0, "BACKORDER": 0.0, "NOT_AVAILABLE": 0.0}, "avStatus":"IN_STOCK", "inStock":true, "ATS": 10027.0, "inStockDate": "Tue Jun 30 12:00:00 GMT 2015" , "pricing": {"standard": "189.0", "sale": "169.0", "isPromoPrice": false, "quantities": [ {"unit": "", "value": "1.0"} ]} }, {"id": "KN98_T_SBL", "attributes": { "size": "Twin, 66 x 96'' - 14 oz. fill" , "color": "Sterling Blue" }, "avLevels": {"IN_STOCK": 1.0, "PREORDER": 0.0, "BACKORDER": 0.0, "NOT_AVAILABLE": 0.0}, "avStatus":"IN_STOCK", "inStock":true, "ATS": 10037.0, "inStockDate": "Thu Mar 19 12:00:00 GMT 2015" , "pricing": {"standard": "189.0", "sale": "169.0", "isPromoPrice": false, "quantities": [ {"unit": "", "value": "1.0"} ]} }, {"id": "KN98_T_SIG", "attributes": { "size": "Twin, 66 x 96'' - 14 oz. fill" , "color": "Silver Gray" }, "avLevels": {"IN_STOCK": 1.0, "PREORDER": 0.0, "BACKORDER": 0.0, "NOT_AVAILABLE": 0.0}, "avStatus":"IN_STOCK", "inStock":true, "ATS": 10027.0, "inStockDate": "Fri Mar 20 12:00:00 GMT 2015" , "pricing": {"standard": "189.0", "sale": "169.0", "isPromoPrice": false, "quantities": [ {"unit": "", "value": "1.0"} ]} }, {"id": "KN98_T_WHI", "attributes": { "size": "Twin, 66 x 96'' - 14 oz. fill" , "color": "White" }, "avLevels": {"IN_STOCK": 1.0, "PREORDER": 0.0, "BACKORDER": 0.0, "NOT_AVAILABLE": 0.0}, "avStatus":"IN_STOCK", "inStock":true, "ATS": 10037.0, "inStockDate": "Fri Mar 20 12:00:00 GMT 2015" , "pricing": {"standard": "189.0", "sale": "169.0", "isPromoPrice": false, "quantities": [ {"unit": "", "value": "1.0"} ]} } ] }}