TCS® Classic Down Blanket
$189.00-$299.00
SALE: $169.00-$269.00
Overview & Details
Down blanket.
Down-proof, 300-thread-count combed cotton sateen shell.
Hypoallergenic, 500-550-fill power European down fill.
Double-diamond stitching prevents down from shifting.
Cotton shell is Oeko-Tex® certified to be free from all harmful substances and chemicals.
A rigorous 6-step quality process ensures our down is hypoallergenic, exceeding government regulations for cleanliness.
Lifetime guarantee.
Also available, our PrimaLoft® Deluxe Classic Blanket (sold separately).
Machine wash.
Exclusively ours.
Falling somewhere between a blanket and a comforter, our TCS® Classic Down Blanket is the best of both worlds, providing a layer of lightweight warmth that's suitable for year-round use. Enveloped in a silky, 300-thread-count cotton sateen shell, it's filled with hypoallergenic, 500-550 fill power European down for insulating warmth. Double-diamond stitching ensures the fill stays in place. Available exclusively at The Company Store®.
Reviews
Lifetime Guarantee
Lifetime Guarantee
All products manufactured in our La Crosse, WI factory are covered by our Lifetime Guarantee, and may be returned at any time. We will gladly offer you an exchange, merchandise credit towards a new product, or gift card (excluding delivery fees).
Look for this symbol
throughout the catalog and website, which indicates the product carries a Lifetime Guarantee.
TCS® Classic Down Blanket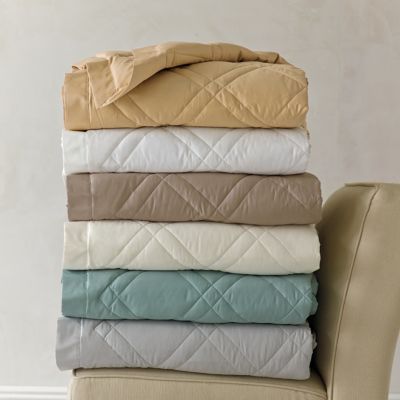 $189.00-$299.00
SALE: $169.00-$269.00
{ "variations": { "variants": [ {"id": "KN98-F-IVORY", "attributes": { "size": "Full, 80 x 96'' - 17 oz. fill" , "color": "Ivory" }, "avLevels": {"IN_STOCK": 1.0, "PREORDER": 0.0, "BACKORDER": 0.0, "NOT_AVAILABLE": 0.0}, "avStatus":"IN_STOCK", "inStock":true, "ATS": 10020.0, "inStockDate": "Mon Feb 29 12:00:00 GMT 2016" , "pricing": {"standard": "219.0", "sale": "194.0", "isPromoPrice": false, "quantities": [ {"unit": "", "value": "1.0"} ]} }, {"id": "KN98-K-ANT-GOLD", "attributes": { "size": "King, 108 x 96'' - 24 oz." , "color": "Antique Gold" }, "avLevels": {"IN_STOCK": 1.0, "PREORDER": 0.0, "BACKORDER": 0.0, "NOT_AVAILABLE": 0.0}, "avStatus":"IN_STOCK", "inStock":true, "ATS": 10023.0, "inStockDate": "Mon Feb 29 12:00:00 GMT 2016" , "pricing": {"standard": "299.0", "sale": "269.0", "isPromoPrice": false, "quantities": [ {"unit": "", "value": "1.0"} ]} }, {"id": "KN98-K-DRIFTWOOD", "attributes": { "size": "King, 108 x 96'' - 24 oz." , "color": "Driftwood" }, "avLevels": {"IN_STOCK": 1.0, "PREORDER": 0.0, "BACKORDER": 0.0, "NOT_AVAILABLE": 0.0}, "avStatus":"IN_STOCK", "inStock":true, "ATS": 10010.0, "inStockDate": "Fri Dec 18 12:00:00 GMT 2015" , "pricing": {"standard": "299.0", "sale": "269.0", "isPromoPrice": false, "quantities": [ {"unit": "", "value": "1.0"} ]} }, {"id": "KN98-K-SIL-GRAY", "attributes": { "size": "King, 108 x 96'' - 24 oz." , "color": "Silver Gray" }, "avLevels": {"IN_STOCK": 1.0, "PREORDER": 0.0, "BACKORDER": 0.0, "NOT_AVAILABLE": 0.0}, "avStatus":"IN_STOCK", "inStock":true, "ATS": 10007.0, "inStockDate": "Mon Feb 29 12:00:00 GMT 2016" , "pricing": {"standard": "299.0", "sale": "269.0", "isPromoPrice": false, "quantities": [ {"unit": "", "value": "1.0"} ]} }, {"id": "KN98-K-WHITE", "attributes": { "size": "King, 108 x 96'' - 24 oz." , "color": "White" }, "avLevels": {"IN_STOCK": 1.0, "PREORDER": 0.0, "BACKORDER": 0.0, "NOT_AVAILABLE": 0.0}, "avStatus":"IN_STOCK", "inStock":true, "ATS": 10009.0, "inStockDate": "Thu Dec 31 12:00:00 GMT 2015" , "pricing": {"standard": "299.0", "sale": "269.0", "isPromoPrice": false, "quantities": [ {"unit": "", "value": "1.0"} ]} }, {"id": "KN98-Q-DRIFTWOOD", "attributes": { "size": "Queen, 90 x 96'' - 20 oz. fill" , "color": "Driftwood" }, "avLevels": {"IN_STOCK": 1.0, "PREORDER": 0.0, "BACKORDER": 0.0, "NOT_AVAILABLE": 0.0}, "avStatus":"IN_STOCK", "inStock":true, "ATS": 10006.0, "inStockDate": "Thu Dec 31 12:00:00 GMT 2015" , "pricing": {"standard": "259.0", "sale": "229.0", "isPromoPrice": false, "quantities": [ {"unit": "", "value": "1.0"} ]} }, {"id": "KN98-Q-IVORY", "attributes": { "size": "Queen, 90 x 96'' - 20 oz. fill" , "color": "Ivory" }, "avLevels": {"IN_STOCK": 1.0, "PREORDER": 0.0, "BACKORDER": 0.0, "NOT_AVAILABLE": 0.0}, "avStatus":"IN_STOCK", "inStock":true, "ATS": 10013.0, "inStockDate": "Fri Dec 18 12:00:00 GMT 2015" , "pricing": {"standard": "259.0", "sale": "229.0", "isPromoPrice": false, "quantities": [ {"unit": "", "value": "1.0"} ]} }, {"id": "KN98-Q-SIL-GRAY", "attributes": { "size": "Queen, 90 x 96'' - 20 oz. fill" , "color": "Silver Gray" }, "avLevels": {"IN_STOCK": 1.0, "PREORDER": 0.0, "BACKORDER": 0.0, "NOT_AVAILABLE": 0.0}, "avStatus":"IN_STOCK", "inStock":true, "ATS": 10024.0, "inStockDate": "Mon Feb 29 12:00:00 GMT 2016" , "pricing": {"standard": "259.0", "sale": "229.0", "isPromoPrice": false, "quantities": [ {"unit": "", "value": "1.0"} ]} }, {"id": "KN98-Q-STRL-BLUE", "attributes": { "size": "Queen, 90 x 96'' - 20 oz. fill" , "color": "Sterling Blue" }, "avLevels": {"IN_STOCK": 1.0, "PREORDER": 0.0, "BACKORDER": 0.0, "NOT_AVAILABLE": 0.0}, "avStatus":"IN_STOCK", "inStock":true, "ATS": 10008.0, "inStockDate": "Thu Dec 31 12:00:00 GMT 2015" , "pricing": {"standard": "259.0", "sale": "229.0", "isPromoPrice": false, "quantities": [ {"unit": "", "value": "1.0"} ]} }, {"id": "KN98-Q-WHITE", "attributes": { "size": "Queen, 90 x 96'' - 20 oz. fill" , "color": "White" }, "avLevels": {"IN_STOCK": 1.0, "PREORDER": 0.0, "BACKORDER": 0.0, "NOT_AVAILABLE": 0.0}, "avStatus":"IN_STOCK", "inStock":true, "ATS": 10066.0, "inStockDate": "Mon Feb 29 12:00:00 GMT 2016" , "pricing": {"standard": "259.0", "sale": "229.0", "isPromoPrice": false, "quantities": [ {"unit": "", "value": "1.0"} ]} }, {"id": "KN98-T-DRIFTWOOD", "attributes": { "size": "Twin, 66 x 96'' - 14 oz. fill" , "color": "Driftwood" }, "avLevels": {"IN_STOCK": 1.0, "PREORDER": 0.0, "BACKORDER": 0.0, "NOT_AVAILABLE": 0.0}, "avStatus":"IN_STOCK", "inStock":true, "ATS": 10023.0, "inStockDate": "Mon Feb 29 12:00:00 GMT 2016" , "pricing": {"standard": "189.0", "sale": "169.0", "isPromoPrice": false, "quantities": [ {"unit": "", "value": "1.0"} ]} }, {"id": "KN98-T-IVORY", "attributes": { "size": "Twin, 66 x 96'' - 14 oz. fill" , "color": "Ivory" }, "avLevels": {"IN_STOCK": 1.0, "PREORDER": 0.0, "BACKORDER": 0.0, "NOT_AVAILABLE": 0.0}, "avStatus":"IN_STOCK", "inStock":true, "ATS": 10033.0, "inStockDate": "Mon Feb 29 12:00:00 GMT 2016" , "pricing": {"standard": "189.0", "sale": "169.0", "isPromoPrice": false, "quantities": [ {"unit": "", "value": "1.0"} ]} }, {"id": "KN98-T-SIL-GRAY", "attributes": { "size": "Twin, 66 x 96'' - 14 oz. fill" , "color": "Silver Gray" }, "avLevels": {"IN_STOCK": 1.0, "PREORDER": 0.0, "BACKORDER": 0.0, "NOT_AVAILABLE": 0.0}, "avStatus":"IN_STOCK", "inStock":true, "ATS": 10014.0, "inStockDate": "Mon Feb 29 12:00:00 GMT 2016" , "pricing": {"standard": "189.0", "sale": "169.0", "isPromoPrice": false, "quantities": [ {"unit": "", "value": "1.0"} ]} }, {"id": "KN98-F-ANT-GOLD", "attributes": { "size": "Full, 80 x 96'' - 17 oz. fill" , "color": "Antique Gold" }, "avLevels": {"IN_STOCK": 1.0, "PREORDER": 0.0, "BACKORDER": 0.0, "NOT_AVAILABLE": 0.0}, "avStatus":"IN_STOCK", "inStock":true, "ATS": 10011.0, "inStockDate": "Mon Feb 29 12:00:00 GMT 2016" , "pricing": {"standard": "219.0", "sale": "194.0", "isPromoPrice": false, "quantities": [ {"unit": "", "value": "1.0"} ]} }, {"id": "KN98-F-DRIFTWOOD", "attributes": { "size": "Full, 80 x 96'' - 17 oz. fill" , "color": "Driftwood" }, "avLevels": {"IN_STOCK": 1.0, "PREORDER": 0.0, "BACKORDER": 0.0, "NOT_AVAILABLE": 0.0}, "avStatus":"IN_STOCK", "inStock":true, "ATS": 10007.0, "inStockDate": "Mon Feb 29 12:00:00 GMT 2016" , "pricing": {"standard": "219.0", "sale": "194.0", "isPromoPrice": false, "quantities": [ {"unit": "", "value": "1.0"} ]} }, {"id": "KN98-F-STRL-BLUE", "attributes": { "size": "Full, 80 x 96'' - 17 oz. fill" , "color": "Sterling Blue" }, "avLevels": {"IN_STOCK": 1.0, "PREORDER": 0.0, "BACKORDER": 0.0, "NOT_AVAILABLE": 0.0}, "avStatus":"IN_STOCK", "inStock":true, "ATS": 10005.0, "inStockDate": "Mon Feb 29 12:00:00 GMT 2016" , "pricing": {"standard": "219.0", "sale": "194.0", "isPromoPrice": false, "quantities": [ {"unit": "", "value": "1.0"} ]} }, {"id": "KN98-F-SIL-GRAY", "attributes": { "size": "Full, 80 x 96'' - 17 oz. fill" , "color": "Silver Gray" }, "avLevels": {"IN_STOCK": 1.0, "PREORDER": 0.0, "BACKORDER": 0.0, "NOT_AVAILABLE": 0.0}, "avStatus":"IN_STOCK", "inStock":true, "ATS": 10013.0, "inStockDate": "Thu Dec 31 12:00:00 GMT 2015" , "pricing": {"standard": "219.0", "sale": "194.0", "isPromoPrice": false, "quantities": [ {"unit": "", "value": "1.0"} ]} }, {"id": "KN98-F-WHITE", "attributes": { "size": "Full, 80 x 96'' - 17 oz. fill" , "color": "White" }, "avLevels": {"IN_STOCK": 1.0, "PREORDER": 0.0, "BACKORDER": 0.0, "NOT_AVAILABLE": 0.0}, "avStatus":"IN_STOCK", "inStock":true, "ATS": 10022.0, "inStockDate": "Mon Feb 29 12:00:00 GMT 2016" , "pricing": {"standard": "219.0", "sale": "194.0", "isPromoPrice": false, "quantities": [ {"unit": "", "value": "1.0"} ]} }, {"id": "KN98-K-IVORY", "attributes": { "size": "King, 108 x 96'' - 24 oz." , "color": "Ivory" }, "avLevels": {"IN_STOCK": 1.0, "PREORDER": 0.0, "BACKORDER": 0.0, "NOT_AVAILABLE": 0.0}, "avStatus":"IN_STOCK", "inStock":true, "ATS": 10017.0, "inStockDate": "Fri Jan 08 12:00:00 GMT 2016" , "pricing": {"standard": "299.0", "sale": "269.0", "isPromoPrice": false, "quantities": [ {"unit": "", "value": "1.0"} ]} }, {"id": "KN98-K-STRL-BLUE", "attributes": { "size": "King, 108 x 96'' - 24 oz." , "color": "Sterling Blue" }, "avLevels": {"IN_STOCK": 1.0, "PREORDER": 0.0, "BACKORDER": 0.0, "NOT_AVAILABLE": 0.0}, "avStatus":"IN_STOCK", "inStock":true, "ATS": 10043.0, "inStockDate": "Mon Feb 29 12:00:00 GMT 2016" , "pricing": {"standard": "299.0", "sale": "269.0", "isPromoPrice": false, "quantities": [ {"unit": "", "value": "1.0"} ]} }, {"id": "KN98-Q-ANT-GOLD", "attributes": { "size": "Queen, 90 x 96'' - 20 oz. fill" , "color": "Antique Gold" }, "avLevels": {"IN_STOCK": 1.0, "PREORDER": 0.0, "BACKORDER": 0.0, "NOT_AVAILABLE": 0.0}, "avStatus":"IN_STOCK", "inStock":true, "ATS": 10012.0, "inStockDate": "Mon Feb 29 12:00:00 GMT 2016" , "pricing": {"standard": "259.0", "sale": "229.0", "isPromoPrice": false, "quantities": [ {"unit": "", "value": "1.0"} ]} }, {"id": "KN98-T-ANT-GOLD", "attributes": { "size": "Twin, 66 x 96'' - 14 oz. fill" , "color": "Antique Gold" }, "avLevels": {"IN_STOCK": 1.0, "PREORDER": 0.0, "BACKORDER": 0.0, "NOT_AVAILABLE": 0.0}, "avStatus":"IN_STOCK", "inStock":true, "ATS": 10026.0, "inStockDate": "Mon Feb 29 12:00:00 GMT 2016" , "pricing": {"standard": "189.0", "sale": "169.0", "isPromoPrice": false, "quantities": [ {"unit": "", "value": "1.0"} ]} }, {"id": "KN98-T-STRL-BLUE", "attributes": { "size": "Twin, 66 x 96'' - 14 oz. fill" , "color": "Sterling Blue" }, "avLevels": {"IN_STOCK": 1.0, "PREORDER": 0.0, "BACKORDER": 0.0, "NOT_AVAILABLE": 0.0}, "avStatus":"IN_STOCK", "inStock":true, "ATS": 10022.0, "inStockDate": "Mon Feb 29 12:00:00 GMT 2016" , "pricing": {"standard": "189.0", "sale": "169.0", "isPromoPrice": false, "quantities": [ {"unit": "", "value": "1.0"} ]} }, {"id": "KN98-T-WHITE", "attributes": { "size": "Twin, 66 x 96'' - 14 oz. fill" , "color": "White" }, "avLevels": {"IN_STOCK": 1.0, "PREORDER": 0.0, "BACKORDER": 0.0, "NOT_AVAILABLE": 0.0}, "avStatus":"IN_STOCK", "inStock":true, "ATS": 10015.0, "inStockDate": "Mon Feb 29 12:00:00 GMT 2016" , "pricing": {"standard": "189.0", "sale": "169.0", "isPromoPrice": false, "quantities": [ {"unit": "", "value": "1.0"} ]} } ] }}