Continue Shopping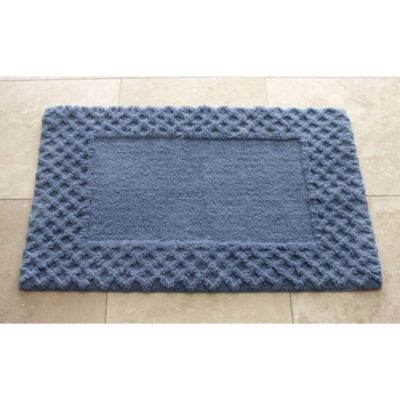 Charisma® Classic Bath Rug
Print
100% supima cotton.
Available in White, Ivory, Leaf, Smoke or Harbor.
Matches our Charisma® Supreme Towel.
Machine wash.
Imported.
Treat yourself to ultimate softness, every time you step out of the shower. Made with the finest American cotton and DryFast Technology built right in -- the result is an ultrasoft bathmat that feels great to step on, and dries quickly.
{ "variations": { "variants": [ {"id": "VH55_24_SMO", "attributes": { "size": "24x36''" , "color": "Smoke" }, "avLevels": {"IN_STOCK": 0.0, "PREORDER": 0.0, "BACKORDER": 0.0, "NOT_AVAILABLE": 1.0}, "avStatus":"NOT_AVAILABLE", "inStock":false, "ATS": 0.0, "inStockDate": "Tue Dec 31 12:00:00 GMT 2030" , "pricing": {"standard": "49.99", "sale": "49.99", "isPromoPrice": false, "quantities": [ {"unit": "", "value": "1.0"} ]} }, {"id": "VH55_24_HAR", "attributes": { "size": "24x36''" , "color": "Harbor" }, "avLevels": {"IN_STOCK": 0.0, "PREORDER": 0.0, "BACKORDER": 0.0, "NOT_AVAILABLE": 1.0}, "avStatus":"NOT_AVAILABLE", "inStock":false, "ATS": 0.0, "inStockDate": "Mon Dec 19 12:00:00 GMT 2011" , "pricing": {"standard": "49.99", "sale": "49.99", "isPromoPrice": false, "quantities": [ {"unit": "", "value": "1.0"} ]} }, {"id": "VH55_30_SMO", "attributes": { "size": "30x50''" , "color": "Smoke" }, "avLevels": {"IN_STOCK": 0.0, "PREORDER": 0.0, "BACKORDER": 0.0, "NOT_AVAILABLE": 1.0}, "avStatus":"NOT_AVAILABLE", "inStock":false, "ATS": 0.0, "inStockDate": "Tue Dec 31 12:00:00 GMT 2030" , "pricing": {"standard": "79.99", "sale": "79.99", "isPromoPrice": false, "quantities": [ {"unit": "", "value": "1.0"} ]} }, {"id": "VH55_30_LEA", "attributes": { "size": "30x50''" , "color": "Leaf" }, "avLevels": {"IN_STOCK": 0.0, "PREORDER": 0.0, "BACKORDER": 0.0, "NOT_AVAILABLE": 1.0}, "avStatus":"NOT_AVAILABLE", "inStock":false, "ATS": 0.0, "inStockDate": "Fri Feb 24 12:00:00 GMT 2012" , "pricing": {"standard": "79.99", "sale": "79.99", "isPromoPrice": false, "quantities": [ {"unit": "", "value": "1.0"} ]} }, {"id": "VH55_30_HAR", "attributes": { "size": "30x50''" , "color": "Harbor" }, "avLevels": {"IN_STOCK": 0.0, "PREORDER": 0.0, "BACKORDER": 0.0, "NOT_AVAILABLE": 1.0}, "avStatus":"NOT_AVAILABLE", "inStock":false, "ATS": 0.0, "inStockDate": "Tue Dec 31 12:00:00 GMT 2030" , "pricing": {"standard": "79.99", "sale": "79.99", "isPromoPrice": false, "quantities": [ {"unit": "", "value": "1.0"} ]} }, {"id": "VH55_24_LEA", "attributes": { "size": "24x36''" , "color": "Leaf" }, "avLevels": {"IN_STOCK": 0.0, "PREORDER": 0.0, "BACKORDER": 0.0, "NOT_AVAILABLE": 1.0}, "avStatus":"NOT_AVAILABLE", "inStock":false, "ATS": 0.0, "inStockDate": "Fri Feb 24 12:00:00 GMT 2012" , "pricing": {"standard": "49.99", "sale": "49.99", "isPromoPrice": false, "quantities": [ {"unit": "", "value": "1.0"} ]} } ] }}