Continue Shopping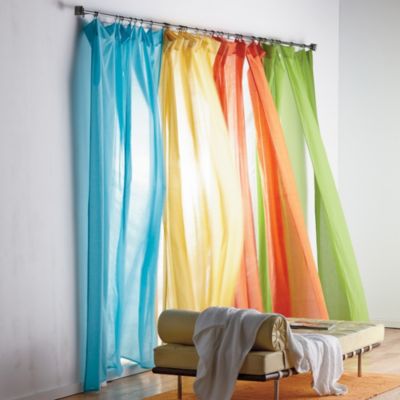 {"imageName":"http://s7d2.scene7.com/is/image/TheCompanyStore/panels-gp83-f13?$dw280$"}

{"imageName":"http://s7d2.scene7.com/is/image/TheCompanyStore/home-decor-gp84-a13?$dw280$"}

{"imageName":"http://s7d2.scene7.com/is/image/TheCompanyStore/panels-gp83-c13?$dw280$"}

{"imageName":"http://s7d2.scene7.com/is/image/TheCompanyStore/window-gp83-ck13?$dw280$"}
Chambray Voile Window Ring Top Panels
Print
Sheer window panels / curtains.
Curtain / window panels made from 100% cotton voile.
Curtains available in two different styles: a ring top or rod pocket top and a wide assortment of colors.
Window treatments come in four different sizes: 63", 84", 96" and 108".
44" wide.
Machine wash or dry clean.
Imported.

Sheer elegance. Shed new light on your home's décor with our lovely and lightweight chambray voile window panels. A well-crafted home essential, these beautiful draped sheer curtain panels combine the gentle, light-filtering softness of cotton voile with chambray's mixed weave of complementary colors for a window treatment that shimmers with style. The curtain panels have a subtle iridescence that will simply make your windows glow, adding a light and airy ambiance to any room in your home, from bedrooms to living rooms and more. Display these chambray voile panels for a window aesthetic that provides a whole new view…one you'll love! You can also choose from a wide array of inspiring hues spanning from classic white to rich plum to find the perfect shade. Framing your window with the right curtains provides a decorator-inspired finishing touch in an instant.

Available in four different sizes and two different styles, a ring top or rod pocket top, these sheer curtain chambray voile panels will light up any room with a graceful, ethereal drape. Pair our chambray voile panels with our elegant assortment of window treatment hardware (sold separately) to finish the look in ultimate style. See what a difference the right window panel and accessories can make.
{ "variations": { "variants": [ {"id": "GP83_108_GGR", "attributes": { "size": "108''" , "color": "Grass Green" }, "avLevels": {"IN_STOCK": 1.0, "PREORDER": 0.0, "BACKORDER": 0.0, "NOT_AVAILABLE": 0.0}, "avStatus":"IN_STOCK", "inStock":true, "ATS": 14.0, "inStockDate": "Fri Jan 17 12:00:00 GMT 2014" , "pricing": {"standard": "49.0", "sale": "49.0", "isPromoPrice": false, "quantities": [ {"unit": "", "value": "1.0"} ]} }, {"id": "GP83_108_IVO", "attributes": { "size": "108''" , "color": "Ivory" }, "avLevels": {"IN_STOCK": 1.0, "PREORDER": 0.0, "BACKORDER": 0.0, "NOT_AVAILABLE": 0.0}, "avStatus":"IN_STOCK", "inStock":true, "ATS": 10072.0, "inStockDate": "Sun Jan 05 12:00:00 GMT 2014" , "pricing": {"standard": "49.0", "sale": "49.0", "isPromoPrice": false, "quantities": [ {"unit": "", "value": "1.0"} ]} }, {"id": "GP83_108_SAF", "attributes": { "size": "108''" , "color": "Saffron" }, "avLevels": {"IN_STOCK": 1.0, "PREORDER": 0.0, "BACKORDER": 0.0, "NOT_AVAILABLE": 0.0}, "avStatus":"IN_STOCK", "inStock":true, "ATS": 10017.0, "inStockDate": "Tue Jan 14 12:00:00 GMT 2014" , "pricing": {"standard": "49.0", "sale": "49.0", "isPromoPrice": false, "quantities": [ {"unit": "", "value": "1.0"} ]} }, {"id": "GP83_108_SAP", "attributes": { "size": "108''" , "color": "Sapphire" }, "avLevels": {"IN_STOCK": 1.0, "PREORDER": 0.0, "BACKORDER": 0.0, "NOT_AVAILABLE": 0.0}, "avStatus":"IN_STOCK", "inStock":true, "ATS": 10012.0, "inStockDate": "Sun Jan 05 12:00:00 GMT 2014" , "pricing": {"standard": "49.0", "sale": "49.0", "isPromoPrice": false, "quantities": [ {"unit": "", "value": "1.0"} ]} }, {"id": "GP83_108_SCO", "attributes": { "size": "108''" , "color": "Spiced Coral" }, "avLevels": {"IN_STOCK": 1.0, "PREORDER": 0.0, "BACKORDER": 0.0, "NOT_AVAILABLE": 0.0}, "avStatus":"IN_STOCK", "inStock":true, "ATS": 18.0, "inStockDate": "Sun Jan 05 12:00:00 GMT 2014" , "pricing": {"standard": "49.0", "sale": "49.0", "isPromoPrice": false, "quantities": [ {"unit": "", "value": "1.0"} ]} }, {"id": "GP83_108_TUR", "attributes": { "size": "108''" , "color": "Turquoise" }, "avLevels": {"IN_STOCK": 1.0, "PREORDER": 0.0, "BACKORDER": 0.0, "NOT_AVAILABLE": 0.0}, "avStatus":"IN_STOCK", "inStock":true, "ATS": 10026.0, "inStockDate": "Tue Jan 14 12:00:00 GMT 2014" , "pricing": {"standard": "49.0", "sale": "49.0", "isPromoPrice": false, "quantities": [ {"unit": "", "value": "1.0"} ]} }, {"id": "GP83_108_WHI", "attributes": { "size": "108''" , "color": "White" }, "avLevels": {"IN_STOCK": 0.0, "PREORDER": 0.0, "BACKORDER": 1.0, "NOT_AVAILABLE": 0.0}, "avStatus":"BACKORDER", "inStock":false, "ATS": 10000.0, "inStockDate": "Tue Jan 14 12:00:00 GMT 2014" , "pricing": {"standard": "49.0", "sale": "49.0", "isPromoPrice": false, "quantities": [ {"unit": "", "value": "1.0"} ]} }, {"id": "GP83_108_WFL", "attributes": { "size": "108''" , "color": "Wild Flower" }, "avLevels": {"IN_STOCK": 1.0, "PREORDER": 0.0, "BACKORDER": 0.0, "NOT_AVAILABLE": 0.0}, "avStatus":"IN_STOCK", "inStock":true, "ATS": 10041.0, "inStockDate": "Fri Mar 21 12:00:00 GMT 2014" , "pricing": {"standard": "49.0", "sale": "49.0", "isPromoPrice": false, "quantities": [ {"unit": "", "value": "1.0"} ]} }, {"id": "GP83_108_YEL", "attributes": { "size": "108''" , "color": "Yellow" }, "avLevels": {"IN_STOCK": 1.0, "PREORDER": 0.0, "BACKORDER": 0.0, "NOT_AVAILABLE": 0.0}, "avStatus":"IN_STOCK", "inStock":true, "ATS": 10040.0, "inStockDate": "Tue Jan 14 12:00:00 GMT 2014" , "pricing": {"standard": "49.0", "sale": "49.0", "isPromoPrice": false, "quantities": [ {"unit": "", "value": "1.0"} ]} }, {"id": "GP83_120_GGR", "attributes": { "size": "120''" , "color": "Grass Green" }, "avLevels": {"IN_STOCK": 1.0, "PREORDER": 0.0, "BACKORDER": 0.0, "NOT_AVAILABLE": 0.0}, "avStatus":"IN_STOCK", "inStock":true, "ATS": 41.0, "inStockDate": "Mon Jan 20 12:00:00 GMT 2014" , "pricing": {"standard": "59.0", "sale": "59.0", "isPromoPrice": false, "quantities": [ {"unit": "", "value": "1.0"} ]} }, {"id": "GP83_120_IVO", "attributes": { "size": "120''" , "color": "Ivory" }, "avLevels": {"IN_STOCK": 1.0, "PREORDER": 0.0, "BACKORDER": 0.0, "NOT_AVAILABLE": 0.0}, "avStatus":"IN_STOCK", "inStock":true, "ATS": 10038.0, "inStockDate": "Fri Mar 21 12:00:00 GMT 2014" , "pricing": {"standard": "59.0", "sale": "59.0", "isPromoPrice": false, "quantities": [ {"unit": "", "value": "1.0"} ]} }, {"id": "GP83_120_SAF", "attributes": { "size": "120''" , "color": "Saffron" }, "avLevels": {"IN_STOCK": 1.0, "PREORDER": 0.0, "BACKORDER": 0.0, "NOT_AVAILABLE": 0.0}, "avStatus":"IN_STOCK", "inStock":true, "ATS": 10042.0, "inStockDate": "Fri Mar 21 12:00:00 GMT 2014" , "pricing": {"standard": "59.0", "sale": "59.0", "isPromoPrice": false, "quantities": [ {"unit": "", "value": "1.0"} ]} }, {"id": "GP83_120_SAP", "attributes": { "size": "120''" , "color": "Sapphire" }, "avLevels": {"IN_STOCK": 1.0, "PREORDER": 0.0, "BACKORDER": 0.0, "NOT_AVAILABLE": 0.0}, "avStatus":"IN_STOCK", "inStock":true, "ATS": 10049.0, "inStockDate": "Fri Mar 21 12:00:00 GMT 2014" , "pricing": {"standard": "59.0", "sale": "59.0", "isPromoPrice": false, "quantities": [ {"unit": "", "value": "1.0"} ]} }, {"id": "GP83_120_SCO", "attributes": { "size": "120''" , "color": "Spiced Coral" }, "avLevels": {"IN_STOCK": 1.0, "PREORDER": 0.0, "BACKORDER": 0.0, "NOT_AVAILABLE": 0.0}, "avStatus":"IN_STOCK", "inStock":true, "ATS": 45.0, "inStockDate": "Mon Jan 20 12:00:00 GMT 2014" , "pricing": {"standard": "59.0", "sale": "59.0", "isPromoPrice": false, "quantities": [ {"unit": "", "value": "1.0"} ]} }, {"id": "GP83_120_TUR", "attributes": { "size": "120''" , "color": "Turquoise" }, "avLevels": {"IN_STOCK": 1.0, "PREORDER": 0.0, "BACKORDER": 0.0, "NOT_AVAILABLE": 0.0}, "avStatus":"IN_STOCK", "inStock":true, "ATS": 10021.0, "inStockDate": "Tue Jan 14 12:00:00 GMT 2014" , "pricing": {"standard": "59.0", "sale": "59.0", "isPromoPrice": false, "quantities": [ {"unit": "", "value": "1.0"} ]} }, {"id": "GP83_120_WHI", "attributes": { "size": "120''" , "color": "White" }, "avLevels": {"IN_STOCK": 1.0, "PREORDER": 0.0, "BACKORDER": 0.0, "NOT_AVAILABLE": 0.0}, "avStatus":"IN_STOCK", "inStock":true, "ATS": 10039.0, "inStockDate": "Fri Mar 21 12:00:00 GMT 2014" , "pricing": {"standard": "59.0", "sale": "59.0", "isPromoPrice": false, "quantities": [ {"unit": "", "value": "1.0"} ]} }, {"id": "GP83_120_WFL", "attributes": { "size": "120''" , "color": "Wild Flower" }, "avLevels": {"IN_STOCK": 1.0, "PREORDER": 0.0, "BACKORDER": 0.0, "NOT_AVAILABLE": 0.0}, "avStatus":"IN_STOCK", "inStock":true, "ATS": 10047.0, "inStockDate": "Fri Mar 21 12:00:00 GMT 2014" , "pricing": {"standard": "59.0", "sale": "59.0", "isPromoPrice": false, "quantities": [ {"unit": "", "value": "1.0"} ]} }, {"id": "GP83_120_YEL", "attributes": { "size": "120''" , "color": "Yellow" }, "avLevels": {"IN_STOCK": 1.0, "PREORDER": 0.0, "BACKORDER": 0.0, "NOT_AVAILABLE": 0.0}, "avStatus":"IN_STOCK", "inStock":true, "ATS": 10045.0, "inStockDate": "Fri Mar 21 12:00:00 GMT 2014" , "pricing": {"standard": "59.0", "sale": "59.0", "isPromoPrice": false, "quantities": [ {"unit": "", "value": "1.0"} ]} }, {"id": "GP83_63_GGR", "attributes": { "size": "63''" , "color": "Grass Green" }, "avLevels": {"IN_STOCK": 0.0, "PREORDER": 0.0, "BACKORDER": 1.0, "NOT_AVAILABLE": 0.0}, "avStatus":"BACKORDER", "inStock":false, "ATS": 232.0, "inStockDate": "Tue Jan 14 12:00:00 GMT 2014" , "pricing": {"standard": "19.0", "sale": "19.0", "isPromoPrice": false, "quantities": [ {"unit": "", "value": "1.0"} ]} }, {"id": "GP83_63_IVO", "attributes": { "size": "63''" , "color": "Ivory" }, "avLevels": {"IN_STOCK": 1.0, "PREORDER": 0.0, "BACKORDER": 0.0, "NOT_AVAILABLE": 0.0}, "avStatus":"IN_STOCK", "inStock":true, "ATS": 10148.0, "inStockDate": "Tue Jan 14 12:00:00 GMT 2014" , "pricing": {"standard": "19.0", "sale": "19.0", "isPromoPrice": false, "quantities": [ {"unit": "", "value": "1.0"} ]} }, {"id": "GP83_63_SAF", "attributes": { "size": "63''" , "color": "Saffron" }, "avLevels": {"IN_STOCK": 1.0, "PREORDER": 0.0, "BACKORDER": 0.0, "NOT_AVAILABLE": 0.0}, "avStatus":"IN_STOCK", "inStock":true, "ATS": 10071.0, "inStockDate": "Tue Jan 14 12:00:00 GMT 2014" , "pricing": {"standard": "19.0", "sale": "19.0", "isPromoPrice": false, "quantities": [ {"unit": "", "value": "1.0"} ]} }, {"id": "GP83_63_SAP", "attributes": { "size": "63''" , "color": "Sapphire" }, "avLevels": {"IN_STOCK": 1.0, "PREORDER": 0.0, "BACKORDER": 0.0, "NOT_AVAILABLE": 0.0}, "avStatus":"IN_STOCK", "inStock":true, "ATS": 10055.0, "inStockDate": "Tue Jan 14 12:00:00 GMT 2014" , "pricing": {"standard": "19.0", "sale": "19.0", "isPromoPrice": false, "quantities": [ {"unit": "", "value": "1.0"} ]} }, {"id": "GP83_63_SCO", "attributes": { "size": "63''" , "color": "Spiced Coral" }, "avLevels": {"IN_STOCK": 1.0, "PREORDER": 0.0, "BACKORDER": 0.0, "NOT_AVAILABLE": 0.0}, "avStatus":"IN_STOCK", "inStock":true, "ATS": 28.0, "inStockDate": "Sun Jan 05 12:00:00 GMT 2014" , "pricing": {"standard": "19.0", "sale": "19.0", "isPromoPrice": false, "quantities": [ {"unit": "", "value": "1.0"} ]} }, {"id": "GP83_63_TUR", "attributes": { "size": "63''" , "color": "Turquoise" }, "avLevels": {"IN_STOCK": 1.0, "PREORDER": 0.0, "BACKORDER": 0.0, "NOT_AVAILABLE": 0.0}, "avStatus":"IN_STOCK", "inStock":true, "ATS": 10027.0, "inStockDate": "Tue Jan 14 12:00:00 GMT 2014" , "pricing": {"standard": "19.0", "sale": "19.0", "isPromoPrice": false, "quantities": [ {"unit": "", "value": "1.0"} ]} }, {"id": "GP83_63_WHI", "attributes": { "size": "63''" , "color": "White" }, "avLevels": {"IN_STOCK": 1.0, "PREORDER": 0.0, "BACKORDER": 0.0, "NOT_AVAILABLE": 0.0}, "avStatus":"IN_STOCK", "inStock":true, "ATS": 10144.0, "inStockDate": "Tue Jan 14 12:00:00 GMT 2014" , "pricing": {"standard": "19.0", "sale": "19.0", "isPromoPrice": false, "quantities": [ {"unit": "", "value": "1.0"} ]} }, {"id": "GP83_63_WFL", "attributes": { "size": "63''" , "color": "Wild Flower" }, "avLevels": {"IN_STOCK": 1.0, "PREORDER": 0.0, "BACKORDER": 0.0, "NOT_AVAILABLE": 0.0}, "avStatus":"IN_STOCK", "inStock":true, "ATS": 10061.0, "inStockDate": "Tue Jan 14 12:00:00 GMT 2014" , "pricing": {"standard": "19.0", "sale": "19.0", "isPromoPrice": false, "quantities": [ {"unit": "", "value": "1.0"} ]} }, {"id": "GP83_63_YEL", "attributes": { "size": "63''" , "color": "Yellow" }, "avLevels": {"IN_STOCK": 1.0, "PREORDER": 0.0, "BACKORDER": 0.0, "NOT_AVAILABLE": 0.0}, "avStatus":"IN_STOCK", "inStock":true, "ATS": 10017.0, "inStockDate": "Sun Jan 05 12:00:00 GMT 2014" , "pricing": {"standard": "19.0", "sale": "19.0", "isPromoPrice": false, "quantities": [ {"unit": "", "value": "1.0"} ]} }, {"id": "GP83_84_GGR", "attributes": { "size": "84''" , "color": "Grass Green" }, "avLevels": {"IN_STOCK": 1.0, "PREORDER": 0.0, "BACKORDER": 0.0, "NOT_AVAILABLE": 0.0}, "avStatus":"IN_STOCK", "inStock":true, "ATS": 108.0, "inStockDate": "Tue Jan 14 12:00:00 GMT 2014" , "pricing": {"standard": "24.0", "sale": "24.0", "isPromoPrice": false, "quantities": [ {"unit": "", "value": "1.0"} ]} }, {"id": "GP83_84_IVO", "attributes": { "size": "84''" , "color": "Ivory" }, "avLevels": {"IN_STOCK": 1.0, "PREORDER": 0.0, "BACKORDER": 0.0, "NOT_AVAILABLE": 0.0}, "avStatus":"IN_STOCK", "inStock":true, "ATS": 10039.0, "inStockDate": "Sun Jan 05 12:00:00 GMT 2014" , "pricing": {"standard": "29.0", "sale": "29.0", "isPromoPrice": false, "quantities": [ {"unit": "", "value": "1.0"} ]} }, {"id": "GP83_84_SAF", "attributes": { "size": "84''" , "color": "Saffron" }, "avLevels": {"IN_STOCK": 1.0, "PREORDER": 0.0, "BACKORDER": 0.0, "NOT_AVAILABLE": 0.0}, "avStatus":"IN_STOCK", "inStock":true, "ATS": 10113.0, "inStockDate": "Tue Jan 14 12:00:00 GMT 2014" , "pricing": {"standard": "24.0", "sale": "24.0", "isPromoPrice": false, "quantities": [ {"unit": "", "value": "1.0"} ]} }, {"id": "GP83_84_SAP", "attributes": { "size": "84''" , "color": "Sapphire" }, "avLevels": {"IN_STOCK": 1.0, "PREORDER": 0.0, "BACKORDER": 0.0, "NOT_AVAILABLE": 0.0}, "avStatus":"IN_STOCK", "inStock":true, "ATS": 10126.0, "inStockDate": "Tue Jan 14 12:00:00 GMT 2014" , "pricing": {"standard": "29.0", "sale": "29.0", "isPromoPrice": false, "quantities": [ {"unit": "", "value": "1.0"} ]} }, {"id": "GP83_84_SCO", "attributes": { "size": "84''" , "color": "Spiced Coral" }, "avLevels": {"IN_STOCK": 1.0, "PREORDER": 0.0, "BACKORDER": 0.0, "NOT_AVAILABLE": 0.0}, "avStatus":"IN_STOCK", "inStock":true, "ATS": 65.0, "inStockDate": "Sun Jan 05 12:00:00 GMT 2014" , "pricing": {"standard": "29.0", "sale": "29.0", "isPromoPrice": false, "quantities": [ {"unit": "", "value": "1.0"} ]} }, {"id": "GP83_84_TUR", "attributes": { "size": "84''" , "color": "Turquoise" }, "avLevels": {"IN_STOCK": 1.0, "PREORDER": 0.0, "BACKORDER": 0.0, "NOT_AVAILABLE": 0.0}, "avStatus":"IN_STOCK", "inStock":true, "ATS": 10110.0, "inStockDate": "Tue Jan 14 12:00:00 GMT 2014" , "pricing": {"standard": "24.0", "sale": "24.0", "isPromoPrice": false, "quantities": [ {"unit": "", "value": "1.0"} ]} }, {"id": "GP83_84_WHI", "attributes": { "size": "84''" , "color": "White" }, "avLevels": {"IN_STOCK": 1.0, "PREORDER": 0.0, "BACKORDER": 0.0, "NOT_AVAILABLE": 0.0}, "avStatus":"IN_STOCK", "inStock":true, "ATS": 10159.0, "inStockDate": "Tue Jan 14 12:00:00 GMT 2014" , "pricing": {"standard": "24.0", "sale": "24.0", "isPromoPrice": false, "quantities": [ {"unit": "", "value": "1.0"} ]} }, {"id": "GP83_84_WFL", "attributes": { "size": "84''" , "color": "Wild Flower" }, "avLevels": {"IN_STOCK": 1.0, "PREORDER": 0.0, "BACKORDER": 0.0, "NOT_AVAILABLE": 0.0}, "avStatus":"IN_STOCK", "inStock":true, "ATS": 10097.0, "inStockDate": "Tue Jan 14 12:00:00 GMT 2014" , "pricing": {"standard": "24.0", "sale": "24.0", "isPromoPrice": false, "quantities": [ {"unit": "", "value": "1.0"} ]} }, {"id": "GP83_84_YEL", "attributes": { "size": "84''" , "color": "Yellow" }, "avLevels": {"IN_STOCK": 1.0, "PREORDER": 0.0, "BACKORDER": 0.0, "NOT_AVAILABLE": 0.0}, "avStatus":"IN_STOCK", "inStock":true, "ATS": 10120.0, "inStockDate": "Sun Jan 05 12:00:00 GMT 2014" , "pricing": {"standard": "29.0", "sale": "29.0", "isPromoPrice": false, "quantities": [ {"unit": "", "value": "1.0"} ]} }, {"id": "GP83_96_GGR", "attributes": { "size": "96''" , "color": "Grass Green" }, "avLevels": {"IN_STOCK": 1.0, "PREORDER": 0.0, "BACKORDER": 0.0, "NOT_AVAILABLE": 0.0}, "avStatus":"IN_STOCK", "inStock":true, "ATS": 40.0, "inStockDate": "Tue Jan 14 12:00:00 GMT 2014" , "pricing": {"standard": "39.0", "sale": "39.0", "isPromoPrice": false, "quantities": [ {"unit": "", "value": "1.0"} ]} }, {"id": "GP83_96_IVO", "attributes": { "size": "96''" , "color": "Ivory" }, "avLevels": {"IN_STOCK": 1.0, "PREORDER": 0.0, "BACKORDER": 0.0, "NOT_AVAILABLE": 0.0}, "avStatus":"IN_STOCK", "inStock":true, "ATS": 10031.0, "inStockDate": "Tue Jan 14 12:00:00 GMT 2014" , "pricing": {"standard": "39.0", "sale": "39.0", "isPromoPrice": false, "quantities": [ {"unit": "", "value": "1.0"} ]} }, {"id": "GP83_96_SAF", "attributes": { "size": "96''" , "color": "Saffron" }, "avLevels": {"IN_STOCK": 1.0, "PREORDER": 0.0, "BACKORDER": 0.0, "NOT_AVAILABLE": 0.0}, "avStatus":"IN_STOCK", "inStock":true, "ATS": 10033.0, "inStockDate": "Tue Jan 14 12:00:00 GMT 2014" , "pricing": {"standard": "39.0", "sale": "39.0", "isPromoPrice": false, "quantities": [ {"unit": "", "value": "1.0"} ]} }, {"id": "GP83_96_SAP", "attributes": { "size": "96''" , "color": "Sapphire" }, "avLevels": {"IN_STOCK": 1.0, "PREORDER": 0.0, "BACKORDER": 0.0, "NOT_AVAILABLE": 0.0}, "avStatus":"IN_STOCK", "inStock":true, "ATS": 10100.0, "inStockDate": "Tue Jan 14 12:00:00 GMT 2014" , "pricing": {"standard": "39.0", "sale": "39.0", "isPromoPrice": false, "quantities": [ {"unit": "", "value": "1.0"} ]} }, {"id": "GP83_96_SCO", "attributes": { "size": "96''" , "color": "Spiced Coral" }, "avLevels": {"IN_STOCK": 1.0, "PREORDER": 0.0, "BACKORDER": 0.0, "NOT_AVAILABLE": 0.0}, "avStatus":"IN_STOCK", "inStock":true, "ATS": 20.0, "inStockDate": "Tue Jan 14 12:00:00 GMT 2014" , "pricing": {"standard": "39.0", "sale": "39.0", "isPromoPrice": false, "quantities": [ {"unit": "", "value": "1.0"} ]} }, {"id": "GP83_96_TUR", "attributes": { "size": "96''" , "color": "Turquoise" }, "avLevels": {"IN_STOCK": 1.0, "PREORDER": 0.0, "BACKORDER": 0.0, "NOT_AVAILABLE": 0.0}, "avStatus":"IN_STOCK", "inStock":true, "ATS": 10012.0, "inStockDate": "Tue Jan 14 12:00:00 GMT 2014" , "pricing": {"standard": "39.0", "sale": "39.0", "isPromoPrice": false, "quantities": [ {"unit": "", "value": "1.0"} ]} }, {"id": "GP83_96_WHI", "attributes": { "size": "96''" , "color": "White" }, "avLevels": {"IN_STOCK": 1.0, "PREORDER": 0.0, "BACKORDER": 0.0, "NOT_AVAILABLE": 0.0}, "avStatus":"IN_STOCK", "inStock":true, "ATS": 10030.0, "inStockDate": "Tue Jan 14 12:00:00 GMT 2014" , "pricing": {"standard": "39.0", "sale": "39.0", "isPromoPrice": false, "quantities": [ {"unit": "", "value": "1.0"} ]} }, {"id": "GP83_96_WFL", "attributes": { "size": "96''" , "color": "Wild Flower" }, "avLevels": {"IN_STOCK": 1.0, "PREORDER": 0.0, "BACKORDER": 0.0, "NOT_AVAILABLE": 0.0}, "avStatus":"IN_STOCK", "inStock":true, "ATS": 10065.0, "inStockDate": "Tue Jan 14 12:00:00 GMT 2014" , "pricing": {"standard": "39.0", "sale": "39.0", "isPromoPrice": false, "quantities": [ {"unit": "", "value": "1.0"} ]} }, {"id": "GP83_96_YEL", "attributes": { "size": "96''" , "color": "Yellow" }, "avLevels": {"IN_STOCK": 1.0, "PREORDER": 0.0, "BACKORDER": 0.0, "NOT_AVAILABLE": 0.0}, "avStatus":"IN_STOCK", "inStock":true, "ATS": 10051.0, "inStockDate": "Sun Jan 05 12:00:00 GMT 2014" , "pricing": {"standard": "39.0", "sale": "39.0", "isPromoPrice": false, "quantities": [ {"unit": "", "value": "1.0"} ]} }, {"id": "GP83_63_HPI", "attributes": { "size": "63''" , "color": "Hot Pink" }, "avLevels": {"IN_STOCK": 1.0, "PREORDER": 0.0, "BACKORDER": 0.0, "NOT_AVAILABLE": 0.0}, "avStatus":"IN_STOCK", "inStock":true, "ATS": 55.0, "inStockDate": "Fri Jan 17 12:00:00 GMT 2014" , "pricing": {"standard": "19.0", "sale": "19.0", "isPromoPrice": false, "quantities": [ {"unit": "", "value": "1.0"} ]} }, {"id": "GP83_96_WID", "attributes": { "size": "96''" , "color": "Wild Flower" }, "avLevels": {"IN_STOCK": 0.0, "PREORDER": 0.0, "BACKORDER": 1.0, "NOT_AVAILABLE": 0.0}, "avStatus":"BACKORDER", "inStock":false, "ATS": 10000.0, "inStockDate": "Wed Aug 08 12:00:00 GMT 2012" , "pricing": {"standard": "34.0", "sale": "34.0", "isPromoPrice": false, "quantities": [ {"unit": "", "value": "1.0"} ]} }, {"id": "GP83_120_WID", "attributes": { "size": "120''" , "color": "Wild Flower" }, "avLevels": {"IN_STOCK": 0.0, "PREORDER": 0.0, "BACKORDER": 1.0, "NOT_AVAILABLE": 0.0}, "avStatus":"BACKORDER", "inStock":false, "ATS": 10000.0, "inStockDate": "Wed Aug 08 12:00:00 GMT 2012" , "pricing": {"standard": "54.0", "sale": "54.0", "isPromoPrice": false, "quantities": [ {"unit": "", "value": "1.0"} ]} }, {"id": "GP83_84_HPI", "attributes": { "size": "84''" , "color": "Hot Pink" }, "avLevels": {"IN_STOCK": 1.0, "PREORDER": 0.0, "BACKORDER": 0.0, "NOT_AVAILABLE": 0.0}, "avStatus":"IN_STOCK", "inStock":true, "ATS": 50.0, "inStockDate": "Fri Jan 17 12:00:00 GMT 2014" , "pricing": {"standard": "29.0", "sale": "29.0", "isPromoPrice": false, "quantities": [ {"unit": "", "value": "1.0"} ]} }, {"id": "GP83_108_WID", "attributes": { "size": "108''" , "color": "Wild Flower" }, "avLevels": {"IN_STOCK": 0.0, "PREORDER": 0.0, "BACKORDER": 1.0, "NOT_AVAILABLE": 0.0}, "avStatus":"BACKORDER", "inStock":false, "ATS": 10000.0, "inStockDate": "Wed Aug 08 12:00:00 GMT 2012" , "pricing": {"standard": "44.0", "sale": "44.0", "isPromoPrice": false, "quantities": [ {"unit": "", "value": "1.0"} ]} }, {"id": "GP83_63_CCA", "attributes": { "size": "63''" , "color": "Cotton Candy" }, "avLevels": {"IN_STOCK": 1.0, "PREORDER": 0.0, "BACKORDER": 0.0, "NOT_AVAILABLE": 0.0}, "avStatus":"IN_STOCK", "inStock":true, "ATS": 10036.0, "inStockDate": "Tue Jan 14 12:00:00 GMT 2014" , "pricing": {"standard": "19.0", "sale": "19.0", "isPromoPrice": false, "quantities": [ {"unit": "", "value": "1.0"} ]} }, {"id": "GP83_63_WID", "attributes": { "size": "63''" , "color": "Wild Flower" }, "avLevels": {"IN_STOCK": 0.0, "PREORDER": 0.0, "BACKORDER": 1.0, "NOT_AVAILABLE": 0.0}, "avStatus":"BACKORDER", "inStock":false, "ATS": 10000.0, "inStockDate": "Wed Aug 08 12:00:00 GMT 2012" , "pricing": {"standard": "19.0", "sale": "19.0", "isPromoPrice": false, "quantities": [ {"unit": "", "value": "1.0"} ]} }, {"id": "GP83_84_CCA", "attributes": { "size": "84''" , "color": "Cotton Candy" }, "avLevels": {"IN_STOCK": 1.0, "PREORDER": 0.0, "BACKORDER": 0.0, "NOT_AVAILABLE": 0.0}, "avStatus":"IN_STOCK", "inStock":true, "ATS": 10030.0, "inStockDate": "Fri Mar 21 12:00:00 GMT 2014" , "pricing": {"standard": "24.0", "sale": "24.0", "isPromoPrice": false, "quantities": [ {"unit": "", "value": "1.0"} ]} }, {"id": "GP83_84_WID", "attributes": { "size": "84''" , "color": "Wild Flower" }, "avLevels": {"IN_STOCK": 0.0, "PREORDER": 0.0, "BACKORDER": 1.0, "NOT_AVAILABLE": 0.0}, "avStatus":"BACKORDER", "inStock":false, "ATS": 10000.0, "inStockDate": "Wed Aug 08 12:00:00 GMT 2012" , "pricing": {"standard": "24.0", "sale": "24.0", "isPromoPrice": false, "quantities": [ {"unit": "", "value": "1.0"} ]} } ] }}