Continue Shopping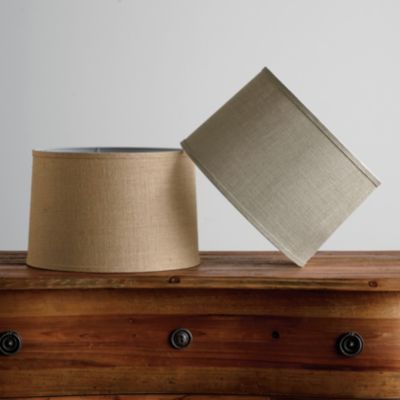 {"imageName":"http://s7d2.scene7.com/is/image/TheCompanyStore/home-decor-xr96-a13?$dw280$"}

{"imageName":"http://s7d2.scene7.com/is/image/TheCompanyStore/lamps-xt36-r13?$dw280$"}

{"imageName":"http://s7d2.scene7.com/is/image/TheCompanyStore/home-decor-xr96-gray-a13?$dw280$"}

{"imageName":"http://s7d2.scene7.com/is/image/TheCompanyStore/home-decor-xr96-raffia-a13?$dw280$"}

{"imageName":"http://s7d2.scene7.com/is/image/TheCompanyStore/lamps-xr96-oce-c13?$dw280$"}

{"imageName":"http://s7d2.scene7.com/is/image/TheCompanyStore/lamps-xr96-ecr-c13?$dw280$"}
Burlap Lampshade
Print
Burlap lampshade.
100% natural jute lampshade.
Choose the burlap lampshade in two versatile, neutral colors: Graystone and Raffia.
Barrel-shaped lampshade measures 14" x 15" x 10"H.
Lamp base sold separately.
Lampshade mixes and matches with a wide variety of bases (colors and styles) including our Glass Jug map base and our Mango Wood lamp base.
Wipe clean.
Imported.
Exclusively ours.

Bring timeless style and chic texture into your home with our barrel-shaped burlap lampshade. Crafted of durable natural jute, our essential lampshade is available in two versatile and neutral colorways: Graystone and Raffia. Both hues complement a range of home decors from traditional to contemporary. A go-anywhere favorite, the shade's neutral ground adds interest to your room without distracting the eye from other décor.

The right lighting creates a relaxing ambiance and soothing setting in any space. Natural jute allows just the right amount of light to stream through, emitting a warm and natural glow that helps to improve the atmosphere of the whole room instantly. Table lamps (as opposed to harsh overhead lighting) are an easy way to make a huge difference in the look and feel of your room. Try our natural jute lampshade and see what we mean.

A sophisticated favorite, the natural jute burlap lampshade mixes and matches beautifully with any of our lamp bases. The versatile lampshade is especially well-suited for our sleek Glass Jug and exquisite hand-carved Mango Wood lamp bases. Exclusively ours, you'll only find the barrel-shaped burlap lampshade at The Company Store.
{ "variations": { "variants": [ {"id": "XR96_OS_GRA", "attributes": { "size": "One Size" , "color": "Graystone" }, "avLevels": {"IN_STOCK": 1.0, "PREORDER": 0.0, "BACKORDER": 0.0, "NOT_AVAILABLE": 0.0}, "avStatus":"IN_STOCK", "inStock":true, "ATS": 10123.0, "inStockDate": "Thu Mar 20 12:00:00 GMT 2014" , "pricing": {"standard": "59.0", "sale": "59.0", "isPromoPrice": false, "quantities": [ {"unit": "", "value": "1.0"} ]} }, {"id": "XR96_OS_RAF", "attributes": { "size": "One Size" , "color": "Raffia" }, "avLevels": {"IN_STOCK": 1.0, "PREORDER": 0.0, "BACKORDER": 0.0, "NOT_AVAILABLE": 0.0}, "avStatus":"IN_STOCK", "inStock":true, "ATS": 326.0, "inStockDate": "Sun Jan 19 12:00:00 GMT 2014" , "pricing": {"standard": "59.0", "sale": "59.0", "isPromoPrice": false, "quantities": [ {"unit": "", "value": "1.0"} ]} }, {"id": "XR96_OS_OCE", "attributes": { "size": "One Size" , "color": "Ocean" }, "avLevels": {"IN_STOCK": 1.0, "PREORDER": 0.0, "BACKORDER": 0.0, "NOT_AVAILABLE": 0.0}, "avStatus":"IN_STOCK", "inStock":true, "ATS": 10258.0, "inStockDate": "Thu Mar 20 12:00:00 GMT 2014" , "pricing": {"standard": "59.0", "sale": "59.0", "isPromoPrice": false, "quantities": [ {"unit": "", "value": "1.0"} ]} }, {"id": "XR96_OS_ECR", "attributes": { "size": "One Size" , "color": "Ecru" }, "avLevels": {"IN_STOCK": 1.0, "PREORDER": 0.0, "BACKORDER": 0.0, "NOT_AVAILABLE": 0.0}, "avStatus":"IN_STOCK", "inStock":true, "ATS": 10170.0, "inStockDate": "Thu Mar 20 12:00:00 GMT 2014" , "pricing": {"standard": "59.0", "sale": "59.0", "isPromoPrice": false, "quantities": [ {"unit": "", "value": "1.0"} ]} } ] }}