Continue Shopping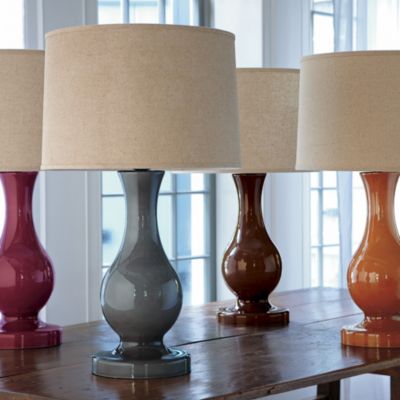 {"imageName":"http://s7d2.scene7.com/is/image/TheCompanyStore/lamp-xr20-j11?$dw280$"}

{"imageName":"http://s7d2.scene7.com/is/image/TheCompanyStore/lamps-xr19-r11?$dw280$"}

{"imageName":"http://s7d2.scene7.com/is/image/TheCompanyStore/sheets-e3j5-j11?$dw280$"}

{"imageName":"http://s7d2.scene7.com/is/image/TheCompanyStore/quilt-cz41-j11?$dw280$"}
Item# XR19
Belly Table Lamp Base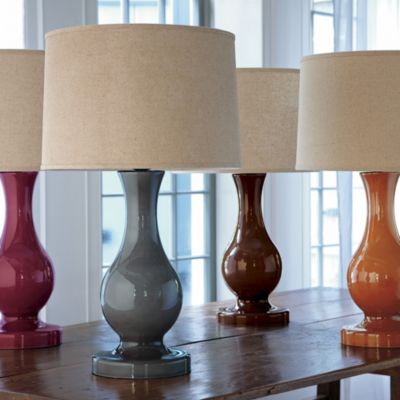 { "variations": { "variants": [ {"id": "XR19_OSP", "attributes": { "color": "Orange Spice" }, "avLevels": {"IN_STOCK": 0.0, "PREORDER": 0.0, "BACKORDER": 0.0, "NOT_AVAILABLE": 1.0}, "avStatus":"NOT_AVAILABLE", "inStock":false, "ATS": 0.0, "inStockDate": "Sat Jan 14 12:00:00 GMT 2012" , "pricing": {"standard": "89.0", "sale": "89.0", "isPromoPrice": false, "quantities": [ {"unit": "", "value": "1.0"} ]} }, {"id": "XR19_CHO", "attributes": { "color": "Chocolate" }, "avLevels": {"IN_STOCK": 0.0, "PREORDER": 0.0, "BACKORDER": 0.0, "NOT_AVAILABLE": 1.0}, "avStatus":"NOT_AVAILABLE", "inStock":false, "ATS": 0.0, "inStockDate": "Tue Dec 31 12:00:00 GMT 2030" , "pricing": {"standard": "89.0", "sale": "34.99", "isPromoPrice": false, "quantities": [ {"unit": "", "value": "1.0"} ]} }, {"id": "XR19_PLU", "attributes": { "color": "Plum" }, "avLevels": {"IN_STOCK": 0.0, "PREORDER": 0.0, "BACKORDER": 0.0, "NOT_AVAILABLE": 1.0}, "avStatus":"NOT_AVAILABLE", "inStock":false, "ATS": 0.0, "inStockDate": "Tue Dec 31 12:00:00 GMT 2030" , "pricing": {"standard": "89.0", "sale": "34.99", "isPromoPrice": false, "quantities": [ {"unit": "", "value": "1.0"} ]} }, {"id": "XR19_GRA", "attributes": { "color": "Gray" }, "avLevels": {"IN_STOCK": 0.0, "PREORDER": 0.0, "BACKORDER": 0.0, "NOT_AVAILABLE": 1.0}, "avStatus":"NOT_AVAILABLE", "inStock":false, "ATS": 0.0, "inStockDate": "Tue Dec 31 12:00:00 GMT 2030" , "pricing": {"standard": "89.0", "sale": "89.0", "isPromoPrice": false, "quantities": [ {"unit": "", "value": "1.0"} ]} } ] }}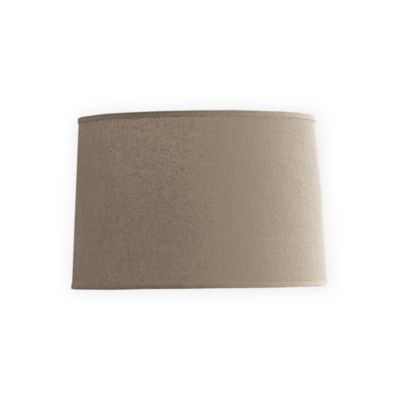 { "variations": { "variants": [ {"id": "XQ82_LIN", "attributes": { "color": "Linen" }, "avLevels": {"IN_STOCK": 0.0, "PREORDER": 0.0, "BACKORDER": 0.0, "NOT_AVAILABLE": 1.0}, "avStatus":"NOT_AVAILABLE", "inStock":false, "ATS": 0.0, "inStockDate": "Sat May 18 12:00:00 GMT 2013" , "pricing": {"standard": "30.0", "sale": "30.0", "isPromoPrice": false, "quantities": [ {"unit": "", "value": "1.0"} ]} } ] }}
Print
Milk glass table lamp.
Inline switch.
UL listed.
100 W (not included).
Linen textured cotton shade included.
25.5"H.
Wipe base clean with damp cloth.
Imported.
Exclusively ours.

Light up a room with our belly table lamp in milk glass, prized for its unique opalescent glow. Available in a variety of fun tones, this shapely table lamp is perfectly proportioned to work in bedrooms, living rooms or anywhere you want a pop of color. Topped with a linen textured cotton shade, our Belly Table Lamp lends it eye-catching curves to any décor. Available exclusively at The Company Store.