Adirondack Collection: Ottoman
Reg: $79.00
CLEARANCE: $38.99
Overview & Details
Adirondack ottoman.
Sturdy Adirondack ottoman made from durable Acacia wood.
Adirondack ottoman measures 19"L x 21"W x 12"H.
Easy assembly; corrosion resistant hardware included.
Part of the Adirondack outdoor furniture collection available in a 3-position reclining chair, ottoman, folding side table, and kid-size chair; coordinating outdoor cushions for chairs sold separately.
Wipe clean.
Imported.
Complete your outdoor living space with this handy outdoor Adirondack ottoman. A versatile essential, this stylish ottoman is ideal for holding trays, drinks, books and more. It's also perfect for propping up your feet and relaxing in style. Crafted from durable Acacia wood for long-lasting wear, this weather-resistant Adirondack ottoman measures 19"L x 21"W x 12"H. The perfect height and width for your back deck or porch, this well-designed ottoman has endless purposes. Also ideal for entertaining, this outdoor ottoman gives friends, family and guests a place to set down drinks and plates on your back deck or porch. A pretty and practical favorite, our resilient ottoman prevents people from perching glasses on railings or putting items on the ground.
Part of our coveted collection of Adirondack outdoor furniture, this outdoor ottoman complements the other Adirondack-themed pieces. Pair the ottoman and side table with the 3-position recliner chair, and kid-size chair. The complete collection of Adirondack furniture will transform your outdoor living space into a well-appointed retreat your whole family will love. The ideal setting for eating, relaxing or simply enjoying the sounds of nature.
Reviews
Adirondack Collection: Ottoman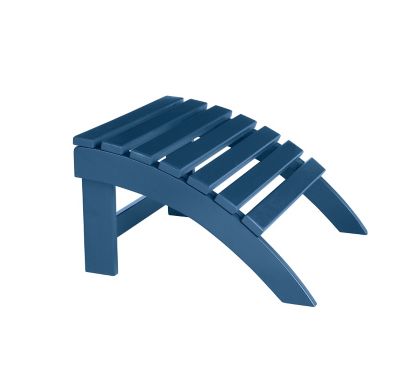 Reg: $79.00
CLEARANCE: $38.99
{ "variations": { "variants": [ {"id": "XR32-CHESTNUT", "attributes": { "color": "Chestnut" }, "avLevels": {"IN_STOCK": 0.0, "PREORDER": 0.0, "BACKORDER": 0.0, "NOT_AVAILABLE": 1.0}, "avStatus":"NOT_AVAILABLE", "inStock":false, "ATS": 0.0, "inStockDate": "" , "pricing": {"standard": "79.0", "sale": "38.99", "isPromoPrice": false, "quantities": [ {"unit": "", "value": "1.0"} ]} }, {"id": "XR32-GRY-SHING", "attributes": { "color": "Gray Shingle" }, "avLevels": {"IN_STOCK": 0.0, "PREORDER": 0.0, "BACKORDER": 0.0, "NOT_AVAILABLE": 1.0}, "avStatus":"NOT_AVAILABLE", "inStock":false, "ATS": 0.0, "inStockDate": "" , "pricing": {"standard": "79.0", "sale": "38.99", "isPromoPrice": false, "quantities": [ {"unit": "", "value": "1.0"} ]} }, {"id": "XR32-NAVY", "attributes": { "color": "Navy" }, "avLevels": {"IN_STOCK": 0.0, "PREORDER": 0.0, "BACKORDER": 0.0, "NOT_AVAILABLE": 1.0}, "avStatus":"NOT_AVAILABLE", "inStock":false, "ATS": 0.0, "inStockDate": "" , "pricing": {"standard": "79.0", "sale": "38.99", "isPromoPrice": false, "quantities": [ {"unit": "", "value": "1.0"} ]} }, {"id": "XR32-WHITE", "attributes": { "color": "White" }, "avLevels": {"IN_STOCK": 0.0, "PREORDER": 0.0, "BACKORDER": 0.0, "NOT_AVAILABLE": 1.0}, "avStatus":"NOT_AVAILABLE", "inStock":false, "ATS": 0.0, "inStockDate": "" , "pricing": {"standard": "79.0", "sale": "38.99", "isPromoPrice": false, "quantities": [ {"unit": "", "value": "1.0"} ]} } ] }}