400-Thread Count Supima® Percale Deep Sheets
$39.00-$169.00
SALE: $54.99-$84.99
Overview & Details
Deep sheets designed to fit extra-thick mattresses and pillowtops.
400-thread count cotton percale sheets and bedding.
Deep flat sheet is 6" longer than the standard length.
Deep fitted sheet accommodates mattresses that are 16" to 20" deep.
Made of 400-thread count Supima® cotton percale, the finest American-grown cotton.
Additional matching bedding items available separately: standard flat sheet, standard fitted sheet, pillowcases, comforter cover / duvet cover and sham.
All duvet covers / comforter covers come with corner ties that attach to the loops on our comforters to hold both in place.
Machine wash.
Imported.
Exclusively ours.

Having trouble finding sheets that fit your extra-thick bed? Our 400-Thread Count Percale Deep Sheets are designed to fit today's loftiest mattresses, including pillowtops and other extra-deep styles. The flat sheet is six inches longer than standard length. The fitted sheet is specially constructed with all-around elastic and a gusseted insert to accommodate mattresses from 16" to 20" deep.

Our 400-thread count deep sheets are made from long-staple Supima cotton, renowned for its exceptional softness and strength. Just like our standard-sized sheets, these pillowtop sheets are woven with 400 ultra-fine threads per square inch for a soft and smooth look that holds up very well over time. In your master suite or guest rooms, these deep sheets boast comfort and style that's hard to beat.

In addition to the extra deep flat sheet and extra deep fitted sheet, our 400-thread count cotton percale sheets and bedding are available in a standard flat sheet, standard fitted sheet, pillowcases, duvet cover and sham. Available exclusively at The Company Store.
Reviews
400-Thread Count Supima® Percale Duvet Cover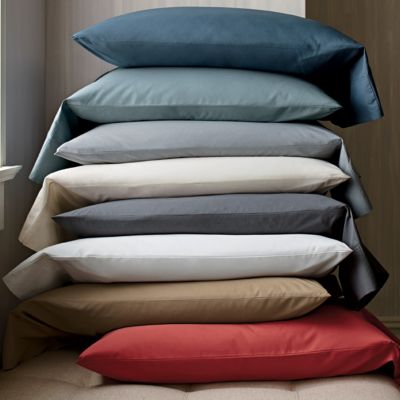 $109.00-$169.00
SALE: $54.99-$84.99
Monogram items are non-returnable due to their customization. Please allow an additional 5-7 business days for orders containing monogrammed items and an additional 7-12 business days during holiday & high volume times. Please check out our
Monogram Guide
for more info.
{"ID":"DQ39-C13","isMonogrammable":true,"isCustomizationRequired":false,"monoItemNo":"MG12","customizationCode":"!12","styleOptions":"_1 Initial_2 Initials_3 Initials_Name or Word|02 Block_03 Diamond_04 Classic_05 Signet_08 Sketch_13 Collegiate_14 Traditional_15 Kids_*02 Block_03 Diamond_04 Classic_05 Signet_08 Sketch_13 Collegiate_15 Kids_*02 Block_03 Diamond_04 Classic_05 Signet_06 Modern_08 Sketch_13 Collegiate_15 Kids_*02 Block_04 Classic_07 Juliet_08 Sketch_13 Collegiate_14 Traditional_15 Kids_*|_1_1_1_1_1_1_11_0_0|","monoPrice":12.0,"optionType":""}
{ "variations": { "variants": [ {"id": "DQ39-F-BARN-RED", "attributes": { "size": "Full, 84x90''" , "color": "Barn Red" }, "avLevels": {"IN_STOCK": 1.0, "PREORDER": 0.0, "BACKORDER": 0.0, "NOT_AVAILABLE": 0.0}, "avStatus":"IN_STOCK", "inStock":true, "ATS": 14.0, "inStockDate": "" , "pricing": {"standard": "129.0", "sale": "64.99", "isPromoPrice": false, "quantities": [ {"unit": "", "value": "1.0"} ]} }, {"id": "DQ39-F-ICE-GRAY", "attributes": { "size": "Full, 84x90''" , "color": "Ice Gray" }, "avLevels": {"IN_STOCK": 0.0, "PREORDER": 0.0, "BACKORDER": 0.0, "NOT_AVAILABLE": 1.0}, "avStatus":"NOT_AVAILABLE", "inStock":false, "ATS": 0.0, "inStockDate": "" , "pricing": {"standard": "129.0", "sale": "97.0", "isPromoPrice": false, "quantities": [ {"unit": "", "value": "1.0"} ]} }, {"id": "DQ39-K-BARN-RED", "attributes": { "size": "King, 108x96''" , "color": "Barn Red" }, "avLevels": {"IN_STOCK": 1.0, "PREORDER": 0.0, "BACKORDER": 0.0, "NOT_AVAILABLE": 0.0}, "avStatus":"IN_STOCK", "inStock":true, "ATS": 36.0, "inStockDate": "" , "pricing": {"standard": "169.0", "sale": "84.99", "isPromoPrice": false, "quantities": [ {"unit": "", "value": "1.0"} ]} }, {"id": "DQ39-K-CHINA-BLUE", "attributes": { "size": "King, 108x96''" , "color": "China Blue" }, "avLevels": {"IN_STOCK": 1.0, "PREORDER": 0.0, "BACKORDER": 0.0, "NOT_AVAILABLE": 0.0}, "avStatus":"IN_STOCK", "inStock":true, "ATS": 17.0, "inStockDate": "" , "pricing": {"standard": "169.0", "sale": "84.99", "isPromoPrice": false, "quantities": [ {"unit": "", "value": "1.0"} ]} }, {"id": "DQ39-K-MINK", "attributes": { "size": "King, 108x96''" , "color": "Mink" }, "avLevels": {"IN_STOCK": 1.0, "PREORDER": 0.0, "BACKORDER": 0.0, "NOT_AVAILABLE": 0.0}, "avStatus":"IN_STOCK", "inStock":true, "ATS": 2.0, "inStockDate": "" , "pricing": {"standard": "169.0", "sale": "84.99", "isPromoPrice": false, "quantities": [ {"unit": "", "value": "1.0"} ]} }, {"id": "DQ39-K-MISTY-BLUE", "attributes": { "size": "King, 108x96''" , "color": "Misty Blue" }, "avLevels": {"IN_STOCK": 1.0, "PREORDER": 0.0, "BACKORDER": 0.0, "NOT_AVAILABLE": 0.0}, "avStatus":"IN_STOCK", "inStock":true, "ATS": 34.0, "inStockDate": "" , "pricing": {"standard": "169.0", "sale": "84.99", "isPromoPrice": false, "quantities": [ {"unit": "", "value": "1.0"} ]} }, {"id": "DQ39-Q-BARN-RED", "attributes": { "size": "Queen, 90x96''" , "color": "Barn Red" }, "avLevels": {"IN_STOCK": 1.0, "PREORDER": 0.0, "BACKORDER": 0.0, "NOT_AVAILABLE": 0.0}, "avStatus":"IN_STOCK", "inStock":true, "ATS": 20.0, "inStockDate": "" , "pricing": {"standard": "149.0", "sale": "74.99", "isPromoPrice": false, "quantities": [ {"unit": "", "value": "1.0"} ]} }, {"id": "DQ39-Q-GRAY-PEARL", "attributes": { "size": "Queen, 90x96''" , "color": "Gray Pearl" }, "avLevels": {"IN_STOCK": 1.0, "PREORDER": 0.0, "BACKORDER": 0.0, "NOT_AVAILABLE": 0.0}, "avStatus":"IN_STOCK", "inStock":true, "ATS": 5.0, "inStockDate": "" , "pricing": {"standard": "149.0", "sale": "74.99", "isPromoPrice": false, "quantities": [ {"unit": "", "value": "1.0"} ]} }, {"id": "DQ39-Q-MINK", "attributes": { "size": "Queen, 90x96''" , "color": "Mink" }, "avLevels": {"IN_STOCK": 1.0, "PREORDER": 0.0, "BACKORDER": 0.0, "NOT_AVAILABLE": 0.0}, "avStatus":"IN_STOCK", "inStock":true, "ATS": 12.0, "inStockDate": "" , "pricing": {"standard": "149.0", "sale": "74.99", "isPromoPrice": false, "quantities": [ {"unit": "", "value": "1.0"} ]} }, {"id": "DQ39-Q-MISTY-BLUE", "attributes": { "size": "Queen, 90x96''" , "color": "Misty Blue" }, "avLevels": {"IN_STOCK": 1.0, "PREORDER": 0.0, "BACKORDER": 0.0, "NOT_AVAILABLE": 0.0}, "avStatus":"IN_STOCK", "inStock":true, "ATS": 17.0, "inStockDate": "" , "pricing": {"standard": "149.0", "sale": "74.99", "isPromoPrice": false, "quantities": [ {"unit": "", "value": "1.0"} ]} }, {"id": "DQ39-T-BARN-RED", "attributes": { "size": "Twin, 70x90''" , "color": "Barn Red" }, "avLevels": {"IN_STOCK": 1.0, "PREORDER": 0.0, "BACKORDER": 0.0, "NOT_AVAILABLE": 0.0}, "avStatus":"IN_STOCK", "inStock":true, "ATS": 3.0, "inStockDate": "" , "pricing": {"standard": "109.0", "sale": "54.99", "isPromoPrice": false, "quantities": [ {"unit": "", "value": "1.0"} ]} }, {"id": "DQ39-T-GRAY-PEARL", "attributes": { "size": "Twin, 70x90''" , "color": "Gray Pearl" }, "avLevels": {"IN_STOCK": 1.0, "PREORDER": 0.0, "BACKORDER": 0.0, "NOT_AVAILABLE": 0.0}, "avStatus":"IN_STOCK", "inStock":true, "ATS": 16.0, "inStockDate": "" , "pricing": {"standard": "109.0", "sale": "54.99", "isPromoPrice": false, "quantities": [ {"unit": "", "value": "1.0"} ]} }, {"id": "DQ39-F-CHINA-BLUE", "attributes": { "size": "Full, 84x90''" , "color": "China Blue" }, "avLevels": {"IN_STOCK": 1.0, "PREORDER": 0.0, "BACKORDER": 0.0, "NOT_AVAILABLE": 0.0}, "avStatus":"IN_STOCK", "inStock":true, "ATS": 21.0, "inStockDate": "" , "pricing": {"standard": "129.0", "sale": "64.99", "isPromoPrice": false, "quantities": [ {"unit": "", "value": "1.0"} ]} }, {"id": "DQ39-F-GRAY-PEARL", "attributes": { "size": "Full, 84x90''" , "color": "Gray Pearl" }, "avLevels": {"IN_STOCK": 1.0, "PREORDER": 0.0, "BACKORDER": 0.0, "NOT_AVAILABLE": 0.0}, "avStatus":"IN_STOCK", "inStock":true, "ATS": 6.0, "inStockDate": "" , "pricing": {"standard": "129.0", "sale": "64.99", "isPromoPrice": false, "quantities": [ {"unit": "", "value": "1.0"} ]} }, {"id": "DQ39-F-MISTY-BLUE", "attributes": { "size": "Full, 84x90''" , "color": "Misty Blue" }, "avLevels": {"IN_STOCK": 1.0, "PREORDER": 0.0, "BACKORDER": 0.0, "NOT_AVAILABLE": 0.0}, "avStatus":"IN_STOCK", "inStock":true, "ATS": 2.0, "inStockDate": "" , "pricing": {"standard": "129.0", "sale": "64.99", "isPromoPrice": false, "quantities": [ {"unit": "", "value": "1.0"} ]} }, {"id": "DQ39-F-MINK", "attributes": { "size": "Full, 84x90''" , "color": "Mink" }, "avLevels": {"IN_STOCK": 1.0, "PREORDER": 0.0, "BACKORDER": 0.0, "NOT_AVAILABLE": 0.0}, "avStatus":"IN_STOCK", "inStock":true, "ATS": 5.0, "inStockDate": "" , "pricing": {"standard": "129.0", "sale": "64.99", "isPromoPrice": false, "quantities": [ {"unit": "", "value": "1.0"} ]} }, {"id": "DQ39-K-GRAY-PEARL", "attributes": { "size": "King, 108x96''" , "color": "Gray Pearl" }, "avLevels": {"IN_STOCK": 1.0, "PREORDER": 0.0, "BACKORDER": 0.0, "NOT_AVAILABLE": 0.0}, "avStatus":"IN_STOCK", "inStock":true, "ATS": 11.0, "inStockDate": "" , "pricing": {"standard": "169.0", "sale": "84.99", "isPromoPrice": false, "quantities": [ {"unit": "", "value": "1.0"} ]} }, {"id": "DQ39-K-ICE-GRAY", "attributes": { "size": "King, 108x96''" , "color": "Ice Gray" }, "avLevels": {"IN_STOCK": 1.0, "PREORDER": 0.0, "BACKORDER": 0.0, "NOT_AVAILABLE": 0.0}, "avStatus":"IN_STOCK", "inStock":true, "ATS": 14.0, "inStockDate": "" , "pricing": {"standard": "169.0", "sale": "84.99", "isPromoPrice": false, "quantities": [ {"unit": "", "value": "1.0"} ]} }, {"id": "DQ39-Q-CHINA-BLUE", "attributes": { "size": "Queen, 90x96''" , "color": "China Blue" }, "avLevels": {"IN_STOCK": 1.0, "PREORDER": 0.0, "BACKORDER": 0.0, "NOT_AVAILABLE": 0.0}, "avStatus":"IN_STOCK", "inStock":true, "ATS": 14.0, "inStockDate": "" , "pricing": {"standard": "149.0", "sale": "74.99", "isPromoPrice": false, "quantities": [ {"unit": "", "value": "1.0"} ]} }, {"id": "DQ39-Q-ICE-GRAY", "attributes": { "size": "Queen, 90x96''" , "color": "Ice Gray" }, "avLevels": {"IN_STOCK": 1.0, "PREORDER": 0.0, "BACKORDER": 0.0, "NOT_AVAILABLE": 0.0}, "avStatus":"IN_STOCK", "inStock":true, "ATS": 17.0, "inStockDate": "" , "pricing": {"standard": "149.0", "sale": "74.99", "isPromoPrice": false, "quantities": [ {"unit": "", "value": "1.0"} ]} }, {"id": "DQ39-T-CHINA-BLUE", "attributes": { "size": "Twin, 70x90''" , "color": "China Blue" }, "avLevels": {"IN_STOCK": 1.0, "PREORDER": 0.0, "BACKORDER": 0.0, "NOT_AVAILABLE": 0.0}, "avStatus":"IN_STOCK", "inStock":true, "ATS": 22.0, "inStockDate": "" , "pricing": {"standard": "109.0", "sale": "54.99", "isPromoPrice": false, "quantities": [ {"unit": "", "value": "1.0"} ]} }, {"id": "DQ39-T-ICE-GRAY", "attributes": { "size": "Twin, 70x90''" , "color": "Ice Gray" }, "avLevels": {"IN_STOCK": 1.0, "PREORDER": 0.0, "BACKORDER": 0.0, "NOT_AVAILABLE": 0.0}, "avStatus":"IN_STOCK", "inStock":true, "ATS": 7.0, "inStockDate": "" , "pricing": {"standard": "109.0", "sale": "54.99", "isPromoPrice": false, "quantities": [ {"unit": "", "value": "1.0"} ]} }, {"id": "DQ39-T-MISTY-BLUE", "attributes": { "size": "Twin, 70x90''" , "color": "Misty Blue" }, "avLevels": {"IN_STOCK": 1.0, "PREORDER": 0.0, "BACKORDER": 0.0, "NOT_AVAILABLE": 0.0}, "avStatus":"IN_STOCK", "inStock":true, "ATS": 5.0, "inStockDate": "" , "pricing": {"standard": "109.0", "sale": "54.99", "isPromoPrice": false, "quantities": [ {"unit": "", "value": "1.0"} ]} }, {"id": "DQ39-T-MINK", "attributes": { "size": "Twin, 70x90''" , "color": "Mink" }, "avLevels": {"IN_STOCK": 1.0, "PREORDER": 0.0, "BACKORDER": 0.0, "NOT_AVAILABLE": 0.0}, "avStatus":"IN_STOCK", "inStock":true, "ATS": 26.0, "inStockDate": "" , "pricing": {"standard": "109.0", "sale": "54.99", "isPromoPrice": false, "quantities": [ {"unit": "", "value": "1.0"} ]} } ] }}